For the last two weeks, cameras were rolling as chef Jamie Oliver prepared to give LA Unified's school lunch program a makeover. On Friday, the cameras were stopped. Officials decided that no reality show filmings, specifically "Food Revolution," would be allowed in the school district.
"They told me to stop but then they turned around and asked for a 3-week menu that they could blend in with their own," Oliver says. "So I consider that a tremendous positive."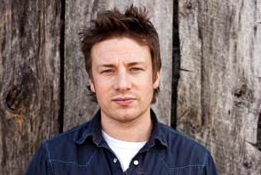 With 700,000 kids in the district, LA Unified is second only to New York Public Schools in size. Oliver would have had his work cut out for him.
"I feel lucky we had the opportunity to do season 1," Oliver said on KCRW's podcast yesterday. "When season 2 came around I thought, let's take it to a big city. LA has better weather than New York, so I decided to come here. I had no idea about the bureaucracy."
Oliver is gracious about the whole thing. "I filmed some of the most powerful scenes of my life in the last three weeks–by students–at West Adams High School," Oliver says. "For me this is my life's work." He plans to write the menu with all of the different groups he's met, including students, teachers, nutritionists and parents.
His next steps include building five kitchens with free cooking lessons, in conjunction with the American Heart Association. The next "guerilla" setup, which Oliver hopes will be permanent, will be erected near West Adams High School. "I genuinely want to work with the LAUSD," he says. "But public service needs to be transparent; lockdown just doesn't feel right to me."