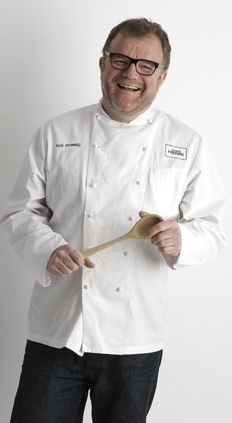 Not all of this weekend's action in Texas will take place Sunday on the gridiron. Today in Fort Worth, on Super Bowl eve, about 2,000 people are expected to attend the sold-out "Taste of the NFL," where about 30 of the nation's top chefs and football legends will team up and cook for charity.
Chef Paul O'Connell will be serving steaming cups of chowder at the 20th annual "Taste of the NFL," and rather than feel daunted by the task of cooking for such a hefty crowd, the owner of Chez Henri in Cambridge, Mass., is savoring the moment.

"It's fittingly called 'The Party with a Purpose,' " says O'Connell. "For me, it's a chance to represent my region, to meet and greet lots of new people, and to reunite with chefs I've known for years — all for the worthwhile cause of hunger relief."
O'Connell hasn't missed cooking at "Taste of the NFL" since his former boss, celebrity chef Todd English, introduced him to the event seven years ago. That was the year — 2004, when his favorite team, the New England Patriots, clinched the championship. Then the Pats won again in 2005, and in 2008, they lost by a mere 3 points to the Panthers. So O'Connell and his beloved Pats have had a pretty good run.
Chowdah!
Each year, O'Connell creates a dish that represents his native New England, and this year, his "chowdah" features two of the regions most celebrated seafoods: cod and lobster. The Cambridge chef's recipe is a variation of his mother's basic fish chowder. She always kept her cooking simple, as she had 10 kids to feed. O'Connell will gussy up her recipe with the additions of smoked cod, lobster, and also a little chili-lime butter – a touch of Chez Henri, he says, referring to the French-Cuban menu at his bistro back home.
While O'Connell ladles his chowder, former Patriots linebacker — his NFL partner, Gino Cappelletti, will sign autographs and pose for photographs with fans.
One year, O'Connell recalls, attendees were a tad disappointed with his booth's offerings. His Boston Baked Beans were delicious, but they wanted seafood. And most of all, they yearned to hear an authentic Boston accent. O'Connell, who grew up just outside of Boston in Melrose, Mass., only has a tiny trace of an accent these days, but he can easily deliver when asked, as he demonstrates with a lighthearted: "That's a wicked pissah!"
Recent snowstorms could put a snag in O'Connell's plans – his seafood provider back east just informed him the cod and lobster might arrive late, but he's unfazed. "I know other chefs will help me out. That's just how things work here. We all share a kitchen, and everyone is supportive."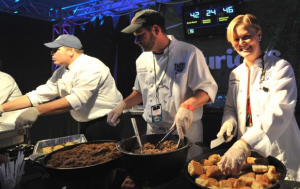 Every NFL city emerges a winner in this event, as profits from "Taste of the NFL" are donated to soup kitchens and food pantries in each of the 32 American cities, with the host city – in this case, Fort Worth, Tex., receiving the largest share.
For more information about "Taste of the NFL," visit www. tasteofthenfl.com. For O'Connell's seafood chowder recipe, go to our Recipes page.