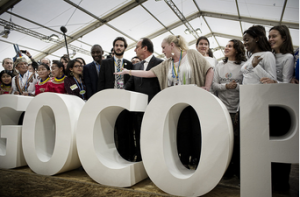 With this past summer the hottest on record globally, it's not hard to sense the tangibles at stake as tens of thousands gather in Paris this week for the UN's 21st annual Conference of the Parties.
COP21 will bring together world leaders, including presidents Obama and Hollande as well as over 140 other heads of state, as delegates meet in plenary sessions and seek to solve climate change quandaries. Some events, particularly the main marches, were shuttered for security reasons.
Keeping temperature rise below 2 degrees Celsius is crucial. Where the food industry is concerned, global warming means disrupted food and water supplies, rising prices, starvation, sickness, and death. The time has never been more pressing to eat seasonally, locally, and with sustainability in mind.