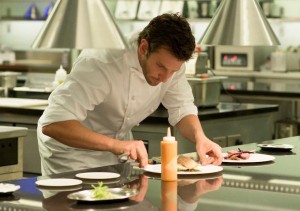 UK-based chef Marcus Wareing was chief consultant on the Oct. 23 release, "Burnt", starring Bradley Cooper, and he is quick to sing the star's praises.
In a recent interview with People magazine, he shared that, "My team wrote all the recipes and menus and made sure it represented the way a chef and a kitchen would have really worked."
In terms of mentoring Cooper, his "thinking" was to make sure the actor – whose Adam Jones is a head chef from London striving to receive his third Michelin star and set up shop in Paris – moved, directed the kitchen, and dressed a plate correctly. Cooper has also been quoted as saying all the cooking we see in the film he actually did.
Wareing raved that the star, who once worked as a prep chef at an Italian restaurant in his home state of New Jersey, is a natural. "He'd watch me dress a plate and copy it almost identically."