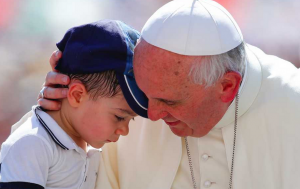 He had us at hello … to that slice of pizza pie he accepted from a man in Naples a few months ago. And now, we Americans are loving Pope Francis in a way the presidential candidates could only pray for.
While his Holiness will be visiting both New York and Philadelphia as he hits our shores, it looks like Philly's really rolling out the red carpet (if not the traditional red pope shoes).
To celebrate the Pontiff's visit, some Garces Group restaurants in Philly — Amada, Tinto, The Olde Bar, Distrito, Village Whiskey and Garces Trading Co. — are offering a 10-percent discount to Philadelphia residents September 25 through 28, when the Pope's in town. While Pizzeria Vetri will serve the papal-inspired Il Papa, a Neapolitan-style pie with Black Mission figs, mozzarella, lardo and Pecorino Toscano, oregano and fresh basil, during the entire month of September. (The same pie he accepted from that Naples pizza maker.)
Not to be outdone, Whipped Bakeshop is offering to make mini Pope cakes. That's right – take a big bite of this heavenly creation, in vanilla-chocolate chip, red velvet and more, with filling flavors ranging from vanilla buttercream to peanut butter meringue buttercream.