A diet sprinkled with walnuts can cause a significant reduction of breast cancer risk, a new study conducted by Marshall University discovered recently. Mice who ate the equivalent of 2 ounces of walnuts daily in their diets developed breast cancer at half the rate as those in the no-walnuts group.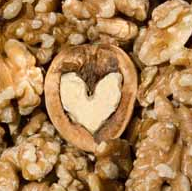 Elaine Hardman, Ph.D., of Marshall's Joan C. Edwards School of Medicine, led the study and feels the results show an unequivocal link between diet and health.
"Food is important medicine in our diet," she said. "What we put into our bodies makes a big difference – it determines how the body functions, our reaction to illness and health. The simple stuff really works: eat right, get off the couch, and turn off the TV."
And run, don't walk, to the nut aisle at your local supermarket.