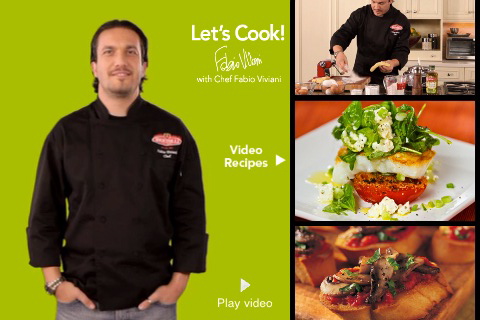 Let's Cook with Fabio Viviani and Bertolli Olive Oil
Developer: American Rice Inc.
Cost: $0.99
Runs on: iPhone
Website: http://letscookapp.com
During the 5th season of Top Chef, the cooking competition show, formidable competitor Fabio Viviani was voted as the Fan Favorite and became an instant celebrity chef. Since then the endorsements have rolled in, paving the way for this app with partner Bertolli Olive Oil.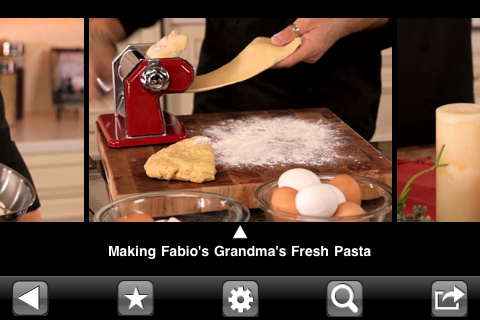 Before you download this app, know that it's a monster in size at 1.8 GB! To put that in perspective, the base model of the iPhone 4 (16GB) would be able to fit less than 10 of these apps. For comparison, Jamie's Recipe's (Jamie Oliver's newest app) is 213MB and Mario Batali Cooks! is just 41.8MB.
A big reason for the size is that this app has a whopping total of three hours of video (5 HD hours in the iPad version)! To be fair, most other apps that offer a lot of video content, such as Mario Batali Cooks!, requires you to download individual videos when you decide to view them—often requiring a WiFi connection, which can be extremely inconvenient.
As you might expect, this app is pretty excited about recipes that require a splash of olive oil. And in total, there are over 100 step-by-step recipes—16 having a start-to-finish video.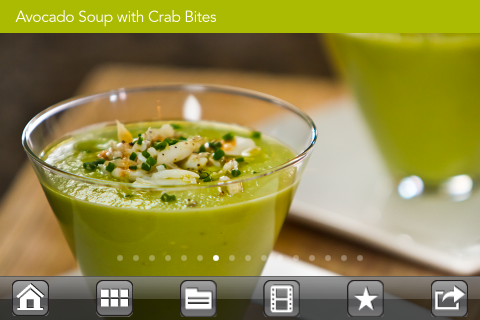 Horizontal Issues
From the instant I opened this app I got the impression that it was built for the iPad first and the iPhone/iPod second. Launching the app you get a vertical images scroll for the navigation that includes: Fabio Tips, Video Recipes, More Recipes, and Olive Oils (on the very first time Fabio welcomes you). The entire app is designed in landscape mode (turn the phone on its side) and is hit and miss with the unique layout with some of the app unnecessarily wasting real estate.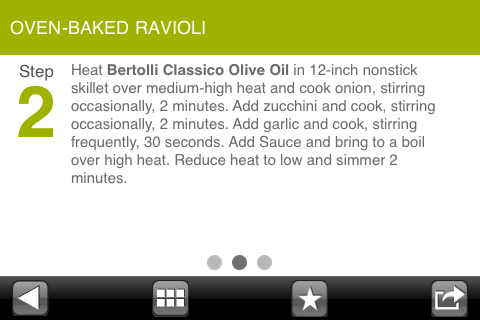 For example, click More Recipes and you get a gorgeous horizontal images scroll of the recipe categories (good use of space). Then click a category i.e., Pasta & Pizza, and the Pizza & Pasta title takes up one-third of the screen on the left-side, leaving the other two-thirds to provide the name, prep time and serving size (bad use of space). This layout doesn't leave room for recipe thumbnails and also makes the other elements much smaller than they need to be.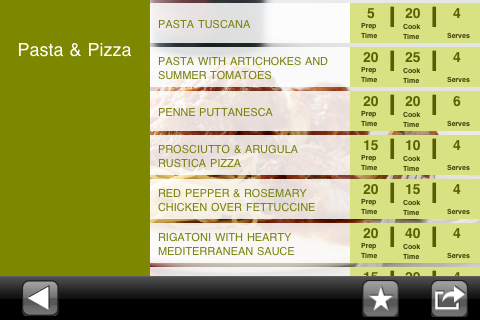 Once you get beyond this layout hiccup, however, I think you'll really like what you see. Each recipe starts with a serving size, prep time, cook time and ingredient list. Click the "Let's Cook!" arrow and step-by-step slides will guide you from the start of the recipe to the end. These steps are very easy to read and understand, I just wish some images would accompany these steps.
Let's Go to the Movies
When you select a recipe from the Video Recipes section, you get a great image of the final dish with options to view the step-by-step instructions or watch the video—among other options. The videos have a very high production value and are thorough—complete with Fabio charm. These are not short one-minute clips either; these are food show segments.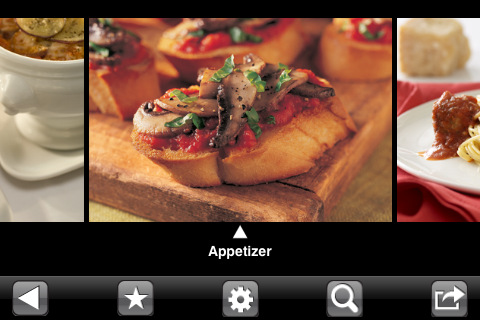 In addition to the great content, this app also includes the comfort features you'd expect with a polished pay app, such as a favorites list, shopping lists (that can be e-mailed), social network integration, a nice search engine and more.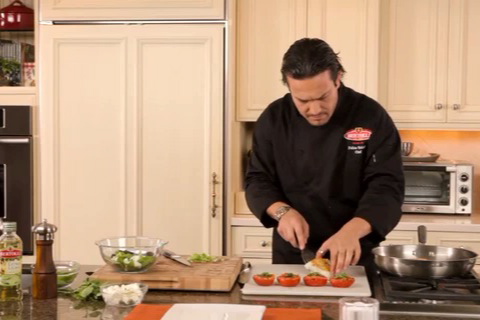 Overall, this app is nice with some very worthwhile content for only $0.99. With all of the bolded and obvious Bertolli plugs throughout the app, though, I wouldn't mind if this was just a free ad-supported app. All in all, though, a very worthwhile app that's worth the 1.8GB on your phone.
Toque Rating: 4/5