Tiki is all about living the good life. It's the lure of sleepy lagoons, sand drenched beaches, swaying palms, tropical plants, cool breezes, exotic drinks —- far from the pressures of day to day living.
Although Don the Beachcomber's Polynesian restaurant first opened in Hollywood in 1934 and Trader Vic's Tiki restaurant was established three years later in Palo Alto, generally speaking, Tiki culture first captured the imagination of Americans in the 1950's. It was a combination of things—stories and souvenirs brought back by servicemen returning from duty in the South Pacific, James Michener's book Tales of the South Pacific, the Rogers and Hammerstein musical South Pacific and, of course, the statehood of Hawaii in 1959.
Tiki bars and restaurants sprang up in many large cities. Some Tiki enthusiasts even went so far as to create their own Tiki bars at home.

Elements of the various Polynesian cultures were combined to decorate the bars and restaurants , including carved Tiki idols and masks, exotic plants, indoor palm trees and even outdoor waterfalls and flaming torches.
Says Eric Fentin in a 2008 Wall Street Journal article on how tiki resonated at the start of the Great Recession: "…it's hard to remember that the Polynesian restaurants that proliferated in the '50s and '60s were once power tables for the elite. The Trader Vic's at New York's Plaza Hotel was a favorite of the buttoned-down preppy crowd. And many were the Gotham debutantes who, like journalist Nikki Finke, had their "first drunken evening on Samoan Fog Cutters at Trader Vic's."
The Meaning of Tiki
Although there are a number of different legends, Tiki, according to many Polynesian cultures, was the first man created in the universe, some say by Tane, god of forests and birds, others by Kane, god of Light and Life. Although there are many variations of the myth, one of them says that Tiki was lonely, and wanted companionship. One day, looking in a pond, he saw the reflection of Marikoriko, a woman. She seduced him and together they created Hine-kau-ataat, a daughter. Today, Tiki stands for the combined legends of the various cultures.
The large humanoid carved wooden poles that designate sacred sights in the Polynesian Islands are carved images of Tiki.
It's Always Cocktail Hour in Tiki
In the 50's, Tiki bars and restaurants became the focal point for all things Tiki. Not only did they serve exotic drinks, but they provided a setting that reflected the Polynesian theme—bamboo furniture, carved wooden Tiki poles, Tiki masks on the walls, indoor palm trees, exotic plants, Hawaiian music.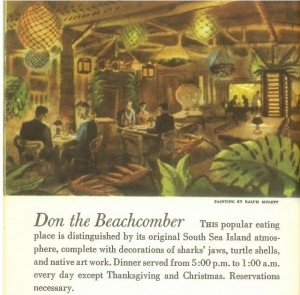 Although the food served reflected Polynesian and Asian influences such as pork, chicken, pineapple, teriyaki and fried rice, the Tiki cocktail with such names as Mai Tai, Scorpion, 151 Swizzle, Zombie, and Singapore Sling, was the highlight of the restaurant experience.
Most establishments created their own secret recipes, many of which were pretty potent. The ingredients included different kinds of rum, falernum (a clove and lime- infused liquor), citrus fruits and multiple sweeteners. To protect their secrecy, labels were often removed from the bottles at the bar. Some cocktails were served in hollowed out pineapples, or cocoanuts shells, others had their own ceramic mugs with Tiki designs that patrons could buy to take home (which, incidentally, are highly collectible today.)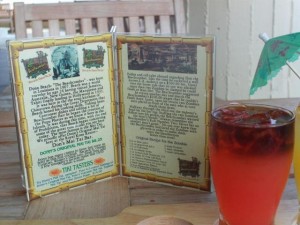 The cocktails were garnished with exotic flowers and chunks of sweet fruits, the ubiquitous tiny paper umbrella, and many times they were even flamed. In some restaurants, they were served by a dancing girl.
The Mai Tai, which is considered one of the best known and most potent Tiki cocktail was sometimes served in a large bowl with four extra long straws for a group drink. So, too, was the Scorpion.
Ernest Raymond Beaumont Gantt, who renamed himself Donn Beach was considered the most influential bartender of the time. He created seventy different cocktails, the best known of which is perhaps the Mai Tai.
DON THE BEACHCOMBER'S MAI TAI
1 oz gold rum
1 ½ oz Meyer's Plantation rum
1 oz grapefruit juice
¾ oz lime juice
½ oz Cointreau
¼ oz Falernum
6 drops Pernod or Herbsaint
dash of Angostura bitters
Shake well with crushed ice
Pour unstrained into a double old-fashioned glass
Garnish with 4 mint sprigs
(Taken from Post Prohibition Handcrafted Libations
by Josh Sullivan)
The Tiki era ended in the 1970s. Donn Beach retired to Tahiti; Trader Vic took up sculpture.