Food trucks have been rolling into American cities for years now, but the trend still seems to have bypassed some urban communities. In Boston, for example, popular food trucks like Bon Me, The Dining Car, and Mei Mei Street Kitchen cater to well-heeled folks in bustling areas like downtown, Copley Square, and the South End. Rarely does a Boston food truck venture into the city's less tony neighborhoods like Dorchester, Roxbury, and Mattapan.
Jackson Renshaw and Cassandria Campbell are moving full-speed ahead to change that. Their enterprising new food truck, Fresh Food Generation, will cater solely to these lower-income neighborhoods, which they consider a culinary desert in terms of accessibility to on-the-go meals that are locally sourced, nutritious, cooked from scratch, and still affordable.
With only fast-food chains, corner stores, and a scarcity of supermarkets, it's no coincidence, they say, that the rates of obesity and diabetes are 2 to 3 times higher in these neighborhoods than others in Boston.
Renshaw and Campbell met while working at The Food Project, a non-profit organization that brings together youth from Boston and its suburbs to grow food for its CSA (Community Supported Agricultural Farm) and for charitable donations. Working at The Food Project planted the seed for their common interest in "food justice," as they call it.
Campbell also had firsthand experience as a resident of Roxbury, where, she says, she was often frustrated with the lack of healthy food choices.
After earning her Masters Degree in City Planning from MIT in 2012, Campbell came up with the idea for Fresh Food Generation and thought of Renshaw, with whom she had a strong working relationship at The Food Project but had since lost touch.
Food Truck Teamsters
When she proposed the idea of co-founding the truck, Renshaw, who had recently graduated from the University of Vermont with a degree in agriculture, didn't hesitate. "When do we start?" he asked promptly.
Since that first meeting over coffee, Fresh Food Generation has moved along without a hitch. In October 2012, they were voted "Favorite Community Project" in Roxbury, an award that included a $1,200 grant. Later, they raised more than $50,000 through a Kickstarter campaign. And they have also received discounts and donations on equipment.
So Campbell and Renshaw are well on their way to throwing open their truck doors this summer — and hiring a crew of young people ages 18 to 21, whom they would teach job skills and leadership — hence the "Generation" reference in their name.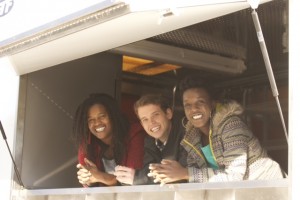 Meanwhile, they have been busy catering events, sometimes three per day, occasionally to crowds as large as 80, and wowing those crowds with exotic dishes such as Cachupa, a Cape Verdean soup. (See recipe.)
Think Wordly, Cook Locally
This taste of early success is owed in large part, they say, to their chef, Nadine Nelson, a cooking teacher and food writer, who trained in Paris, is of Jamaican descent, has lived and worked in Roxbury, and is passionate about cooking "seasonal food with a worldly perspective."
She plans an ambitious globally-inspired menu that is in fact quite local, as it reflects the rich diversity of cultures — Caribbean, North African, Mexican, and more — in the Boston neighborhoods that Fresh Food Generation will serve.
"With Fresh Food Generation, I hope we can break through barriers of race, ethnicity, income, and geography to make good food accessible to everyone."–Jackson Renshaw
"Our food can be found on the streets of cities around the world," Renshaw explains. Featured dishes might include Mediterranean Kofta, Jamaican Jerk Barbecue Pork, Dal Curry Vegetables, Mexican Black Bean Salad, and Kale Caesar Salad.
But even more than delivering dazzling meals to an area overpopulated with pizza joints and fast-food franchises, the mission of these young, dedicated entrepreneurs is simple, democratic, and straight from the heart.
"What it comes down to," says Renshaw, "is that I really want all people to eat well. With Fresh Food Generation, I hope we can break through barriers of race, ethnicity, income, and geography to make good food accessible to everyone."