By Linda Iaderosa
I met Diane Mina last fall as she poured generous amounts of Bloody Marys at a 49er Tailgate party held at Levi Stadium. Let's face it, when someone hands you a bloody Mary–the likes of which you have never tasted before–you're going to have a spirited connection right from the start.
I discovered that the fresh and unique combination of flavors my mouth was cheering about was hand crafted by this happily married, pretty, outgoing, smart, great wife and mom—yes, the kind we love to hate but love instantly anyway. Diane Mina, Bloody Mary enthusiast and founder of Bella Mina Gardens.
Then it struck me. Mina, as in Michael Mina, the two time Michelin Star award-winning chef, Mina? Yes, Diane Mina, wife of chef and restaurateur Michael Mina, or as she calls him "my cheffie" has scored a touchdown with her brand of a tasty tradition she and Michael began 25 years ago.

Bloody Marys for Life
For this East Coaster of Italian and Puerto Rican descent, drinking spicy and sweet concoctions of 'Virgin Mary's' began at age 10. "I enjoyed the spicy tomato, Tabasco, horseradish Clamato drink with backyard barbecue and clams on the half shell," she remembers. "When I was older, I'd make Bloody Marys at house parties, experimenting with olive juice and other pickling spices."
Moving to the West Coast and meeting Michael, a life-long 49er fan gave her an opportunity to participate in tailgating–a completely new experience for her.
"I worked at Candlestick Park and had never tailgated until I met Michael," she recalls. "So when we started dating we made the standard hamburgers, cheeseburgers and sausage but later, Michael ramped it up with lobster couscous, cioppino, caviar and champagne. I wasn't a beer, wine or champagne drinker so I introduced my Bloody Mary drink with Clamato juice."
Two years ago as Michael signed with Levi stadium to host a $5000 per member Tailgate extravaganza, held on 49er home games at his restaurant, Bourbon Steak and Pub, he did not forget his 25-year tailgate companion.
"He told them 'I'm not doing this without my wife—I don't want to look out in the crowd and not see her with her Bloody Marys,' " she says. "Even though we've grown up in this business together, I was afraid that my drinks wouldn't be on the same grand scale as my husband's food."
But with the support of Michael and the desire to bring a product that was a somewhat healthier version of a familiar favorite, Diane introduced her fresh pressed tomato juice, an herbal combination known to have medicinal benefits and her secret bloody Mary ' elixir seasoning' to thirsty crowds.
Tomatoland
"Living in West Marin County California we have the perfect climate, she says," we started planting over 200 varieties of tomatoes and I narrowed it down to two plants. They are Russian heirlooms uniquely defined by their shapes and brilliant colors, each having a dark purple. almost blackish color and both producing a high yield in juicing with chocolaty velvet earthen notes."
Hand milled tomato juice infused with herbs such as lovage (an anti-inflammatory) and dashi, produced the healthy alternative she was seeking. "I want to inspire restaurants, markets and consumers about this simple and clean cocktail.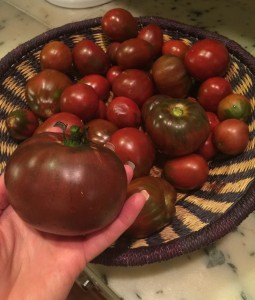 I'm using fresh, raw ingredients that have their own sweet and savory flavors, naturally reducing the sodium and sugar that other mixes tend to have."
Diane's future plans include launching her custom designed "'Diane's Bloody Mary Bar' at Michael Minas Tailgate, Levi Stadium in the fall of 2015. "We will be mixing bloody Marys with tequila, vodka, whisky and gin. My husband will be my first client of course offering my mix in his 25 restaurants. She adds, "Anyone who carries my product will receive a personal demo on how to present my drink to the world in its new form."
It's funny how someone as talented and creative as Diane can remain humble and kind in the midst of so much success. Was it the influence and inspiration from her "Cheffie" husband, Michael? Actually it's more about them as a team of grateful visionaries committed to growing their Bella Mina Garden.
A garden that bears much fruit. This Mina Bloody Mary is a testament to the couple's love and respect for what Nature provides. Bottoms up.
Save