She may be Charles Krug's newest winemaker but Stacy Clark is no stranger to the craft. This soft-spoken oenologist spent 26 years at Pine Ridge Winery, followed by consulting and even a few years launching a brand of her own before getting "the call."
Clark was asked to take the reins at the venerable winery as winemaker for the Charles Krug brand in early spring 2011. It didn't take long for the first challenge to be laid at her feet: turn the 2011 harvest into a decent, even superb, batch of sauvignon blanc.

Charles Krug Peter Mondavi Family Winery, founded in 1861 is Napa Valley's first winery. Since 1943 the Mondavi family has owned it; 97-year-old Peter Mondavi Sr. is currently in command with his sons, Marc and Peter Jr.
The Peter Mondavi family no doubt knew of Clark's reputation as an accomplished winemaker who was calm, but not averse to taking a few risks. Clark immediately felt at home wandering through the French oak barrels in the 1874 restored Redwood Cellar, stopping frequently to admire the all-glass wine transfer line that Peter Mondavi installed in the 1940s (most are stainless steel today).
"The family is very involved in this operation," Clark says. "There's this amazing legacy of the past but there's also a focus on the future. To raise the profile of the winery even more."
When Life Gives You Wet Grapes…
As vintage years go, 2011 was kind of, um, unique. A cool growing season, lighter harvest and learning her way around meant that Clark truly had to hit the ground running—working with the vineyard crew to open up the vine canopy and get more light on the fruit, paying obsessive attention to weather and prepare for that ever-agonizing decision faced by all vintners in the region: when to pick the grapes.
But Clark takes the pressure in stride and insists that it's all part of the job. And the 2011 sauvignon blanc turned out beautifully. "Although sauvignon blanc is an early season wine, we ended up harvesting a little later than usual," she says. The first bottles of Charles Krug's Napa Valley Sauvignon Blanc were on the shelves by early 2012 and "consumer reaction was very good."

Sauvignon blanc, the crisp, clean white that's running a close second to chardonnay with consumers, is one of the winery's better known offerings. Sunset Magazine voted the winery's 2007 vintage as the Top Value Wine of the Year; the San Francisco Chronicle included it in their Top 100 wines that same year.
Clark devotes a good deal of her time within the 45 acres at Charles Krug's estate vineyards that are planted to sauvignon blanc. But there is additional estate acreage and over 400 acres planted to cabernet sauvignon, cabernet franc, malbec, petit verdot and merlot. The chardonnay and pinot vineyards are currently under renovation.
Despite its reputation as a behemoth winery, Charles Krug's output is actually on the small side. "We put out 80,000 cases of wine a year," Clark says. Compare that to CK Mondavi (part of the overall C. Mondavi and Family operation), which produces 1.5 million cases a year.
"Successful wineries come in a variety of sizes," Clark says. "Yet there is perhaps more of a cachet in being 'connected to the earth,' being able to manage the wines from the land to the bottle. It is a tremendous asset to the brand for the family to own and farm the many estate properties that they do."
Charles Krug Winery is essentially a winery-within-a-winery, allowing Clark to closely monitor the terroir-based premium wines that are quickly building a reputation with wine critics and consumers.
The Good Earth
In fact Clark spends much of her day in the dirt. First thing in the morning, particularly as harvest draws near she is carefully checking the fruit. Then she catches up on issues and work orders from the previous afternoon, meeting with Mondavi family members and staff as schedules permit throughout the day. The atmosphere around the winery is focused and intense, yet relaxed.
Clark also admits her best tasting time is between 10 and 11 in the morning; her taste buds seem to pick up nuances in the wine better. Tractor rides take the place of office cubicles; and instead of PowerPoint and management consultants, fellow vintners give each other advice and often meet in downtown St. Helena to discuss the weather and other wine-making topics of endless fascination.
At Charles Krug the fruit is picked at night—better for the fruit, better for the pickers, and if something breaks down at 7:30 a.m. you have a fighting chance of getting it fixed before the next round. "It's quite a sight," Clark says. "If you happen to drive up Highway 29 at 2 a.m. next month you'll think UFOs have landed!"
To Everything a Season
As you read this, the low-hanging clusters of grapes on the Charles Krug estate are being carefully scrutinized, tasted and protected for the impending harvest in October. New solar panels are being installed above the large outdoor fermentation tanks and on the winery rooftop. When complete in December, the solar panels will provide 50% of the winery's energy needs.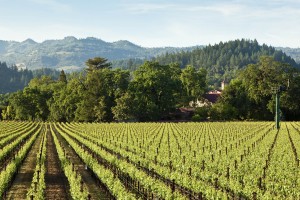 Nothing stands still at Charles Krug, least of all the winemaker brought in to raise the bar on a respected, but perhaps underestimated Napa brand.
Stacy Clark is on her rounds, silently thanking the high school biology teacher she had at San Mateo High for turning her on to the magic of wine making. "Edmund Holm was sassy, smart and demanding in a fun way," Clark says. "He taught on a higher level."
And Charles Krug's triumphant sauvignon blanc of 2011 can be credited at least in part to Holm's most apt student.