The Orange County Restaurant Association along with dozens of sponsors is showcasing the area's culinary prowess with the launch of The Golden Foodie Awards.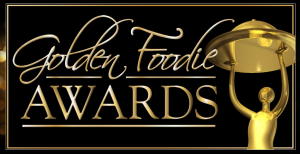 This ongoing event started with a competition last Saturday for students interested in a culinary career. Sixteen students prepared a recipe they had submitted prior to the event. Judges included many personalities from the Food Network and Orange County-based chefs, restaurateurs and the media. Three finalists were named–Vincent Espinoza from Costa Mesa; Roshelle May from Mission Viejo; and Francis Laureano from La Mirada. The winner will be announced at the awards event on September 30 at The Fairmont Hotel in Newport Beach. A $25,000 scholarship from the Art Institute of California in Orange County is the prize.
Entries for the culminating event, the Golden Foodie Awards, is ongoing and based on submissions from Orange County diners and drinkers. Each week in August (during "The Golden Dine Out"), members who sign up here have the opportunity to elect and vote on favorites such as pizza, cocktails, seafood, mixologist and best service.
If nothing else, it's a great excuse to get out and try that Indian restaurant down the street you've had your eye on.