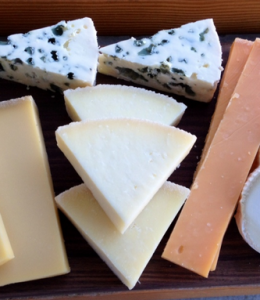 American Cheese Month is long overdue. After all, who are those haughty French with their Brie, Roquefort and Chèvre?!
Dozens of cheeses are produced domestically, and this month you can taste 45 of them at a special "cheese board" at Portland, Oregon's Cheese Annex, Chizu, and Cheese Bar.
Here are some of the domestic varieties they're offering:
Jasper Hill's Alpha Tolman: Alpine-Style Raw Cow's Milk from Vermont
Meadow Creek Grayson: Washed Rind Cow's Milk from Virginia
Ancient Heritage Hannah: Raw Cow & Sheep's Milk from Oregon
Sartori Bellavitano: Raspberry Lambic washed Cow's Milk from Wisconsin
Point Reyes Bay Blue: Raw Cow's Milk from California
Plus, cheese tastings are free; you can also enjoy an inexpensive glass of Spanish wine to augment the experience at Cheese Bar…or just buy a whole bottle. But at the Cheese Annex, buy a brewsie: it's part of the Commons Brewery on Belmont Street.