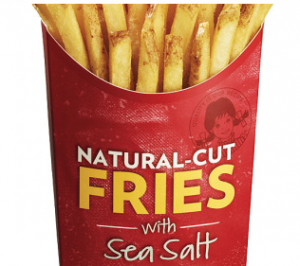 The French fries at Wendy's are getting a makeover, one the fast food chain hopes will appeal to foodies. It's the first major overhaul of their fries in the company's 41-year history.
To make their fries more upscale and au courant, Wendy's will now use Russet potatoes, keep the skin on (hasn't Arby's been doing that for years?) and sprinkle sea salt on top of them, reports Chicago Breaking Business. The new fries will also be slightly slimmer and crisper than the old ones.
After testing them in a handful of restaurants this summer, the fries will roll out to franchises around the country over the next two weeks — along with a major marketing campaign.
It's all part of Wendy's push to promote "real" ingredients. The fries will, however, still arrive at stores frozen.