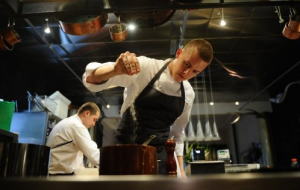 Bocuse D'Or doesn't trip off the tongue of many here in the US. But it is certainly very familiar to the world's top chefs–and this year, Eleven Madison Park sous chef James Kent is training for the gold.
The Bocuse D'Or, named for France's legendary Paul Bocuse who began the international competition, is compared to an Olympic gold medal in cuisine. The two-day cookoff, which takes place in Lyon next January, includes preparing two monkfish, four crabs, 20 shrimp, as well as lamb saddles, sweetbreads and kidneys.  No American has brought home the gold since its inception in 1987.
Europeans are favored at the event, Kent said in an Agence French Presse interview, because Americans "don't know the ingredients. Everything has to be shipped in."
Kent is currently training three days a week under David Bouley at Bouley restaurant where he once worked, along with assistant Thomas Allen, who will attend the competition as well.