Once upon a time, about 50 years ago, travel by air was an elegant experience, a journey to be relished from start to finish.
The accommodations were luxurious, the service was superb, and the meals, served on fine china, were divine.
Just imagine dining on filet of sole with lobster sauce, prime ribs–rare, medium, or well done (your choice)–duckling, or shrimp, with all the trimmings including a glass of wine. If you were flying first class (the only way to travel!) caviar and a cocktail of your choice served before dinner. Dessert was special too, planned to feature a taste of the destination. On a trip to Hawaii, it might be macadamia nuts on ice cream; for England, Tipsy Pudding.

First-class dinner service was a 3-hour affair, recalls Barbara Braunstein, a former Pan Am stewardess. "The standard meal was seven courses, served on two-tiered carts set with linen and flowers," she says. A typical rundown (after cocktails and almonds) might have included:
Course 1: canapes and hors d'oeuvre
Course 2: Oxtail Soup (with a dollop of sour cream and dash of sherry upon request)
Course 3: Entree (choice of 4 or 5) prepared to order
Course 4: Salads and various dressings
Course 5: Wide selection of cheeses and fresh fruit
Course 6: Dessert (often cherries jubilee and vanilla ice cream – not flambéed!)
Course 7: After dinner drinks of all kinds, mints and cigarettes in a slim 4-pack box
It was a glamorous flight and Pan Am was considered the most glamorous airline of all. Sophisticated passengers who had journeyed to exotic destinations by sea, were suddenly deciding to fly instead. And they dressed up in their best finery for the trip–no jeans or backpacks.
Dressed to Impress
The crew dressed for the flight, too. The pilots wore navy style double breasted uniforms and white officer's caps trimmed with gilt braid.
As for the stewardesses: In addition to their prim suits, white gloves and hats, they were required to wear girdles. Being young and attractive was not enough. They also had to have a trim figure. To ensure that they stayed that way, Pan Am had a random weight check. Those who had gained more than they should have were encouraged to lose weight. There were even regulations regarding hair, fingernails and makeup. (The official lipstick was Revlon's Persian Melon.)
All Seats Were Good
Although First Class was the ultimate in travel luxury, the tourist section was not exactly hard to take. The seats were roomy, there was ample leg room, and on takeoff passengers were offered blankets and pillows (no extra charge).
Just after takeoff, the stewardess drew the curtain across the aisle that separated first class from the tourist section. Then came the first treat—wine and a snack. On most airlines it was a small packet of peanuts, but on Pan Am, which prided itself on superiority, the snack was almonds.
After that, the stewardess came down the aisle with the food cart. Meals were served on detachable trays which held packets of salt, pepper, and sugar as well as a moist towel and a napkin. Some meals even came with miniature wine bottles. Although the meals were not as elegant as first class, the quality was good and it was still delicious. Passengers might be offered a choice such as chicken or beef, along with a vegetable, salad, a roll and dessert.
Foods with strong flavors such as raw onions or garlic were omitted. For those who were on a restricted diet, it was even possible to order, in advance, a medical or religious meal.
One precaution passengers may not have been aware of was that the food for the crew was not the same as theirs. For safety reasons, the pilot and co-pilot each were served different meals so that they did not eat any of the same products—to avoid the risk of all pilots on board becoming sick.
As for those who wished they could fly to exotic destinations, the "Pan American's Complete Round the World Cookbook" edited by Myra Waldo and printed in 1957, offered the opportunity to experience the foods and customs of international flights. It features more than 400 pages of recipes from hotels, restaurants, gourmet groups and private citizens, gathered by Pan Am agents from the more than 80 countries and territories serviced by the airline. Each section had an introduction about the food and customs of the land along with recipes for an entire meal. It even has a foreign index.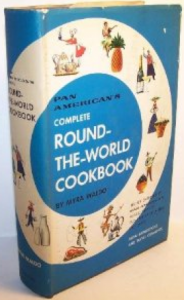 To appeal to the imagination, Pan Am included two messages in the book, the first as an introduction…
Bon Voyage and Bon Appetit—–
on this trip around the world to all those who love travel and fine food.
…and the final message on the last page:
Welcome Home——
we hope your trip was enjoyable and that you have enjoyed trying these new dishes.