The Recipe Project
Developer: Atom Apps
Cost: Free
Runs on: iPhone
Website: www.therecipeproject.com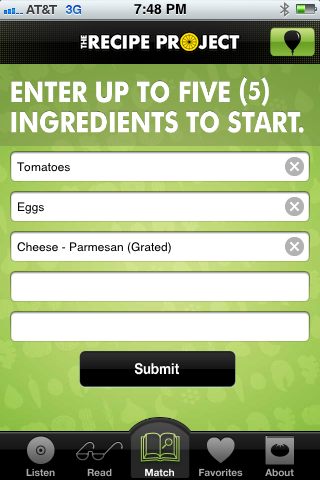 What an odd little app! For a little background, The Recipe Project app was created by the group who put together "The Recipe Project," a book with recipes and essays on food and famous chefs' music playlists. It included a CD with the band One Ring Zero singing the recipes from top chefs like Mario Batali, David Chang and Tom Colicchio. Yes, singing the recipes! This app is a mobile sidekick to that book.

Opening the app takes you straight to the heart of the app's functionality where you enter up to five ingredients and it culls the database of recipes for a match. Unfortunately, this is really hit or miss. The app description suggests there are hundreds of recipes, which sounds like a lot, but isn't nearly enough when you need perfect ingredient matches to yield results. Time after time I entered five ingredients and got zero results. I would then try four ingredients, then three—and this is with very complementary ingredients. Finally, I found I could only put in one to two ingredients if I wanted any type of recipe results to appear.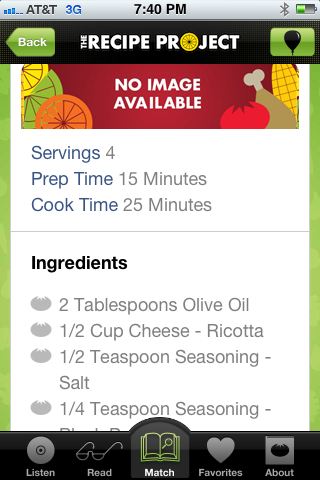 When the recipe does appear the page looks nice, but incomplete. I looked through at least 40 recipes and never once saw an image of a completed dish. Instead it gave a nice-looking placeholder that said "No Image Available." I can understand some recipes not having images, but none of them had images. The actual formatting of the recipes and instructions were easy to follow. If you like a particular recipe you can save it to a Favorites tab.
In addition to the weak recipe finder, there's a reading section. This portion includes background information on a chef and a Q&A; when I reviewed the app it was David Chang and I found this reading enjoyable.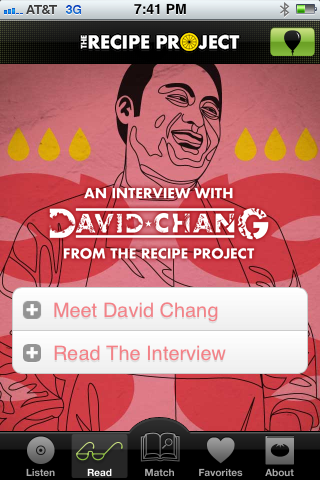 The final section of the app is for listening. Click on the Listen button at the bottom of the screen and a record pops up, a needle slides over and the music by One Ring Zero begins to play. Melodic instructions of David Chang's crab claw recipe begins to pump out of the speakers while the written instructions appear above the spinning record. It's quirky, and I have to admit a little catchy after listening to it a few times. Is Chang's claws song going on my iPod? No. But I do think they're onto something with the singing recipes.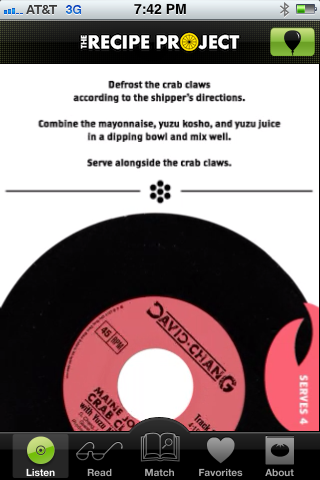 While I find this app nicely put together and oddly charming, it just doesn't do enough to justify a must-download rating. Since it's free, however, you might want to give it a try if for no other reason than to listen to the music.
Toque Rating: 2.5/5