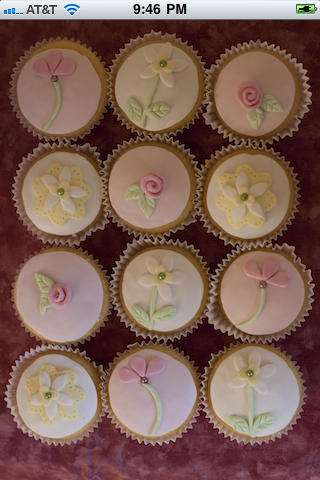 We all know the cupcake craze has swept the nation. What I wanted to know was if the cupcake fanaticism has taken over the app world as well. Surprisingly, not as much as I thought. I hunted down four apps that honored the handheld treats that we've all fallen in love with—again.
Cupcakes 4 Kids
Developer: LoL Software
Cost: $0.99
Runs on: iPhone
Website: www.lolsoftware.com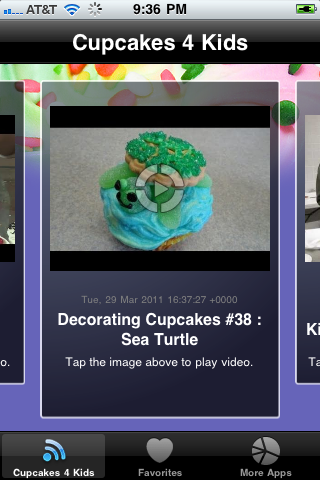 This app had my attention even before I downloaded it. In the iTunes App Store, it warns that I must be 17 years of age or older to download this app because of "Frequent/Intense Mature/Suggestive Themes." What kind of cupcakes were these?
Turns out that this app is not much more than a video feed of homemade user videos. I watched several, ranging from a not-very-helpful slideshow to a step-by-step instruction video from ingredient to baked goody. Since these videos are constantly being updated, I suppose the warning is there in case someone uses foul language—I should mention that I scanned for a while and didn't catch any inappropriate material. Another warning with this app is that you must be connected to the internet so that you can download and watch the videos. With all these warnings and the price tag, I'd just skip this app.
Toque Rating: 2/5
KylieCupCakes
Developer: Kylie Verdouw
Cost: $2.99
Runs on: iPhone
Website: http://www.apptools.org.au/appTools/kyliejane.html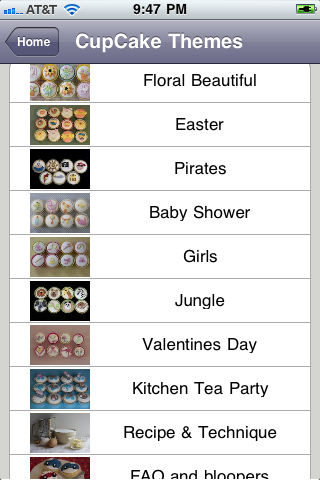 One of the truly great things about cupcakes in comparison to regular cake is that you can experiment on a small scale. KylieCupCakes is an app devoted to cupcake decorating—the perfect canvas to let your creative side flourish. Kylie provides nearly a dozen themes, such as Jungle and Baby Shower with each theme including a variety of images and instructions for each. There's also a section dedicated to recipes and techniques. Unfortunately, this app only provides the bare minimum. No video, no great visual step-by-step breakdown of the decorating process, nada. Just written instructions on how to decorate. For an app on creating visually stunning cupcakes, I'd hoped that visual aids would be at the forefront.
Toque Rating: 2.5/5
iMake CupCakes
Developer: FoxWare
Cost: $0.99
Runs on: iPhone
Website: http://imake.foxware.co.uk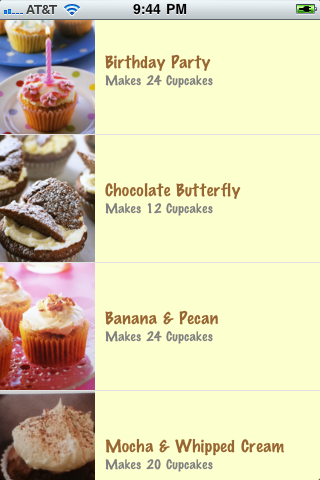 iMake CupCakes is the only true how-to cupcake app in this bunch. The app includes 10 recipes with a thumbnail image of each cupcake. Clicking on the recipe provides the instructions that are broken down into each individual process from mixing ingredients to making the buttercream. Each process comes with a flowchart-like instruction page that seems more appropriate for a corporate boardroom than kitchen.
The main problem with this app is the navigation. You can't go from one process to the next, you must instead go in one process, back out to the main list, then in to the next process. It makes the app very cumbersome. One nice feature is that when clicking through step-by-step instructions, it will provide a timer when needed. A nice touch, but not enough to make this app elite.
Toque Rating: 3/5
CakeLove
Developer: Daily Interactive Networks LLC
Cost: Free
Runs on: iPhone
Website: www.dailyinteractive.com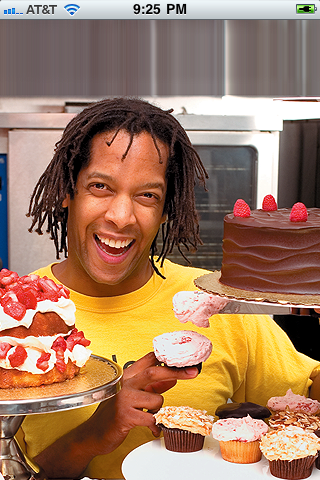 Warren Brown knows cake. In this app he shows you how to make cupcakes, cake, scones and more. Click on a recipe and you'll get an overview, equipment list, step-by-step instructions, a shopping list that can be saved, and videos of Brown breaking it all down. This is a very solid app for baked treats and if you're not already a fan of Brown, you will be. He's very entertaining and instructive in his videos. There's also a section in CakeLove to shoot and store photos.
One of my favorite features is slightly hidden. Clicking on the little "i" icon in the bottom right of recipe pages highlights words that link to a "more information" pop up—the best glossary solution I've seen in an app.
CakeLove is not shy about promoting Brown's various books, but that's just fine since this app is free.
Toque Rating: 3.75/5