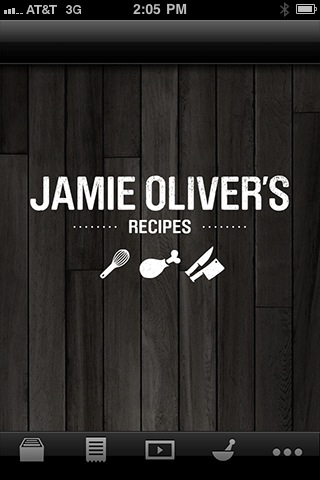 Jamie's Recipes
Developer: Zolmo Limited
Cost: Free
Runs on: iPhone, iPad
Website: www.zolmo.com
The chef that tried to make our kids eat better has launched his second app, Jamie's Recipes. We didn't review his first app, Jamie Oliver's 20 Minute Meals, available for the iPhone and Android, so we thought we'd give his newest app a look. Before we get going, it should be mentioned that while the app is free to download, the app only includes "Jamie's Taster Pack" of 10 recipes and three instructional videos for content, along with some other built-in tools; all other recipe packs and videos will need to be purchased within the app for $1.99 each.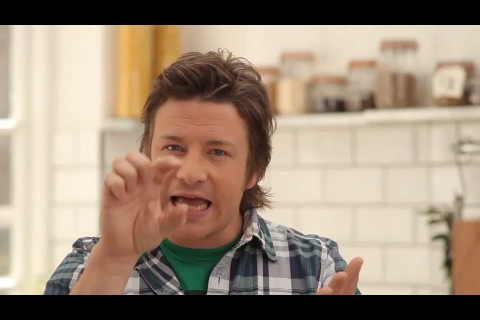 The first time you open the app Jamie Oliver pops up on the screen and welcomes you with a short video of what to expect when using the app. After that, you are taken to the recipe library, the place where you can view your recipes and view what's available to buy. At the bottom of the screen are five main navigation points: Recipes, Shopping, Videos, Essentials, and More. The Recipes section is brilliantly designed with two modes of viewing your library, by recipe pack or food category. If you don't own a particular recipe pack, you can swipe through the various recipes to see if it's a purchase you'd like to commit to—just like in a bookstore (remember those?). Using the search function will also show items you own or that are available for purchase. Clicking on any of the recipes in your library will then immediately take you to the recipe page.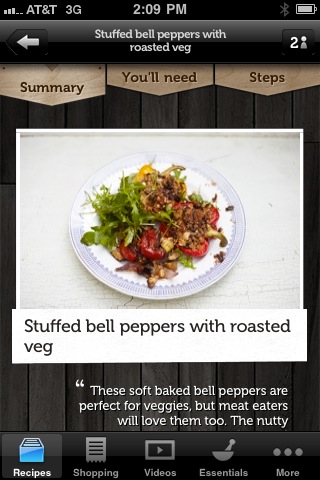 Once in the recipe page there are three navigation points: a summary of the recipe, what you'll need (both equipment and food ingredients), and the steps you'll take to execute the recipe. You can tell that this app was thought through from beginning to end from all the interconnectivity between the various parts of the app. From the summary page of the recipe you will find links to useful videos. Within the "You'll Need" page you can add items to your shopping list with the click of a button. And on the "Steps" page you can browse the recipe in portrait or landscape mode, with landscape mode offering images for each step.
In a unique feature that I haven't seen anywhere else, as I swiped from step to step I was occasionally greeted with an audio clip from Jamie explaining something about that step or cooking process, e.g., taste the dish for salt and pepper, or make sure that something on the stove isn't overcooking. When the recipe is completed, you can share what you've cooked on Facebook with the click of a button.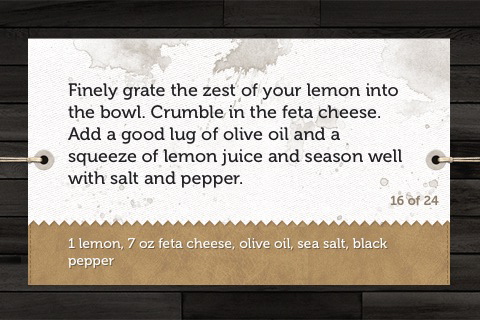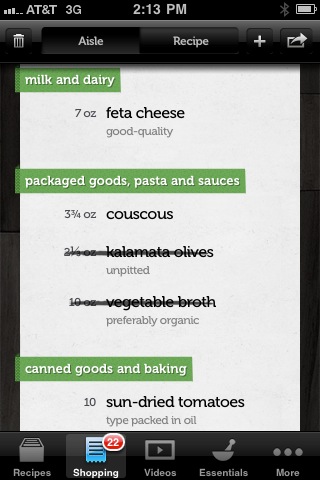 As you go through the app and add things to your shopping list, an indicator will appear over the navigation button indicating how many items are on the list. The list itself is organized by recipe and aisle. Having all your fruits and vegetables appearing together (in the same aisle) makes this part of the app extremely useful. Touch an item and it will get crossed off the list. Furthermore, you can add individual items and cross items off by touching them.
The videos page is a scrolling list of videos in your library and available for purchase. If you'd like to purchase a video, clicking on it will reveal what recipe pack it's in and how many recipes and other videos are also included—you can't purchase single items à la carte. When you wish to view a video for the first time, you'll need to be connected to WiFi to download it. Each individual video page will show also show the related recipes (whether you own them or need to purchase them).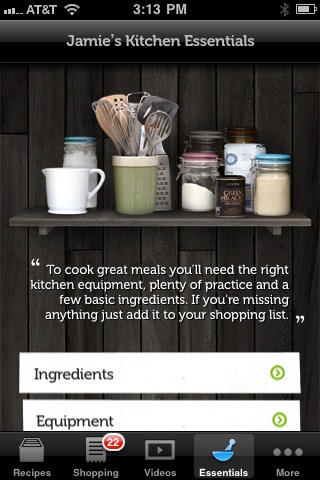 The Essentials page provides information on stocking your kitchen with the necessary ingredients and equipment, while the More page is where you'll adjust settings, among other things.
This app is impeccably designed, thoughtful, useful and gorgeous to look at. The recipes and steps have been beautifully shot and the app, overall, uses a wide range of capabilities inherent to your smartphone. If I had one gripe it would be that loading this app with content could get costly. Each pack contains roughly 10-12 recipes and one-to-three videos. At $1.99 each, this is still likely cheaper than purchasing a cookbook (and more useful!), but doesn't provide the overall bargain that some other apps do. Saying that, perhaps Jamie's Recipes is paving the way for more robust apps across the board in a way that makes it valuable and sustainable to developers and the consumer. It wouldn't be the first time Jamie's tried to steer us in the right direction.
Toque Rating: 4.5/5