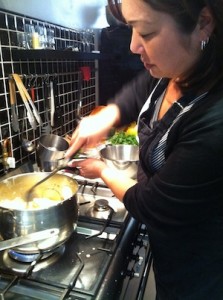 If you've been to Paris, you've eaten in Paris. Chances are, the eating was pretty good. But on a recent trip to the City of Light, I wanted more than to eat well. I wanted to get my hands around the thing. I wanted to cook.
Cooking on vacation isn't everyone's proclivity. But some of my fondest travel memories revolve around the kitchen: picking wild blackberries and roasting monkfish in the San Juan Islands, stewing up a pot of white beans with pork shoulder and rosemary on a December day in Sonoma. There is something about gathering local ingredients and firing up the stove that connects you to a place. If cuisine = culture and food = love, then cooking in a foreign destination is romance itself.

The harder question is, how? Though my boyfriend and I had booked a modest apartment for our five days in Montmartre, the kitchen looked a little, uh, La Bohème – tiny stovetop, minimal equipment and no promise of a stocked pantry.
If cuisine = culture and food = love, then cooking in a foreign destination is romance itself.
It was the perfect get-up for lazy breakfasts (and, it turned out, an impromptu pasta dinner), but not quite the right venue for real cooking.
Then one day while ruminating online about our upcoming trip, I stumbled upon an ad for English-language classes at a Parisian ecole de cuisine called Cook'n With Class. A quick click on their website revealed a laundry list of intriguing course options: French desserts, bread making, wine and cheese, molecular gastronomy.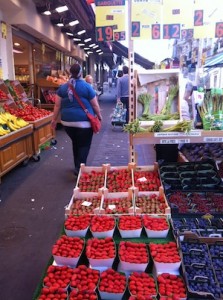 For me the clear standout was a class called "Morning Market" – a gourmand's stroll through the food shops and stalls of Montmartre to buy ingredients for a four-course French meal, which we would then consume with local wine. Here was every aspect of Parisian fantasy I could muster, including the warm and familiar vision of my man in an apron (sorry, no photo).
Like every good fantasy, this one had a certain potential for disaster. Though the Cook'n With Class website looked perfectly credible, registering for the class meant sending payment via PayPal in advance. At $269 per person, this was no small risk. What if the site was just a front for organized crime? Moreover, what if the class was a dud? I envisioned Charlie and I following a cranky French chick named Babette through the aisles of the Monoprix in despair.
Ultimately, though, adventure prevailed – that is, with a little due diligence. The travel site Trip Advisor ranked Cook'n With Class number one among more than 400 attractions in Paris.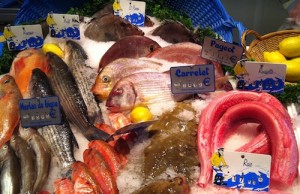 That seemed promising, though the recovering marketer in me knows social media sites aren't always purely objective. The reviews on Trip Advisor – and there were nearly 400 of them — were almost unanimously raves. Again, this wasn't proof positive, but it was a good sign. I wrote to the school for more information (and to see if they would write back). Their response was prompt and earnest. I read and re-read the course description. I reviewed PayPal's payment protection policy. I imagined Charlie and I standing in the middle of a little fromagerie, surrounded by delicious, delicious cheese.
I booked the class.
Find the Dude with a Cart
We meet at the Jules Joffrin Metro station and look for a dude with a green shopping cart. There are six of us: a young woman from Iowa traveling with her brother (from whom she has escaped for the morning), three Australian women celebrating their newly empty nests, Charlie and me. Our instructor, Alex Dreyer, is an expat who earned his professional cooking chops in kitchens from Texas to California before moving to Paris for love – and to cook at Michelin star restaurant Maison Taillevent.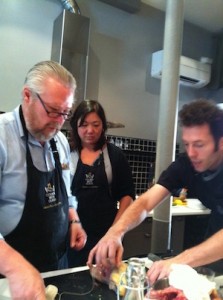 Chef Alex is like the awesome culinary uncle I never had: He knows all the great places. He takes us to a boulangerie that's been at the same site for hundreds of years – the ovens alone are 125 years old – and buys us a sack of cheese pastries to munch on. We stop in front of a butcher shop that specializes in cheval, but decide we aren't in the mood for horse today. At what appears to be the actual Valhalla of cheese, each display of gruyere, epoisses, camembert and chevre is so exquisite, we can practically hear the angels singing. Alex helps us narrow our choices to four for our cheese course.
Our Menu
Like any awesome uncle, Alex is full of great ideas. In the boucherie, he wonders if we'd like to fix something with duck. Or how about rabbit? When one student raises the question of a whole boned guinea hen stuffed with sausage, Alex protests. It's too much work, too tight a schedule. But eventually he acquiesces and we brainstorm about potatoes. Do we want pommes Anna sautéed in obscene amounts of butter? A gratin made with gruyere and garlic? We settle on a classic dauphinoise, sliced thin, layered with heavy cream and baked. Also on the menu: in-season white asparagus and a baked white fish called rascasse with fresh tomato and olive sauce. For dessert we choose a tarte aux fraises to be made with wildly expensive strawberries from Spain.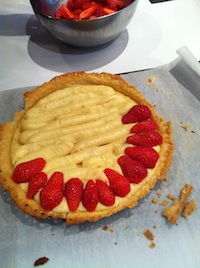 Even as Alex is describing our meal as typical "grandma food" – what your French grandmother would serve at home – I can't help thinking that this is pure luxury. We are living what feels like Parisian life. When we return to the school, we work busily to prepare our meal. Alex walks us through the various steps so that each of us participates and all get a chance to see how the dishes are prepped.
The lunch we share at the end of class is magnifique. The cheese is divine. The rascasse – somewhat meticulously boned with tweezers by your faithful correspondent – is as tender as the shy fishmonger promised it would be. We have boned, stuffed, pan browned and roasted the Guinea hen and, when it is done, we put the pan on the stove and let our parboiled white asparagus soak up enough of the juices to form an evil golden crust. The potatoes. I can't write about the potatoes without weeping a little. And the strawberry tarte tastes of spring and love and vanilla custard.
It's a lovely meal made lovelier by the sharing of wine and stories. The young woman in our group saved her pennies so she could bring her brother to Paris as a high school graduation gift. We should all have such a sister. The Australian women met each other in playgroup. Now that their children are grown, they're making an art of "me" time. Alex, we learn, swing dances with his girlfriend in his spare time. Charlie and I are in Europe thanks to some academic research he's doing related to the Nuremberg trials.
Or at least that's the party line. In fact, this trip is the realization of four years of dreaming together about what it would be like to go to Europe, to find a little pied a terre, to shop and cook a meal as we do in our real lives. With a little help, we've done it.
For me, cooking, eating, inspiration and love belong on the same plate.
Sometimes, when I'm of the mind to shed a few of the pounds collected during my culinary adventures, I'll read how one must not confuse food with life. Socializing with friends, gathering together with family, falling in love – these things don't have to happen in the presence of food, dietitians say. I don't believe it for a minute. For me, cooking, eating, inspiration and love belong on the same plate, and the best part of life is how each experience and every meal enriches the next.
So now when I make asparagus, I want it to brown ever so slightly in chicken drippings. When I buy cheese, I want it to be displayed in a corona of golden light, so I remember just how sacred it is. And when I make a strawberry tart, as I sometimes do – with farmer's market berries grown by the same guy I've been buying from for 20 years – I taste spring and home and happiness. Just for a moment, I daydream in French.