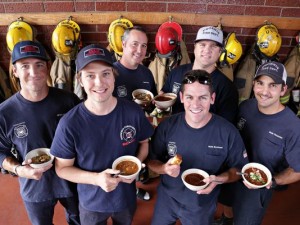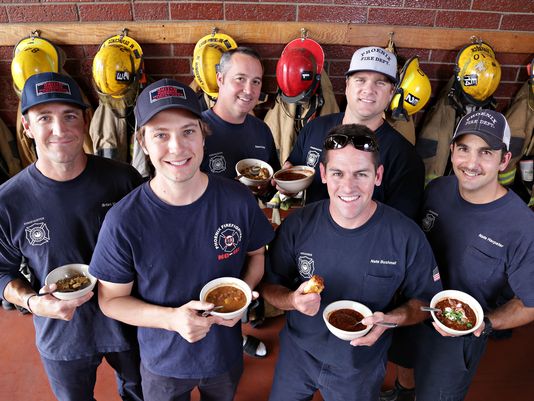 Home isn't the only place where families bond around the kitchen table. So do firefighters at work. Generally, crews assigned to shifts that extend over consecutive days and nights, spend a lot of time together on the job. Eating around the kitchen table, (yes, fire stations have kitchens as well as dormitories) is a tradition that nurtures a family of its own.
Unlike most families at home, however, fire stations do not have one person responsible for the cooking; usually each firefighter rotates cooking for the "family." And when you are together for extended periods, on call for strenuous duty, sandwiches and leftovers are not enough–you need hearty meals! Some firefighters are already good cooks when they join the department; others learn on the job.

Food for Flight
Some cooks use gourmet recipes for such meals as pasta salads, chilis, potato soup, casseroles and stews; others may cook without, based on their individual experience. The menu must be practical, influenced in part by the unpredictable fire call, which can be sounded at any time. Everything is stopped, the stove is turned off and the firefighters get into gear and rush to their duty. The cooks know that some foods such as rice and pasta may not hold well on the stove for extended periods of time; others such as stews and soups do. This is likely why chili is often associated with firemen: cheap, filling and hard to mess up.
Usually, the cook announces the night before what he plans to cook for the next day. If for some reason a firefighter can't eat it (i.e. food allergy) he can ask to be counted out. The cook then shops for the food and the cost will be divided by the crew. (The fire department does not assume the cost of meals—the firefighters pay for them.)
Mealtime is informal. The firefighters line up in the kitchen and help themselves from the pots. They may not always remember to compliment the cook but he knows it was a success when he looks around the table at the empty plates. And he breathes a sigh of relief knowing that his job is done. The cook never does the dishes. His duties are finished when dinner is ready.
Breakfast Is Best
According to retired Lt. Richard Silvestro, of the Fairfield, Connecticut, Fire Department, the best meal of all is Sunday breakfast, providing there is no fire call, because, generally, there are no drills and less turmoil. The firefighters enjoy a more leisurely meal which could include bacon and eggs, pancakes or even more gourmet meals, such as eggs Florentine or a Swiss omelet depending on who is doing the cooking that day.
In 2006 Hallmark Channel featured a movie For the Love of Grace in which a disillusioned author and a widowed firefighter are brought together by fate. (He spots a fire in her apartment while walking home). She is inspired to write a firehouse cookbook based on his cooking experience in the firehouse.
This recipe for Philadelphia Fuego Chili is from the
For the Love of Grace Gourmet Firehouse Cookbook