In 1992, Fr. Greg Boyle found an abandoned warehouse in LA's Boyle Heights and with the help of his crew turned it into a bakery. That bakery was the beginning of Homeboy Industries; his "crew" consisted of homies who grew up on the streets of LA with nothing but their wits and their fellow gang members to keep them alive.
Today one of the country's most successful gang rehabilitation programs in the nation, Homeboy Industries is the quintessential Café of the Second Chance—employing and educating those with the least through working with food.
Over the last 20 years, hundreds of gang members and at-risk youth have had their tattoos removed, their troubles counseled and their hands covered with flour, oil, eggs and salsa through Homeboy Industries. The company employs nearly 300 young men and women; they make salsa, tortilla chips, fresh bread, apparel and serve thousands of downtown diners at Homegirl Café.They learn business, administration and marketing skills. Many go on to join other companies in the area.
"If you aren't offering these kids concrete help, God doesn't care about your prayer meeting," Boyle says.

With entities like Homeboy Industries and Delancey Street as beacons for integrating food service with social justice, next gen food purveyors — makers, caterers, restaurants, and more — are now expanding their services to "the least, the last, and the lost."
Some of these groups are growing nationally and beyond, even attracting equity investments like seasoned serial entrepreneurs.
They're doing well by doing good, and that's all right with us. Here are some in action:
Z Pie Reno
Reno, Nevada is blossoming like a cactus flower: as a cheaper place to stay when visiting Lake Tahoe; as home of the Arizona Diamondbacks' Triple A team; as tax-friendly host to facilities for Amazon and Apple.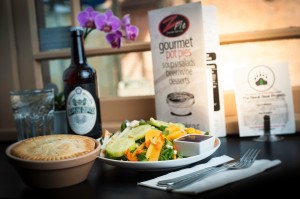 And as an arts community complete with chic restaurants. One of those eateries, Z Pie Reno, which serves gourmet potpies that the kids love.
The kids here are ones "aging out" of local foster care, and living in the four-bedroom home owned by Lynette Eddy's non-profit Black Bear Project.
Eddy earned an MSW in 2011 and opened the restaurant in March 2012. She sees profitability by March, and plans to add a second home to accommodate more kids.
They work at Z Pie and pursue education: from GED to trade and tech, to community college. Eddy has corporate support for Black Bear, and business and community support for the potpies.
"People are moving here," Eddy says, with 20,000 already at the University of Nevada, Reno. New condo projects appeal to the younger, hipper, urban audience. "Young people are looking for cool places to eat."
And work.
Elephant Walk
When a "black bear" gets big enough, it can grow up to be an elephant.
The Elephant Walk, a French/Cambodian restaurant in Waltham, Mass., plans to take its Benefit Restaurants concept beyond its single confines this year. Bob Perry co-founded the restaurant in 1991, and started his charitable venture in 2009.
"We wanted a bit of history and proof-of-concept," Perry says. "I wanted the evidence that it worked."
It works, he adds.
The Elephant Walk in Waltham gives 3% of gross receipts, about $3,500 a month, to a different charity each month: one local, one regional, and one national per quarter, and the same 12 groups every year. A plan focusing money where it can do consistent good — and that has grown his sales 30% in three years. The idea now is that other restaurants, anywhere, would sign-on with BR to do the same.
"A thousand restaurants … that's $3.5 million in a single month," says Perry.
And yeah, he thinks there could be an app for that, to guide diners to restaurants with social involvement.
Catalyst Kitchens and FareStart
Already national — and in a couple of foreign locales as well — is the Catalyst Kitchens concept of Seattle. Catalyst grows from the folks at FareStart, a culinary job training and placement that over the last several decades has helped 6,000 people transform their lives, while serving more than five million meals.
Catalyst scales the work to offer it to existing organizations in other cities, says Christina Starr, marketing and communications manager at FareStart: New Orleans; Boise, Idaho; St. Louis; Phoenix; Washington D.C.; Winston-Salem, N.C., and Chicago, for instance. Foreign locales include Scotland.
"The way to have the biggest impact is to take what we've learned over the last 20 years and offer it to organizations already in place," Starr says.
Every entity in their network is connected to food in some way, she says, whether it's a soup kitchen that offers job training, a large-scale restaurant, a café, or a coffee stand.
Sisters of the Road
Their monthly food budget — for a café that surprises many people with its lavish and professional look — is $2,600.
"What comes through the cash register is minimal," says Kris Soebroto, Café and Development Co-Manager at Sisters of the Road in Portland, Ore. "[Our meal prices have] been $1.25 for 33 years."
In fact, most people who eat there will work for food — and do. They barter their time in exchange for meals. The café has a reservation system and diners can, within reason, linger as long as they like.
They can work as long as they like, too — and often turn their lives around by doing so.
Some of the non-profit's paid staff of 20 has been homeless, Soebroto says. After trying a manager-employee system, the entire operation is now run as a collective: equal pay and decision by consensus.
Most recently the group — named for female train-hoppers of bygone eras — has pursued direct relationships with ranchers and farmers, to increase the quality of their food, and funding films by some of the people it has helped.
And remained gloriously, almost defiantly, non-profit.
"We might serve 250 people, and at the end of the day our till is $5," Soebroto says.
"Simple Food"
It can be as simple as a Redemption Foods or an Old Skool Café.
The former is an L.A. restaurant owned by a non-profit re-entry home for former convicts being released from prison. It trains them in food service and life, helping "ex-offenders to re-invent themselves and create a future rather than be defined by their past," according to their Twitter description.
"And we serve incredible food," it adds.

The latter is San Francisco fine dining and entertainment: a 1940s "supper club" produced and presented entirely by at-risk youth, ages 16 to 24. The waiters, singers and dancers used to train and rehearse in founder and former correctional officer Teresa Goines' home, with events held at donated facilities. But in April 2012 they opened a full-scale restaurant — you can even look them up on Yelp.
"We believe breaking bread together is a sacred act," says the Redemption Foods website. "And through it, redemption is possible."
Dave's Killer Bread
It's not always a restaurant.
One-third of the employees at bread maker Dave's Killer Bread, in Milwaukie, Ore., are ex-felons.
So is one of the co-owners, Dave Dahl. He spent two decades in an out of prisons on both coasts. Before joining Nature Bake, the bread maker his brother Glenn had grown over time, from their dad's old retail bakery, in 2004.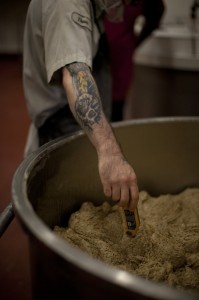 "I realized I had more to offer than being a druggie and a criminal," Dave says.
The key was discipline and humility — and learning how to draw.
"With drafting and design, there's a parallel," he says. "You're making a chair, and do you make the same chair as everyone has before? Or do you make it better?"
So he started making new bread, and in 10 years the business has grown from 60 stores in the Portland, Ore., area, to thousands nationwide, including Whole Foods and Pavilions, among others. The company recently announced an equity investment to expand even further.
Some employees have been in prison, others have been homeless.
"We didn't set out to be that way," Dave says. "We pick the right people for the job, and if they have a past, but they're a good quality person, willing to put in a hard day's work, that's the focus. It's a great model that seems to be working on several different levels for us."
It's business. It's social.
And it's even kinda cool. Fans of Dave's Killer Bread (numbering in the many thousands) are called breadheads.
Why food?
Why is helping others so anchored in "the bread and the cup," as it were?
Z Pie's Eddy notes that a restaurant teaches job skills: interacting with the public, cash management, and quality control. And with some 550,000 restaurants nationwide, that's a lot of potential training locations.
"Food connects people from all walks of life," says Starr, of Starr says FareStart and Catalyst Kitchen. An industry with an estimated 14 million jobs by 2020 isn't bad either, she adds.
Laura Mizaur, a strategy and entrepreneurship faculty member at Creighton University in Omaha, Neb., adds to that. "Most people associate food with joy abundance, family and fun, and employment beyond the transitional types are readily available," she says. "Creativity and hospitality are rewarded while employment ranges from traditional minimum wage jobs on up to owning and operating the restaurant."
Mizaur says the two types of people kickstarting these efforts — the business leaders incorporating social mission joining with non-profits; and second, those groups working directly with the most vulnerable and at-risk individuals — start out striving to create employment and sustainable business models. It does not always work.
"All the same principles that apply to good business need to apply here," she says.
__________
If we were playing "Jeopardy!" there'd be an answer to that question, "What is the Cafe of the Second Chance?"
The answer box would read, "Food companies helping needy people, starting as a notion in a few big cities, and now spreading to suburbs and even some pin-dot towns, encompassing all things from food making to distribution to restaurants, as well as training in culinary skills, increasing charitable giving to food charities, yet not neglecting their inner city roots, with visions of that kind of reach we commonly know as a movement."
The box would be too small for all that, of course.
We're gonna need a bigger box.