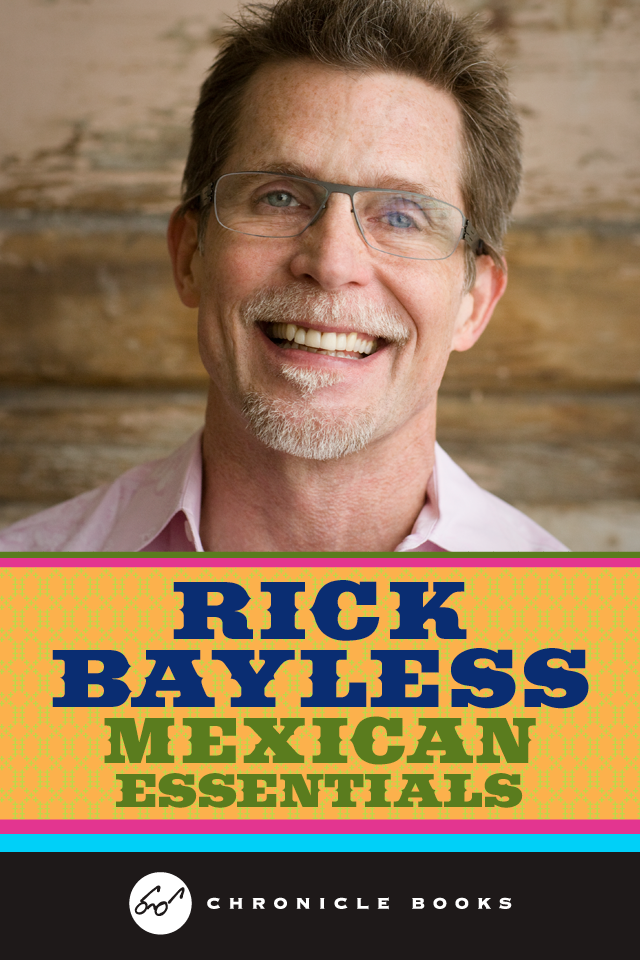 Rick Bayless: Mexican Essentials
Developer: Chronicle Books
Cost: $2.99 (regularly $4.99)
Runs on: iPhone
Website: www.chroniclebooks.com
Version: 1.0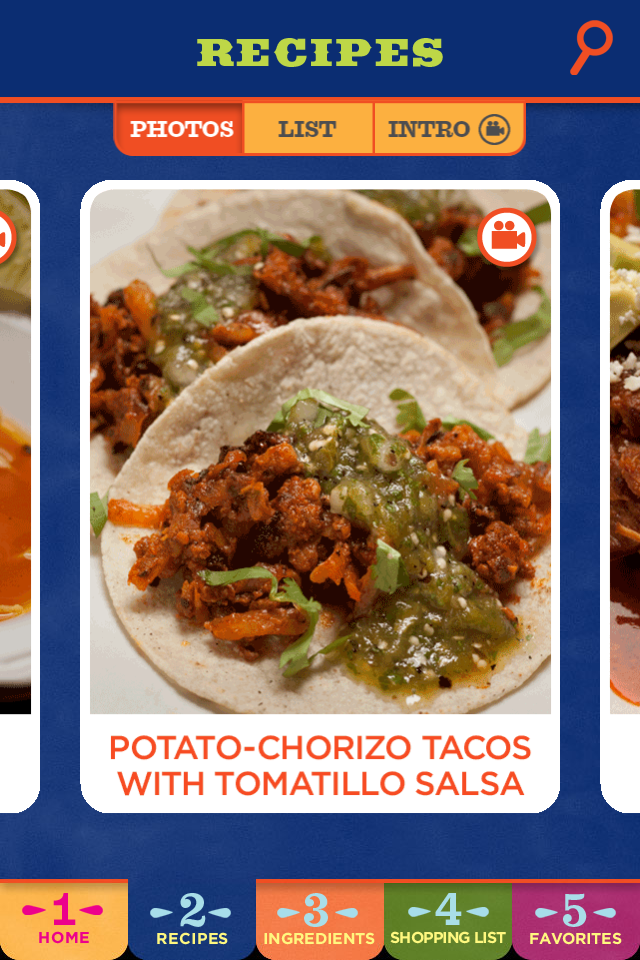 Growing up in Southern California puts you in an environment where Mexican food is a household and neighborhood staple, which may shock some of the uninitiated, who assume it's just tacos and burritos. Even if you're not hip to the variety that Mexican cuisine offers, I sincerely hope you're familiar with the great work of Rick Bayless—the American champion of Mexican food.
We've had a very good run of celebrity chef apps recently (e.g., Wolfgang Puck and Sara Moulton) and I'm hoping this little tamale keeps the streak alive. Rick Bayless: Mexican Essentials is a collection of Bayless's favorite Mexican staples and is published by Chronicle Books. However, this app provides much more than just a digital version of a book, including 40 instructional videos—more on that later.
Rick Bayless: Mexican Essentials includes the basics of any great recipe-driven app: recipes, ingredient information, shopping list and favorites. These are the global navigation points that make moving around very simple, particularly with all the cross-referencing this app offers. Clicking on the Recipe button displays great images of the 35 recipes offered. You swipe left and right to navigate and they seem to be presented with appetizers at the beginning and desserts at the end (with other courses in-between). With just 35 recipes this navigation is manageable. If you're looking for a quicker mode to find a recipe, a list view is available or you can tap the search magnifying glass icon.

Once inside a recipe, you get the serving size, ingredient list and preparation method. You also get a link of related videos. Every recipe includes related videos, but none of the videos are of the entire recipe preparation. Like Moulton's app, these videos are simply tips and single steps. Saying as much, the videos are great! Bayless is full of really terrific tips and information and he has a very soothing delivery.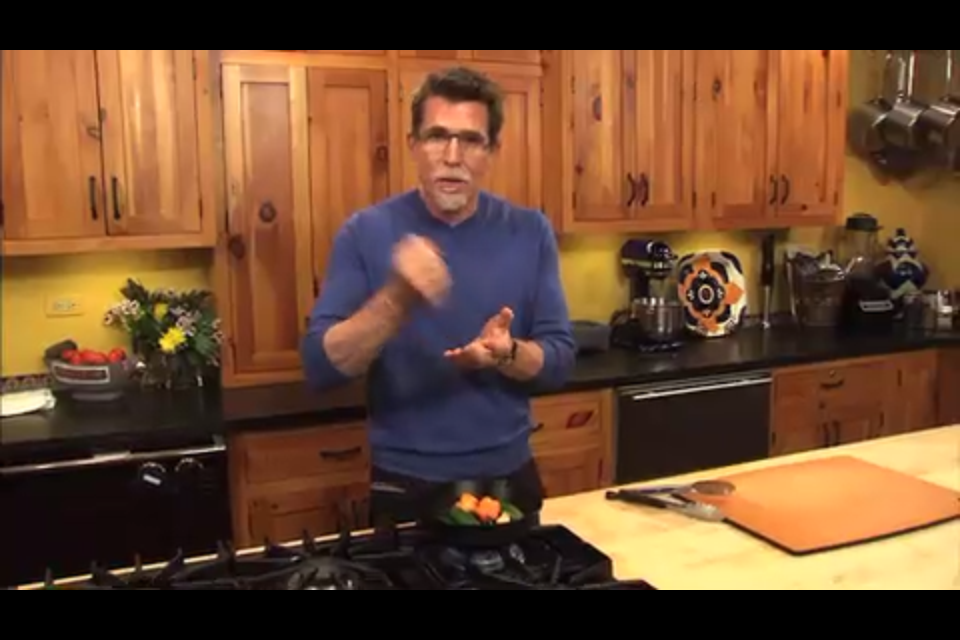 What's a bit awkward is that the recipe navigation page includes a video icon, but only shows the first related video for that recipe; you must go into the recipe page to see the others. It would make more sense to hide that icon on the recipe navigation page, or run a continuous playlist of all the related videos.
The recipe pages have a few other buttons I should mention, including a share button for e-mail, Facebook and Twitter; a favorite button; and a shopping list button. These last two buttons, of course, take us to the other global navigation points of the app. Before I get there, however, I want to mention one last feature in the recipe pages: ingredient reference links.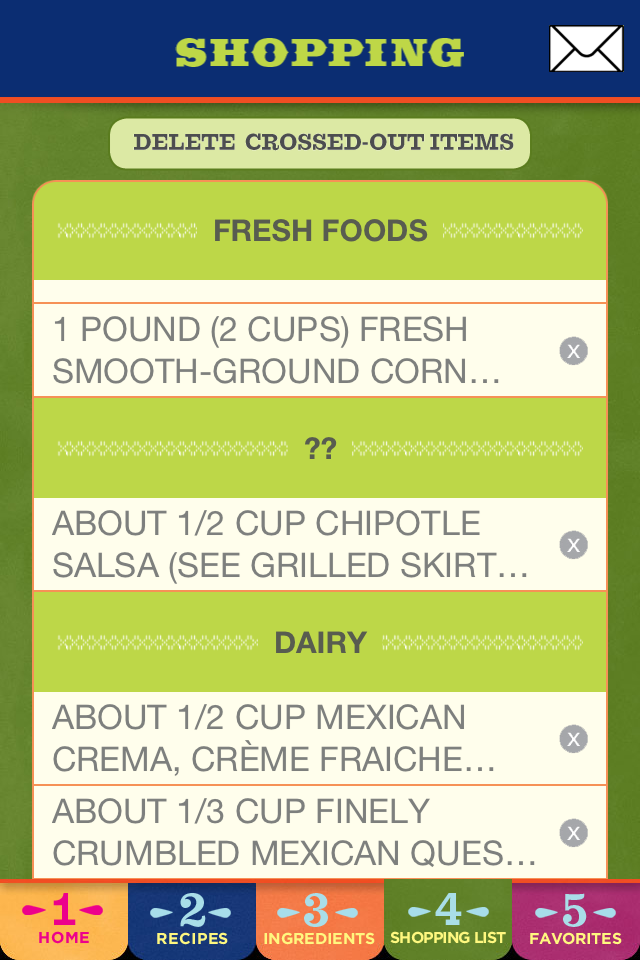 These links are scattered throughout each recipe and take you to a silo page that includes an image, a description, what to look for when purchasing, and how to store the ingredient. These pages also include links to all the recipes that this ingredient is associated with. Just as recipes can be added to your favorites, so too can a single ingredient. Oddly, though, you can't add a single ingredient to your shopping list.
The last piece of this page is a great audio description from Bayless that's original from the rest of the scoop on the page. He tells stories of the ingredient's history and place of origin. It reminded me very much of Mario Batali's app and how it takes you through a tour of country and culture. If you're accessing an ingredient from a recipe, a back button returns you to the recipe. All of the ingredients can be browsed through the global ingredient button at the bottom of the app.
The shopping list is decent, but not great. It sorts the ingredients categorically (meat & fish, dry goods, produce, etc.), but you can't sort by recipe. I also ran into an item that was uncategorized and labeled under "??"—that must be his secret sauce!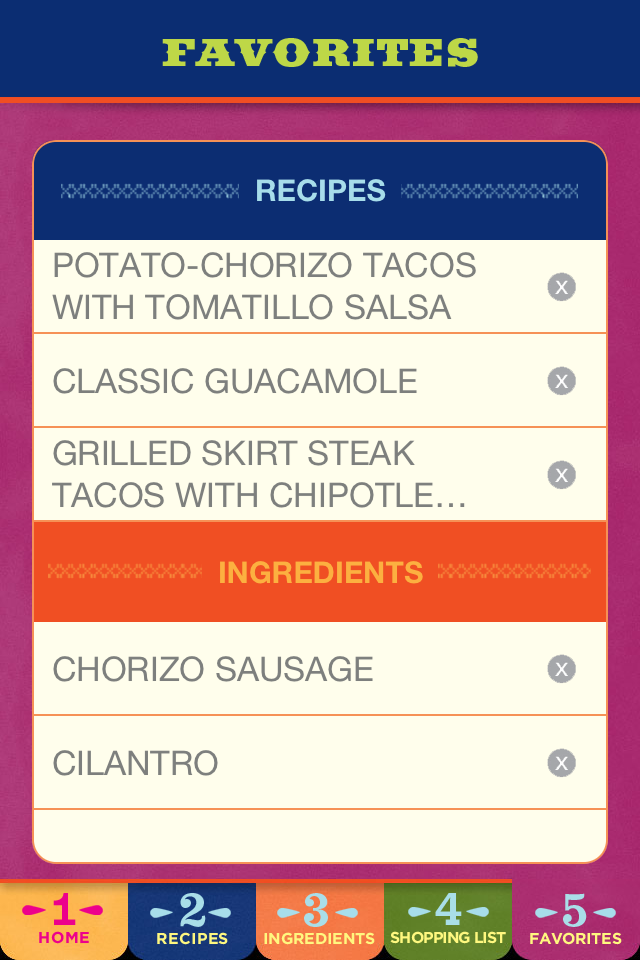 The last section of this app is the favorites page, which keeps it simple. It separates the recipes from the ingredients, but doesn't provide the picture-slide navigation option like the rest of the app. This seems like it should have been a simple thing for them to include.
Overall, this app looks great, with vivid colors and subtle elements of Mexican design. It's a bit big in file size, 393 MB (I'm assuming for all the video), but this also means the content is ready to go and the app is responsive and zippy at every click.
While not a perfect app, Bayless keeps the streak of solid celebrity chef apps going. Like any good recipe app, the information and knowledge is there, but what makes this app worth the download is the knowledge and charm of Bayless that comes across as buttery as a ripe avocado.
Toque Rating: 4/5