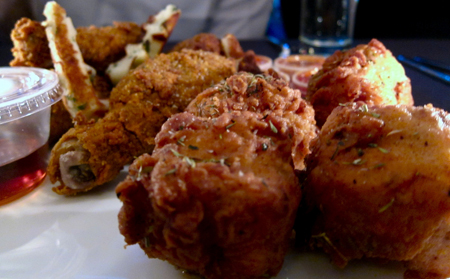 It started innocently enough, as all great rivalries do. Chef Ludovic Lefebvre popped into Eric Greenspan's Melrose Ave. bistro, The Foundry, with a craving for fried chicken one Friday night. Greenspan wasn't around, and Lefebvre joked via Twitter that he might invade the kitchen. In a flurry of tweets over the next few hours, Greenspan, Lefebvre and Lefebvre's wife Krissy — who serves as the GM of her husband's business ventures (and his life) — organized an evening that pitted Greenspan's more traditional on-the-bone fried chicken against Lefebvre's deconstructed fried chicken balls.

Twitter Feed
Many of L.A.'s foodies had followed the friendly gauntlet-throwing via Twitter. The night of the throwdown, The Foundry felt less like a traditional restaurant and more like a secret club or a high school reunion – if you actually liked your high school classmates. The joint was packed with bloggers, chefs, gourmet merchants and a certain Pulitzer Prize-winning food critic. Many in the crowd knew each other only by Twitter handles; the throwdown was their first real-world meet-up. They tasted and table-hopped. No one worked the room better than Krissy Lefebvre. A former stockbroker, model, "Apprentice" contestant and lawyer, she moved from table to table with the skill (and exhaustion) of a PR pro.

Greenspan and Lefebvre's chicken dishes were as different as their personalities. Big and bawdy with a devilish streak, Greenspan recalls Bluto from "Animal House." Lefebvre, who goes by chef Ludo, comes across like a Gallic George Clooney with the vibe of a laid-back surfer dude. He walks a fine line between ignoring and indulging in the adulation heaped on him by bloggers — especially female bloggers. (The hot wife helps, making Lefebvre more desirable and approachable.)
Greenspan's chicken was an all-American classic: crispy, tender legs and thighs served with a side of maple syrup. When asked how he learned to cook fried chicken, Greenspan replies: "I'm an American! We're born with that knowledge." The real question is: How did he learn to cook his fried chicken? "It's a combination of fine poultry-cooking technique and compensating for lack of resources as far as a fryer goes."
Fried chicken typically takes a long time to cook in a fryer: 6-10 minutes for a leg, according to Greenspan. Instead, he cures the chicken overnight in a mix of salt, sugar and other spices, confits it in duck fat for three hours, breads it and flash-fries it at a 375-degrees Fahrenheit. "That gives [the chicken] a great uniformity and makes it extra crispy on the outside," Greenspan says.
His adversary for the evening, Lefebvre, has also had a lifelong love for chicken. (Lefebvre's logo, emblazoned on apron, menu and website, is a strutting coq.) But he didn't come to fried chicken until later in life. "My favorite thing to cook is roasted chicken and potatoes, like my grandma did every Sunday," he says. It was Southern food queen Paula Deen who inculcated Lefebvre in the ways of the deep-fryer.
"The most important thing [about deep-frying] is the oil and the temperature. Some people fry it too fast; the chicken outside it's crispy, but inside it's not cooked. I cook my chicken between 300 and 340-degrees Fahrenheit. But finding the good temperature on the oil is hard," Lefebvre says.
His fried chicken balls (much tittered and Twittered about) are boneless wonders. Made of dark meat held together by magic (aka a technique he won't reveal), they are brined, breaded and deep-fried, their crispy outer layer liberally studded with rosemary and served with sweet and spicy Piquillo pepper sauce. For those who waited hours at the LA Street Food Fest weeks ago and been turned away, this was redemption.
Kitchen Playdates
In truth, the Greenspan vs. Lefebvre rivalry was less vicious contest and more publicity stunt. Without the benefit, or the drag, of a full-time brick-and-mortar restaurant, Lefebvre is free to indulge his whims in other chefs' kitchens. (Two weeks later, he and his fried chicken popped up at Akasha in Culver City, with chef Akasha Richmond preparing the side dishes.) For Greenspan, the throwdown filled up The Foundry on what probably would have been a mellow Bluesy Tuesday.
Although Greenspan has built a public persona via sporadic Tweeting and at events like the Grilled Cheese Invitational, he has yet to achieve chef Ludo's rock star status. The fried chicken night allowed him to bask in the Lefebvres' marketing savvy. "It was an interesting lesson in the power of social media," Greenspan says. "I ought to Twitter more!"
"It's all about bringing people together," Lefebvre says. "People forget that eating in a restaurant is to meet people."
Billed as a rivalry, the fried chicken face-off was more like an impromptu jazz concert, one that will never be recorded or precisely repeated, its transitory nature perfectly in tune with a pop culture that seems more fleeting than ever.