Breaking into the entrenched world of spirits with your own small batch brand takes a particular kind of courage–liquid courage, you might say. Taking their cue from the wine business in the 1980s and 1990s, when small-production wineries began gaining market share from the behemoths like Gallo and Krug, these new distillers are challenging longstanding traditions and tastes of spirits.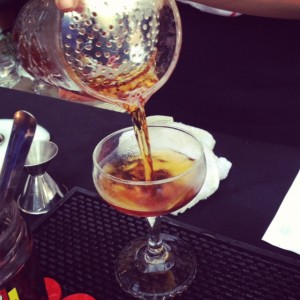 Not only are the flavors and ingredients changing, the distribution and marketing also chases a new kind of customers in social and mobile ways. With little prospect of attracting a large distributor, artisan spirits rely on special events to build their market.
That's where yesterday's Spirits of the Times event comes in. Notified by liquor.com of an artisan spirits tasting at Sadie's in Hollywood we found it impossible to resist. After a minor traffic headache at the Hollywood Bowl (Aerosmith concert, need we say more?) we arrived at the rented-out restaurant for a festive tasting of four small-batch spirits. Guests were invited to sample the spirits straight, followed with a specially mixed cocktail. We each were handed a ballot so we could of course vote for our favorite cocktail. Here is our trail:

#1
Whisky: Makers 46
Cocktail: Harvest Hattan
Notes: Our first stop was at the whisky station, featuring a punch bowl from which "Harvest Hattans" were being ladled. We started with a thimbleful of Makers 46 and loved the smoky, just-short-of-sweet burn it gave. Then we tried the Harvest Hattan cocktail, which is made with the following ingredients:
Makers 46
Thatchers Apple Spice Ginger
Martini & Rossi Rosso
Angostura Bitters
Guessing this is kind of a "Green Acres" version of a Manhattan? We really wanted to like it–anything with the words "apple" "spice" and "ginger" in it can't be bad–but it just wasn't our style. We sipped three times just to be sure. Then we set it down and I wrote "ick." Still, Makers 46 on its own is lovely.
#2
Vodka: Karlssons
Cocktail: La La Land
Notes: We love vodka and were eager to see if a neutral spirit could play well with the character actors that are whisky, tequila and rum. We were told that Karlssons is made the traditional way, with fresh, young potatoes.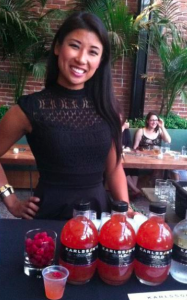 We were handed a taste, told to drink half and then the pourer ground some fresh pepper into it. Not bad! Wonder if that was one of those happy accidents at the dinner table?
Anyway, moving on to La La Land:
Karlssons Vodka
Aperol
Raspberry & White Pepper Syrup
Fresh lemon juice
Fresh cucumber juice
Bitter Truth celery bitters
Raspberry garnish
What a difference! This cocktail was refreshing and flavorful; a near-perfect blend of sweet and herbal. The cucumber juice gave La La Land some grounding. The Aperol probably had a lot to do with its unique taste. The only problem with this drink is that you didn't really feel like you were drinking. Vodka is sneaky that way. We reluctantly left our cocktails after three (or four) sips.
#3
Rum: Pink Pigeon
Cocktail: Chagossian Fight Song
Notes: While some of the other guests were asking for tastes of this company's other rum products, we remained focused on the Pink Pigeon. Not because we are discriminating rum drinkers but mostly because the cocktail-making process was so damn beautiful! Here are the cocktail ingredients:
Pink Pigeon Rum
Soberano 8-year-old Spanish Brandy
Cocchi Vermouth di Torino
Orange bitters
Jerry Thomas's Decanter Bitters
Luxardo Maraschino Cherry garnish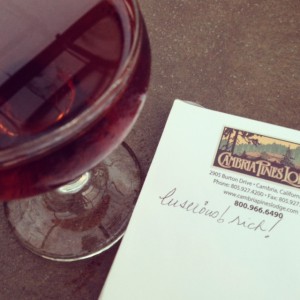 All mixed carefully in a cut glass pitcher, stirred carefully with a long narrow gold stir stick, strained into a stemmed glass, followed by an unbelievably luscious maraschino cherry, and then the glass lightly rimmed with fresh mango peelings (we think).
Oh, this was worth exhaust fumes and swarms of T-shirt sellers at the Bowl. See our notes? "Luscious" and "rich." That's what it was. A special occasion cocktail your grandchildren will fondly remember you always asking for at dinner.
#4
Tequila: El Mayor Blanco
Cocktail: Paloma
Notes: Tequila's on fire everywhere but it's still a definite "you either love it or you hate it" spirit. The nice thing about tequila is that it seems to be easier to discern taste and flavor differences between brands. (Anyone chime in below if they disagree.) We took a few sips of the Blanco and did detect the fresh agave flavor its description promised. We really wanted to see how this carbonated cocktail would work after a promising start.
El Mayor Blanco Tequila
Club soda
Lemon-lime soda
Splash lime juice
Pinch salt
Here's what killed it: the ice. Too much ice and frankly the sodas weren't great either. The bright tequila flavor kinda drowned.
You can guess that our votes came down to two frontrunners, Chagossian Fight Song and La La Land. After much spirited discussion, we voted for Chagossian Fight Song.
Which one won? La La Land. Maybe it's all in a name.