If the atmosphere of a restaurant could be described by one word, the word for Lüchow's would have to be gemütlichkeit. (Definition: good-natured, jolly, agreeable, cheerful, hearty, comfortable, cozy, snug…Germans are big on adjectives). It was New York's quintessential German restaurant—the aroma of sweet and sour German cooking, the thin wafts of smoke from rare cigars, the hearty laughter of patrons enjoying themselves, and the music of the Vienna Quartet reached out to embrace all who entered.
Located at 14th Street, facing Irving Place, which was the center for the arts in New York at that time, it was a restaurant devoted to good living, which was just what big, good-natured August Guido Lüchow, who founded the restaurant in 1882 wanted it to be. The food was authentic, the beer, Würzburger, and the wine cellar was stocked with only the finest European wines.
The food was authentic, the beer, Würzburger, and the wine cellar was stocked with only the finest European wines.
Generation after generation of musicians, writers, actors, politicians and financiers—such luminaries as O. Henry, H.L.Mencken, Lillian Russell, Theodore Roosevelt  (yes, that  Theodore Roosevelt who later became President)  as well as  Paderosky, Caruso, Richard Strauss, Victor Herbert, Irving Berlin, Richard Rogers just to name a few, were regular patrons. The Bohemian Club was organized there in one of the private rooms as was the American Society of Composers, Authors and Publishers.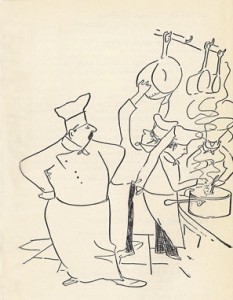 William Steinway, distinguished head of the famous piano company ate lunch there in an upstairs room regularly at noon with senior executives from his firm. The forty-five-cent lunch, which began with 12 oysters, could last as long as three hours.
The main dining room, as well as the private rooms for those who wanted to entertain guests had only one dress code —a guest could not enter "mitaus" a tie. Only fine wines and beer were served there. Those who wished to have hard liquor were served in the Gentlemen's Grille, a separate room on the same floor.
Good Help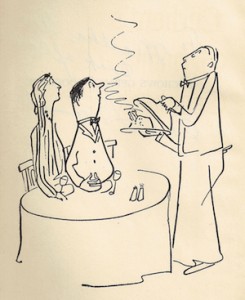 The waiters were men of strong mind and trustworthy. They advised the guests about the food in the kitchen and if something was no longer available, they were not above taking the menu back and striking it out with a pencil before returning it.
Some patrons, like William Steinway, (who had loaned August Lüchow money to buy the restaurant) entertained famous musicians from around the world at elegant dinners in the private rooms. Others, like Diamond Jim Brady had more robust banquets where twenty ladies of the chorus were engaged to be company for his dinner guests.  At the table, each lady would find, tucked in her dinner napkin, $500 plus a piece of diamond jewelry.
Fine Beer, First-Rate Events
In 1885, Lüchow's became the authorized agent in the United States for Würzburger, a fine amber colored beer from upper Bavaria. It was considered the ultimate accompaniment to such German dishes as pig's knuckles and sauerkraut, potato dumplings, beefsteak and cheese. When a shipment arrived, the beer had to rest in the cooler for at least three days before it could be served. It was maintained at a cellar temperature of 40 degrees. If a guest wanted beer colder than that, the beer was not chilled further—the mug or seidel in which it was served was chilled!
Throughout the year there were week-long festivals, each with its own traditions.
The Bock Beer festival in March was the herald of spring. For three evenings the German band played old songs and the menu featured traditional foods of the season: bockwurst, liver dumplings, liver sausage, roast ham, pigs' knuckles and pheasant on wine kraut.
The Goose feast in December was a gourmet's delight—appetizers, marinated herring, soup made from goose giblets and barley, consommé with dumplings; goose ragout  and potato dumplings, and finally, the roast goose served with stewed apples and cranberries.
A sentimental tribute to the Old Country, the May Wine festival celebrated spring and love. Vine leaves and grapes were draped around the restaurant, the German band played spring music and the traditional dessert—cabinet pudding with May wine sauce was served. It was based on a custom in Rhineland where boys and girls, holding hands, walked from town to town sampling the May wine of the vineyards.
Lüchow's May Wine

6 bunches of woodruff
½ pound powdered sugar
1 cup cognac
4 quarts Moselle or Rhine wine
ice
2 quarts champagne or charged water
1 cup fresh strawberries


Place herbs in large bowl with sugar, cognac, 1 quart wine.  Cover bowl; let stand overnight. To serve, strain mixture, pour ice in a large punch bowl, and add remaining three quarts Rhine wine. Add champagne or charged water. Float strawberries in bowl. Serves 10 to 15.
Perhaps the most cherished tradition of all was Christmas.
A 25-foot tree was erected in the café trimmed with 500 electric candles, 19th-century German toys, and underneath, a holy village, all hand carved in Oberammergau in Bavaria. The orchestra played Christmas carols and the diners sang along.  At six o'clock on Christmas Eve, the lights were turned down low and the orchestra played Silent Night.
The Christmas menu was always the same—oxtail soup, boiled carp, roast goose with chestnut stuffing, creamed onions, pumpernickel, plum pudding with brandy sauce, and ice cream.
Life After August
When August Lüchow died in 1923, he left a legacy of a restaurant dedicated to authentic German cooking and good living.  Both his successors, a nephew-in-law, Victor Eckstein and a 33-year-old Swedish restaurateur, Jan Mitchell, remained true to its heritage.
Victor Eckstein managed to keep the gemütlickeit during the Prohibition years when the Würzburger could not flow. On the day in May 1933, when Prohibition was lifted, 1,000 people came to Lüchow's to celebrate. They consumed 1,000 seidels of Würzburger (eight half-barrels).
In 1950, Jan Mitchell persuaded Victor Eckstein to sell Lüchow's to him with the promise to preserve the atmosphere and traditions of Lüchow's, which he did. In 1952, he recorded the history of the restaurant he cherished, complete with the original German recipes.  Lüchow's German Cookbook is now out of print, but well worth searching for at old book sales.
On the day in May 1933, when Prohibition was lifted, 1,000 people came to Lüchow's to celebrate. They consumed 1,000 seidels of Würzburger (eight half-barrels).
He sold Lüchow's in 1970, but the restaurant was never the same. Union Square was no longer the heart of the theater district, and by 1980 the area was surrounded by empty buildings. In 1976 Mimi Sheraton, a restaurant critic for The New York Times, visited the restaurant and found the food "dreary." In 1982 a suspicious fire, which the fire department could never explain, destroyed the building and efforts of preservationists to gain landmark status failed.
Although the new owners moved the restaurant uptown to Broadway near Times Square, the food and the atmosphere were never quite the same.  It closed in 1986.
Editor's Note: Lüchow's German Cookbook was not only an invaluable source of information for this article, but many of its recipes are spectacular  and readily adaptable to today's tastes and ingredients. Click here for Smoked Salmon in Cocotte.