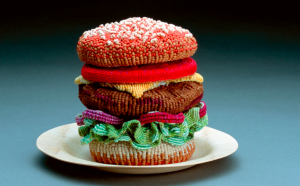 Food lovers swing a lot of different ways, making decisions about what they eat based on fat, sugar and other alluring-but-don't-overdo-it ingredients. Depending on whether we watch our weight, our blood sugar, our cholesterol or our gluten, there's a nagging sense that we should only take one bite of something decadent and then walk away. But one group of noshers have unlocked the secret of guilt- and calorie-free recipes, who enjoy without regret the fruits of their labors.
Food knitters.
It's brilliant, really. The ultimate look-but-don't-eat eye candy, or eye pie, or eye sushi.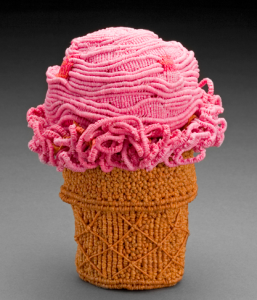 Ed Bing Lee is actually a food knotter. Using the simple methods found in basket-weaving, the artist patiently builds "delectables" that are not so much lifelike as they are delightful. They evoke the same response one would have to plates of wax-carved fish, rice and tempura one sees in the windows of Japanese restaurants.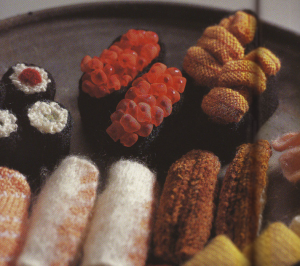 In a small Japanese bookstore a few years ago, Los Angeles Times writer S. Irene Virbila came across a book called Food Knit. One of the illustrations is a plate of incredible knitted sushi. This image, along with the hamburger you have to see to believe, made me a permanent member of the Food Fiber Society–of the yarn variety.