(Banner photo © Poulomee Basu)
I always hated sardines. Or, until I first walked into Red Hook's 100-plus-year-old Ferdinando's Focacceria, I thought I did.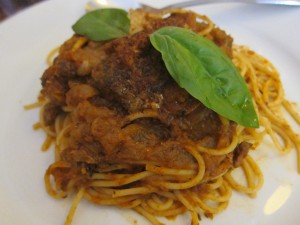 I grew up on a tiny northeastern island where fishing was a way to make at least part of a living for many residents. My dad would barter with a few, trading chop meat from his butcher shop for local flounder or fluke or bluefish or bay scallops, so I was no stranger to lots of different swimmy things on my plate. But sardines? Even without tasting them ever, never, not once, I had the utterly uncalled-for opinion that, eh, I wouldn't like them. That is, until, a man named Francesco Buffa changed all that for me, forevermore, amen.

And thank goodness, for reasons both selfish and less so. It's all but impossible to ignore the state of the sea these days, which great chefs like Rick Moonen are trying to bring attention to through their menus and by becoming ambassadors of the ocean and messengers for creatures that can't talk and habitats that lay hidden beneath the waters.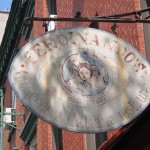 Sardines, and anchovies, too, have long been thought of as, for lack of a better literary encapsulation, really unsexy fish. Generally, no one sighs over bits of sardine the way they do over velvety slices of toro. But to gain an appreciation for the former is to embrace not only a quickly multiplying and more abundant food source (although, according to Seafood Watch, their Atlantic numbers are dwindling due to less-than-ideal fishing practices; Pacific-caught sardines are the way to go right now), but to learn the allure of its meaty, savory charms.
Something Smells Fishy (and Fabulous)
And so goes the story of that mind-changing dish of pasta con sarde. I'd gone to Ferdinando's for a different craving entirely—his eggplant parmesan, if memory serves, which is not laden with goopy, congealed mozzarella, but sprinkled, layer after layer, with fine shavings of Pecorino and served on a plush, house-made roll. But I saw that pasta con sarde go by, destined for another table, tickling my nose with its intensely alluring aromas, and inquired of the waitress when she came back my way: "What is that?" She described; I changed my order; and I've been hooked ever since.
So much so, that I recently met with Buffa at his demure eatery to ask him how, exactly, he makes this traditional Sicilian pasta dish. Ferdinando's is the kind of old Brooklyn spot that you wish would last forever; and in a New York minute, it almost has. Buffa learned the secret of making pasta con sarde from his father-in-law, Sicilian-born Ferdinando Ciaramitaro. The little Union Street foccaceria was originally owned by Carini Sacheri, another Sicilian native who first opened the old-fashioned tiled-floor spot in this Red Hook, Brooklyn neighborhood over 100 years ago. Over time, it became a staple for once-plentiful Italian transplants who yearned for authentic southern-boot delights from their home country. Later, it gained fame for its authentic food, as well as for some of its famous fans, like Nora Jones and chef Scott Conant.
Buffa himself emigrated to the United States from Italy in 1971, and soon after arriving attended the concert of a favorite Italian singer at what was then a very new Madison Square Garden. It was there his own fate was altered: a pretty young woman named Antoinette Ciaramitaro caught his eye. Within a year, the two were married and Buffa was working alongside his new father-in-law in the family business, where, slowly but surely, Ciaramitaro taught his new son-in-law to make his signature dish.
How It's Done
"It's my main dish," Buffa offers. "The trick is to make a nice sauce; to build it up with the seasonings, so the sardines don't dominate." Each day, Buffa buys the fresh fish at the market and cleans them—beheading, gutting, boning, splitting, and scraping. He sautées chopped onions in olive oil, and then adds tomato paste and a little water. From there, he adds in the whole pieces of sardine. Meanwhile, he boils fennel, drains it, and add that to the sauce, too. After simmering for a bit more, he adds the saffron, the pignoli nuts, and the raisins. It takes at least an hour to prepare every day, he says, and it's entirely worth it.
I saw that pasta con sarde go by, destined for another table, and inquired of the waitress when she came back my way: "What is that?" She described; I changed my order; and I've been hooked ever since.
"And that's it," he shrugs. But that's not it: To eat pasta con sarde is to understand a little bit about Sicily—that it is a place both sweet and salty. Pasta con sarde is maybe the island's most well-exported dish, and certainly one its most beloved, inspired by its staple protein, and other abundant ingredients—grapes, fennel, tomato—that marry in such a perfectly complementary and complex way. It is savory in flavor, velvety in texture, and each element, although finely, inextricably melded together, is apparent on its own. The sauce, clinging to the long and stocky pieces of pasta, is plush and rich on your tongue, dotted with plump raisins that roll around in your mouth until, pop, you bite one and its sweetness melds in with bright herbiness of the fennel, the caramelized flavor of the onion, the warm nuttiness of the pignoli, and, finally, the tang of concentrated tomato.
When I eat it, I find myself closing my eyes and humming a little—which is wildly embarrassing when I realize I'm doing it, but indicative of the transporting power of a great dish cooked well; how far it can take you, and how far it can travel. From Sicily to Brooklyn, from owner to owner for over a century, and from "no" to "yes" for a formerly sardine-shunning convert.