We drive through the perfectly manicured shopping-mall-landscape of Orange County and exit onto the post-apocalyptic emptiness of the Portola parkway. The world begins to change from lush green to thirsty brown. A few turns later, we're headed into the mountains: rising hills and scrubby underbrush, cyclists, trucks and signs that warn of wildlife crossings for the next two miles. Then the steep shoulders give way to small parking lots; dry, dusty canyons and sage-covered hills turn into the tiny community of Silverado, CA.
This is where we meet Joel Robinson, the naturalist and professional forager who will take us on an edible tour of the woods.
There's no mistaking him as he walks up to us in the parking lot of the Silverado Café:  He appears to be in his early thirties. His dark, shaggy brown hair expands outward from under his Ojai Valley Land Conservancy cap, and he has a beard and moustache to match. He's got a weathered backpack slung over one shoulder, dangling a pair of old running shoes from a strap. He's barefoot.
Everyone else in town recognizes him, too. Before we all climb into the car to drive to the trailhead, drivers slow to call to him from the road. Others join us in the restaurant parking lot and warmly recap last night's jam session with some of the local musicians. Joel played mandolin.
He's lived in the area most of his life. He grew up in Orange, and moved to Silverado about two years ago. "This is one of my all-time favorite places," Joel tells us as we scramble down to a small pool of water by the side of the road, on our way to the hike. But this hasn't always been his life. It was more of a refuge from the rat race, back to the ways his grandfather exposed him to as a boy.
Grandpa Robinson spent a lot of time with the Maidu Native Americans near Sacramento, and on nature walks, he'd casually point out this plant or that tree to Joel and his brother. Joel internalized the lessons. Later, as an adult, he said the best part of his day was escaping into the woods to relax. On these hikes, whenever he spotted a new plant or animal behavior, he felt compelled to research it. Pretty soon, he realized he needed to find a job in the outdoors.
He soon learned about a group that led nature hikes for school kids. Working with them led to a job at The Nature Conservancy. Working at Nature Conservancy (all the way up to the position of senior naturalist), led Joel to a book on early uses of native plants. From there, "I was hooked."
He continues, "I've always loved food, and to realize I could source free food from a natural area? Total score."
Foraging Allowed: U-Pick-It
People are legally allowed to forage on National Park land for their own use, and we take full advantage by gorging on native Hollyleaf cherries and Hollyleaf red berries.
But when he's asked about foraging for restaurants – sourcing the black Yucca seeds to grind into flour, or tapping Alder trees for syrup or harvesting Toyon leaves for tea – he becomes quiet. To begin with, he explains, foraging takes seasonal to a new level, one that isn't very practical. Food becomes "even more seasonal and limited. You might have something for just one night." Plus, there are mountains of permits required to sell anything taken from public land, and – perhaps most importantly – he worries that harvesting to that degree would deplete specific plants and throw the parks' eco-system out of whack. None-the-less, he concedes, "there are a lot of landowners who live right next to the parks, and a lot of them would let you do it."
"I've always loved food, and to realize I could source free food from a natural area? Total score."
On our hike, we climb over boulders and under felled trees, stopping as Joel points out the Mugwort growing next to Poison Oak. He explains how these two plants thrive in the same conditions, and how hikers can benefit from the symmetry: Rubbing Mugwort leaves across skin that's been recently exposed to Poison Oak can prevent an inevitable itchy/painful rash. We investigate the dried remains of wild lilies, and are told that some of them are absolutely delicious, while others – like the Death Camas – are fatal within hours of consumption…but it's impossible to know which is which, until they're at a certain stage of growth.
Drink the Water, Eat the Waterbugs
Joel wades into the creek at several points, and hunts along the bottom to show us caddisfly larvae that can only live in clean water. As long as you see these worm-like insects (who prefer to build their tiny, Jenga-like homes out of Douglas Fir needles), you know it's safe to eat and drink from the water.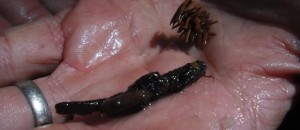 Which is something else we try to do. Joel spots a collection of giant water bugs and lights up with excitement: "I haven't eaten these yet! Apparently they're a delicacy in Asia." He unsuccessfully tries to catch a few for us to snack on. On other, overnight tours, Joel takes people deeper into the Santa Anas, and teaches hikers to catch trout, bare-handed. The fish is filleted and eaten right on the shore – fresh, uncooked. The flesh is easy to digest, he says, and delicious – even raw, it tastes like it's been smoked.
LivingThriving with Less
Joel leads hikes all over Southern California, from down in San Diego up to Ojai – and sometimes even further up. His main requirement is that the people he takes out actually have an interest in seeing and learning and doing. First and foremost, he is a conservationist and believes in living and teaching balance in the eco-system. He refers again to the Native Americans – the people who inspired him to live barefoot (as often as he can). "There was a tribe here 9-, 11-, 14,000 years. They didn't need any of this stuff."
He believes we can live without the stuff, too. He has thoughts of starting an eco-village, right there in Silverado – "Right on the outskirts of town, to prove that it's possible."
In the meantime, he runs his own non-profit, Naturalist For You. About 15 volunteers lead different hikes, on different trails, with different themes, throughout Southern California. Joel says the volunteers are pretty specialized, but he does it all. Recently, he was even a consultant for a soon-to-be-released National Geographic television series called "Wild Scene Investigation," exploring and solving animal mysteries.
We drive back into town. We stop at Silverado Café again. A few more people call out or come up to Joel and talk for awhile. Then we drive him home, a little place with distinctive Cape Cod features. Living in a house is a compromise he's made with his wife. He would prefer to live off the land, in a Native American-style structure. But when we tour the place and see his daughter's cheerful bedroom with all the pink flourishes, it becomes clear that his hopes of living in a lean-to are unlikely to happen any time soon.
But he still does what he can with what he has—which ultimately is the lesson he is trying to teach to all of us.