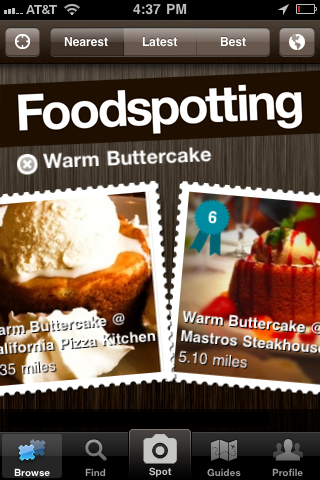 Even before I had a camera-enabled smartphone, I'd snap pictures of my food. Whenever I'd make a delicious looking meal or was on vacation and wanted a record of the gluttony I was partaking in, I'd click.
Today, there are many options for snapping and sharing your food, whether you cooked it or ordered it up at a nearby restaurant. While we no longer have to shoot to kill to get our food, let's find out if shooting with these apps are to die for.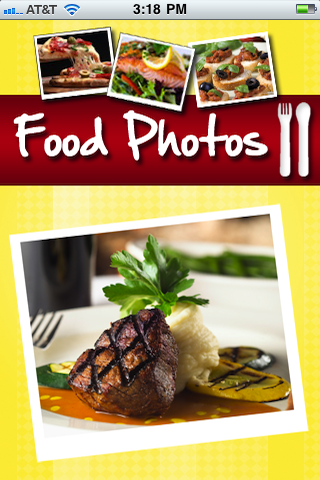 Food Photos
Developer: StuckPixel, Inc.
Cost: Free
Runs on: iPhone
Website: www.stuckpixelinc.com
This app is like a disposable camera: it's easy to use and will get the job done, but don't expect many options or advanced tools.
You open the app with the option to browse photos by several options: popular, random, nearby, or recent. A fifth option will show you your own photos that you've taken and shared. When browsing photos, you see four at a time before clicking to get more information on a single image. A closer look at these photos presents several options such as viewing the tagged location on a map, seeing and posting comments, reading Yelp reviews (if it's from a restaurant), offering a star rating or downloading the image.
You can Facebook and Twitter images you upload and download, but you can't sort by star ratings or Yelp reviews while browsing. Taking pictures is a simple click and upload, with options to tag the location and offer a comment. There's no true social aspect to this app and the photography is very light on the options for shooting, processing, sharing and sorting.
Toque Rating: 3/5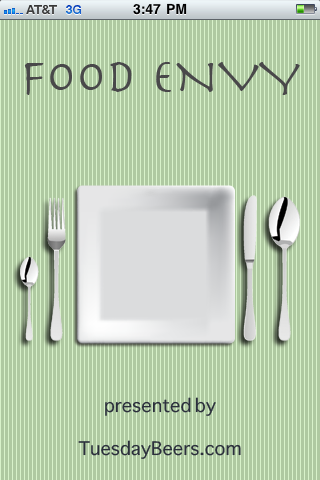 Food Envy
Developer: Tuesday Beers Development
Cost: $0.99
Runs on: iPhone
Website: www.tuesdaybeers.com
Food Envy is a great name, but the funny thing with this app is that no one will envy your food because they'll never see it, nor will you see theirs. This app is a simple, personal journal of your own food photos with options to sort the photos by name, date and star rating.
Don't get me wrong, the app looks great and works really well, but it's extremely limited. Not to mention, food pictures with this app are locked inside this walled garden—you can't e-mail, download, Facebook…nothin'. If you want to share an image you took you'll have to physically put your iPhone screen in front of their eyeballs. Moreover, this app does not take advantage of the built-in GPS to tag the location for the photos you take. Not being able to do anything with the photos in this app ruins its potential. Not envious!
Toque Rating: 2.5/5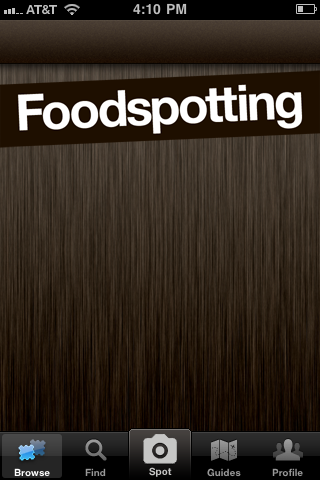 Foodspotting
Developer: Foodspotting, Inc.
Cost: Free
Runs on: iPhone, Android
Website: www.foodspotting.com
This is one of the most popular apps in the iTunes App Store, and for good reason. The basic idea is to snap pictures of your favorite dishes and share them with the community. You can also use this app as a guide without being a "food spotter."
When you open Foodspotting you can quickly swipe through food images near your location, search for specific dishes you have a hankering for, view guides (i.e., "What Should Anthony Bourdain Eat?"), spot your own food or rate, er, "nom" a dish you love. To rate and share items you must sign up (it's free), and once you do you can begin establishing your own omnivorous credibility based on recommendations and comments. This app is the foundation of a true food social network.
This app is not for home chefs who want to take pictures of their own masterpieces, nor is this app good for sharing on other networks like Facebook and Twitter. Regardless, Foodspotting has earned a spot on my homescreen.
Toque Rating: 4.5/5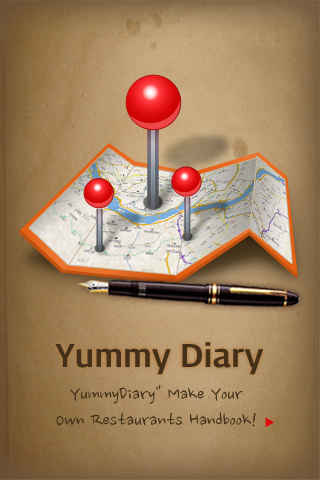 YummyDiary
Developer: Kang Sungho
Cost: Free, (regularly $2.99)
Runs on: iPhone
Website: www.apptree.co.kr
You can't judge a book by its cover, and that's too bad because this app looks great. This app is meant for you to easily keep a diary of your favorite foods and restaurants. However, YummyDiary seems like it should still be in beta testing.
It does have good intentions. Clicking on a pen allows you to enter images, rating, address, operating hours, prices, parking information, memos and more. You can also sync this app with your Twitter account.
Beyond that, it's not so yummy. There's a random To Do list that is extremely limited and disjointed from the rest of the app, and the categorizing feature to organize your food is clunky—not to mention I was able to actually rename "Category" to "Beta Mode." Yikes! I guess they forgot to close that code down after development.
With so many quirks it is hard to recommend this app at all. Even if and/or when the bugs get worked out, I'm not sure I'd ever use this app.
Toque Rating: 1.5/5