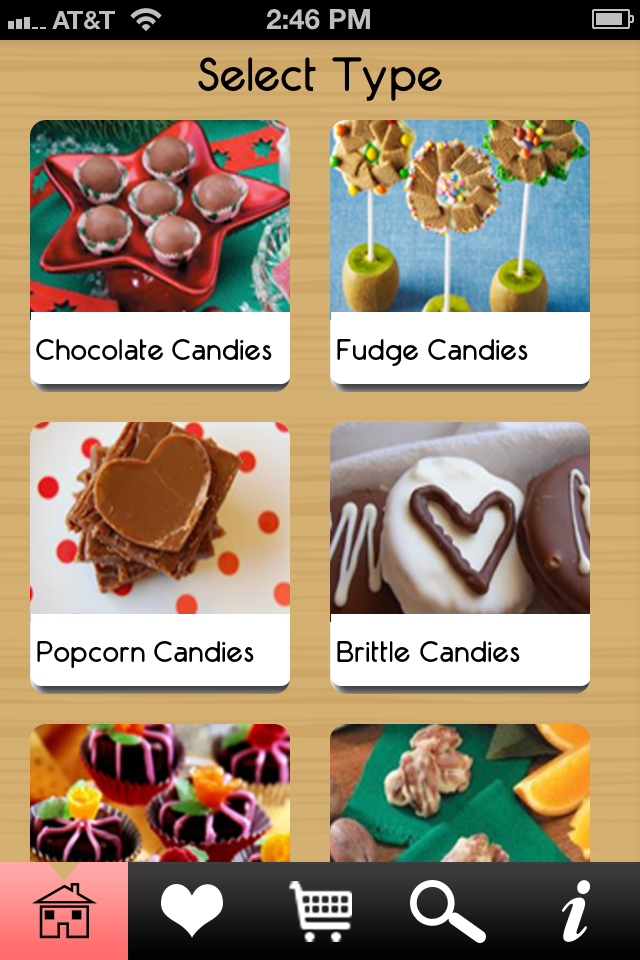 My Candy Recipes
Developer: Damjibhai Manvar
Cost: $0.99
Runs on: iPhone
Website: http://yourappsonline.com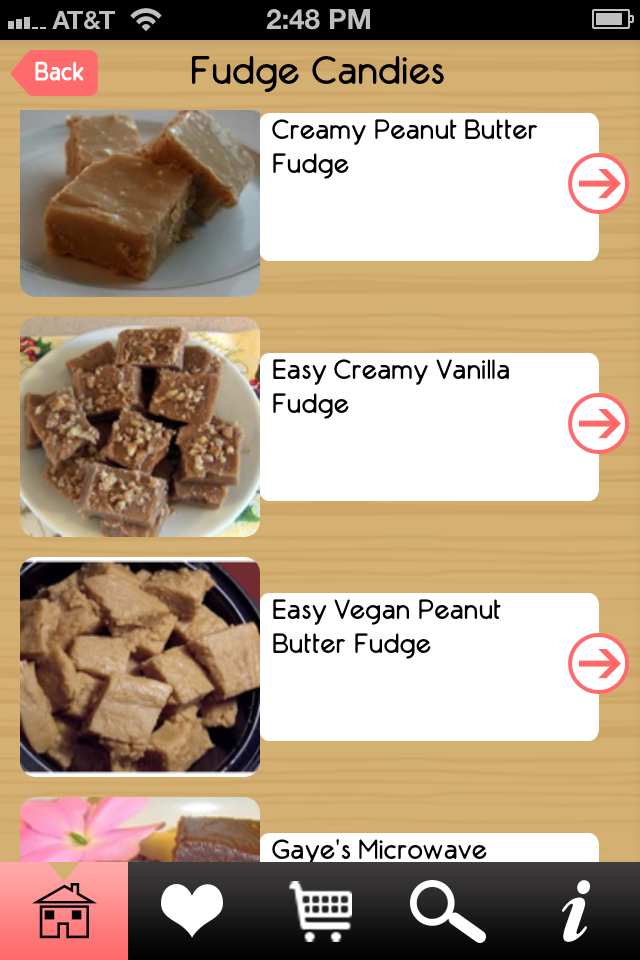 I love cooking a romantic meal for Valentine's Day. What I usually don't do, however, is make candy. I was excited to see an app that would help walk me through the process since I'm more of a cook and less of a baker/candy bar maker. My Candy Recipes offers more than 250 recipes sorted into six categories. Let's find out if a sweet treat is on my Valentine's menu.
The home page of My Candy Recipes offers six thumbnails for the various categories: Chocolate Candies, Fudge Candies, Popcorn Candies, Brittle Candies, Fruit Candies and Nut Candies. Click on any of these and you're taken to a long scrolling list that includes a thumbnail and title of each corresponding recipe. The images used are effective in showing what the recipe is, but some are well shot while others definitely look like an amateur was snapping the picture. Like the recently-reviewed Do Eat Raw, this app also lacks alphabetical scrubbing, meaning you can't jump to "strawberry," for example, by touching the letter "S" in the margin. There's also a lot of wasted space between each recipe. While not using the same layout, Trufflehead used their navigation page to include additional information such as prep time, serving size, and difficulty. My Candy Recipes has the space to include this information, but it's not there.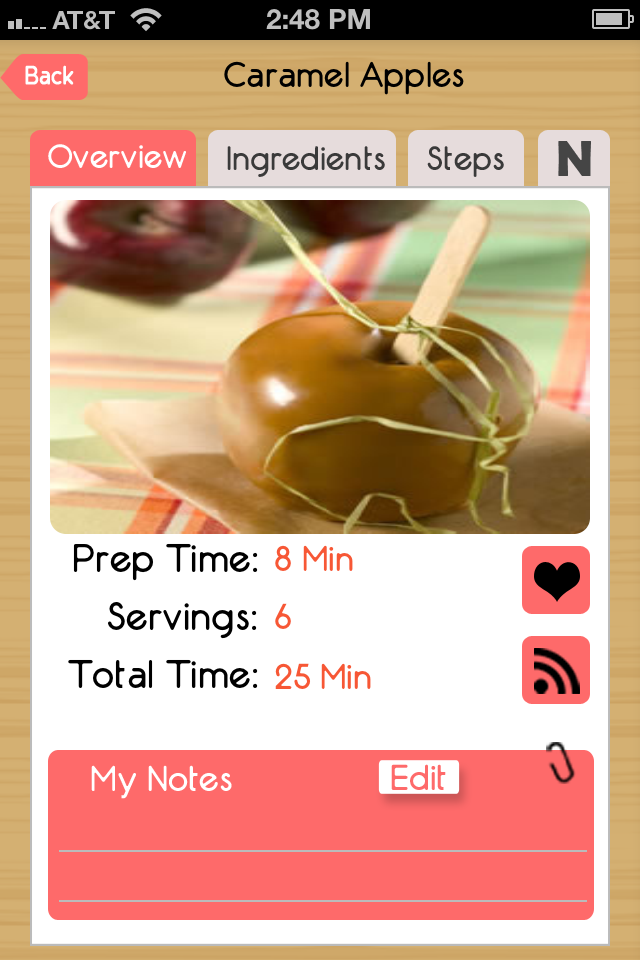 Once in a recipe, the app gains some momentum. The prep time, serving size and total time is included. Also included are tabs for the ingredients, the instructions and nutritional information. These are all well done. Users can also make notes on the recipe page for their own future reference. The one thing I don't like about the recipe page is that it stretches the images. This is a cheap trick by the developer to not crop the image so that it fits properly, and it shows. From the recipe page, users can also share the recipe via e-mail or Twitter, add it to a favorites list or add the ingredients to a shopping list.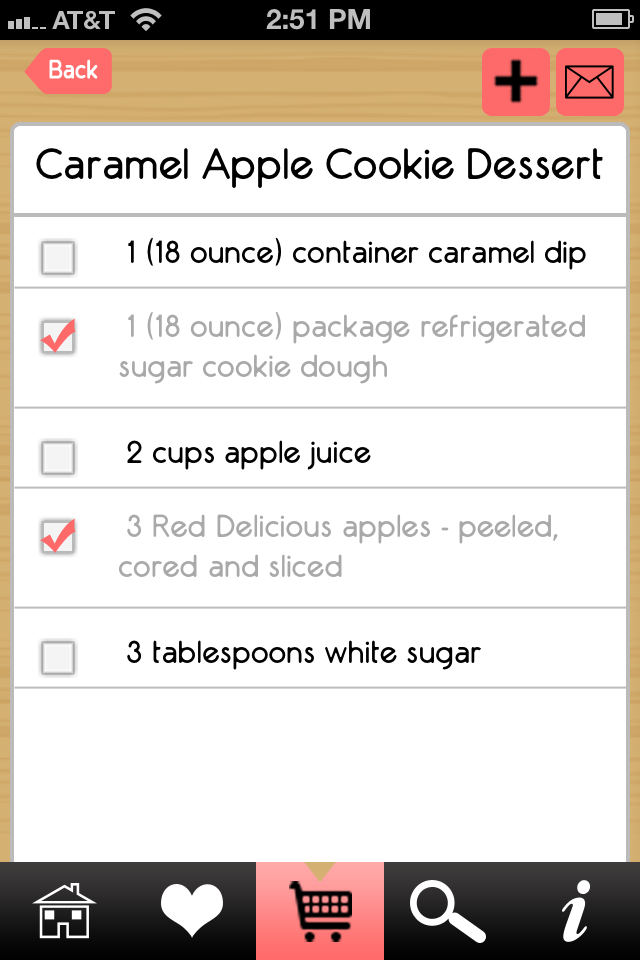 The shopping list is nice, listing the individual recipes and even allowing you to add additional items and e-mail the list. It doesn't allow you to combine the ingredients from multiple recipes or sort the ingredients by aisle like Trufflehead. The Favorites page uses the same thumbnail layout as the category browsing pages. This page is fine with just a few items, but as you add more favorites, you'll wish you could categorize them as they are on the home page or be able to create your own custom categories. This is something I've seen in many apps, including Food Network's In the Kitchen.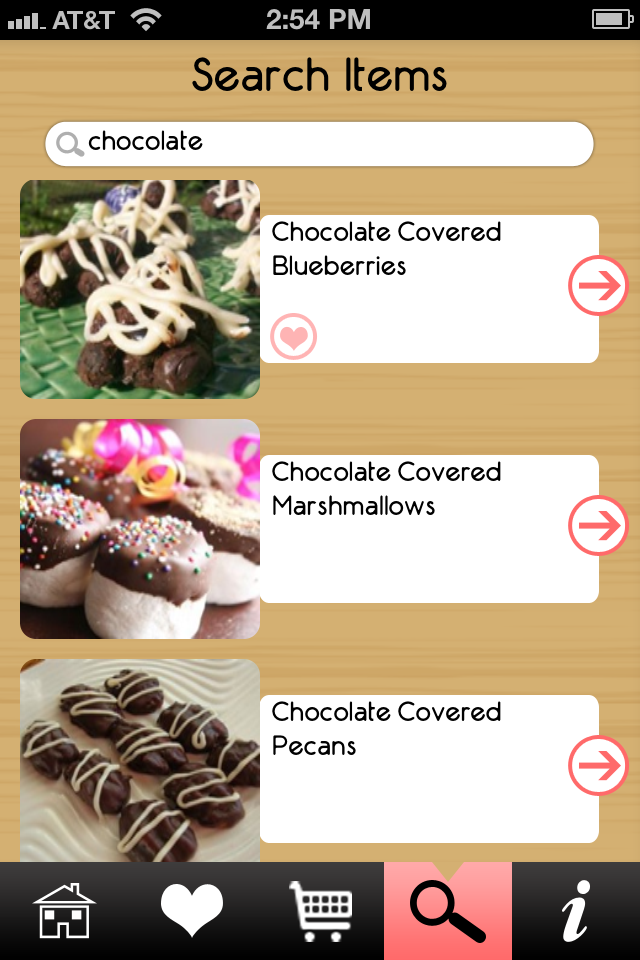 The last main portion of this app is the search page. The search is OK. Searching a single item generates all the results where that item is in the recipe name. If you search for ingredients that are not in the recipe name, you'll get nothing. What's disappointing is when you search for two items. In this scenario, you must have them in the right order to yield results. For example, search "caramel" and the first result is "Caramel Chocolate Corn." Search "caramel corn" or "chocolate caramel" and you no longer get that result because it's not in the order of the recipe title.
Overall this app has some nice things going for it, but it just misses on too many features that have become standard fare for paid apps. I don't think new app users will be bitter about their purchase of this app, but I know it's not sweet enough to make my Valentine's menu.
Toque Rating: 2.75/5