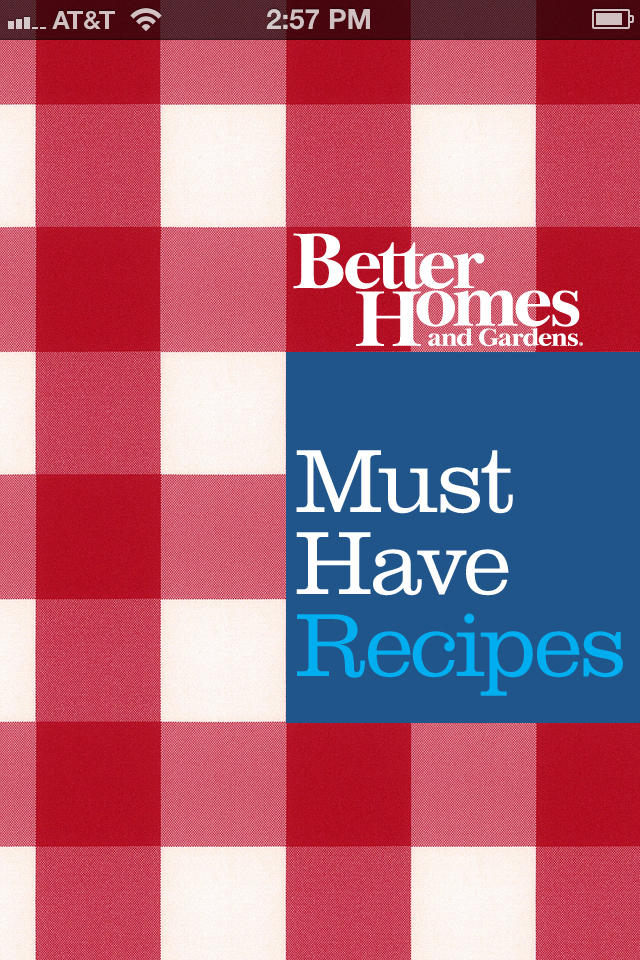 Must-Have Recipes from Better Homes and Gardens
Developer: Meredith Corporation
Cost: Free
Runs on: iPhone
Website: www.bhg.com/better-homes-and-garden-magazine/must-have-recipes-frequently-asked-questions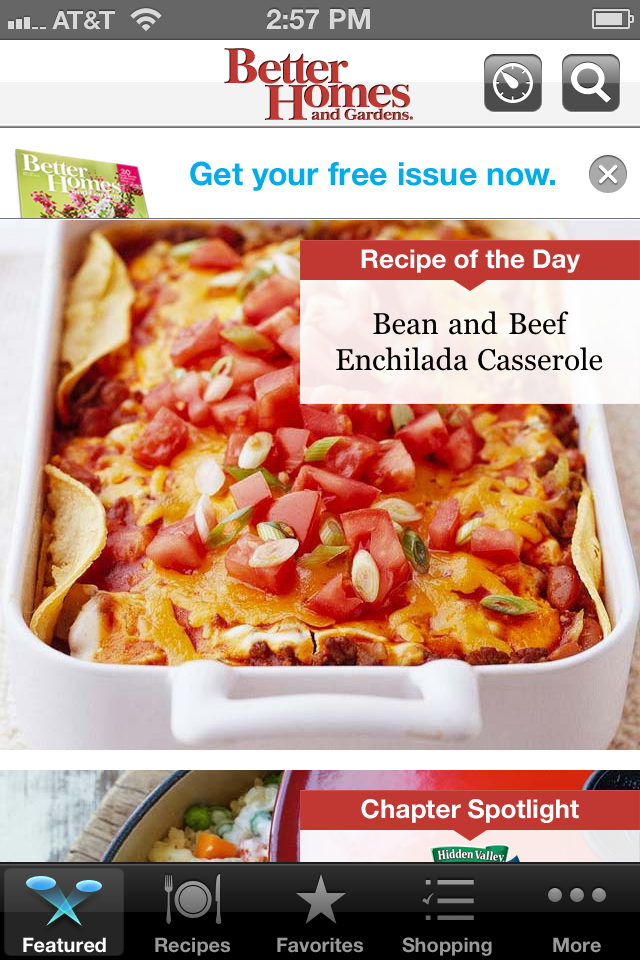 The red and white checkered cookbook is a staple in American kitchens. Now, Better Homes and Gardens has selected over 500 of their favorite recipes from their cookbooks and put them into this very polished app.
Make no mistake, this app is a cookbook app. However, this app includes a lot of really nice features that I think all cookbook apps should include, plus a few added features that place it above most others. Here's what you can expect.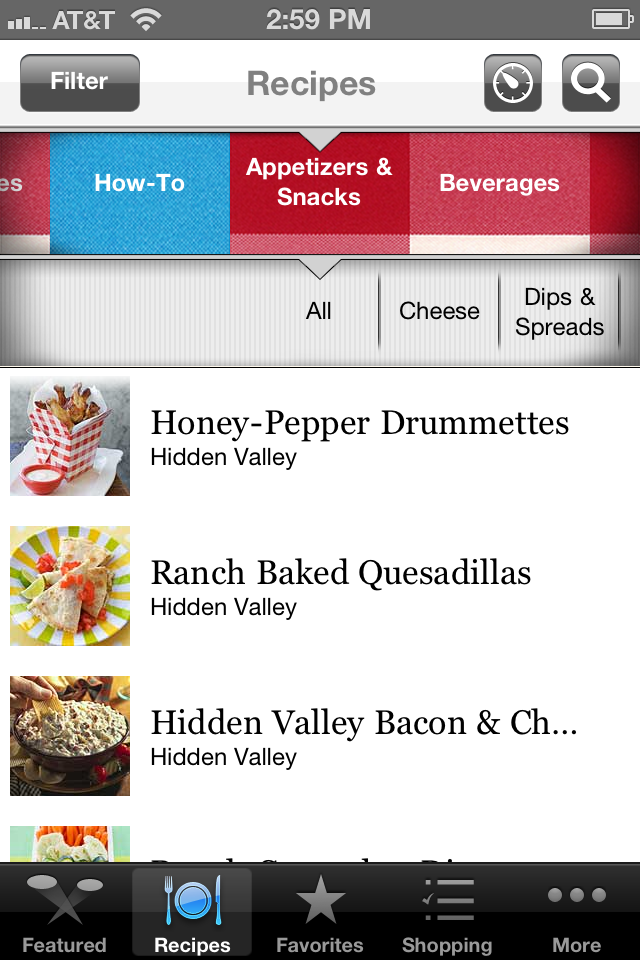 The first screen of this app displays the Recipe of the Day, along with other featured recipes. You can click on any of these and immediately begin your cooking. Another way to access recipes is to click on the Recipes button in the bottom navigation and then scroll through the items based on main and sub-categories. This is a very simple and effective navigation system.
Each recipe includes four tabs: Ingredients, Steps, Nutrition, and Notes. The Ingredients tab has a lot of very subtle design cues that make understanding and reading the ingredient list a pleasure (actually, this great functional design applies throughout the app). The ingredient measurements are in a bold red, the ingredients themselves are in a thin sans-serif font, while the overview information, such as serving size, are in a gray serif font.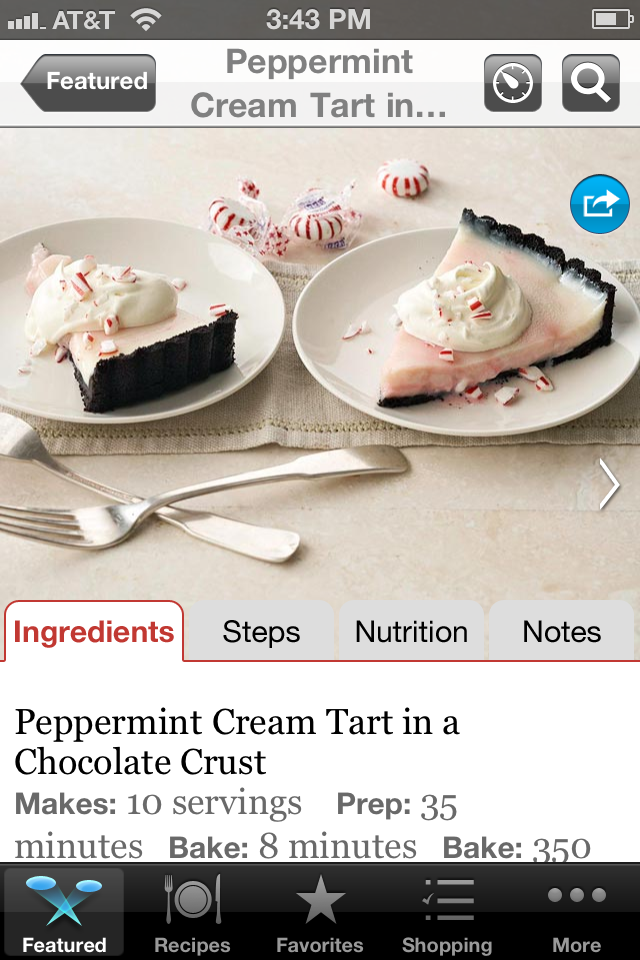 While scrolling through the recipe you'll notice hyperlinks on some items. These links go to basic how-to information, tips and information about some select ingredients (you can also access this information in the apps More section). As I browsed through this app, I wasn't sure why certain items were linked while others were not. I found two recipes with shallots, for example, where one recipe linked to information about the ingredient while the other did not. You'll be happy to know that if there is a link it's worth clicking on. They have terrific information, images and even videos (there are 75 how-to videos in this app). Overall, I found these links really helpful and simply wish they were more consistent and plentiful.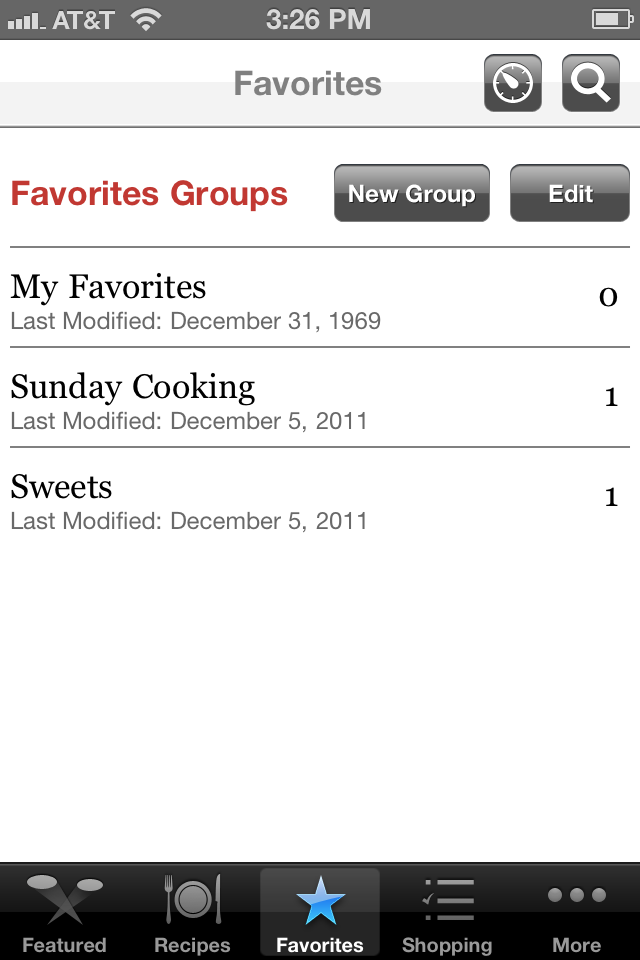 The Steps tab includes a little pink marker next to the step you're working on for reference later on if you leave a recipe and come back. I'm not sure how useful this is, but it's nice that it was included. For me, scrolling up and down through the steps really shows me my place in the recipe.
The Nutrition and Notes tabs are what they should be, however, the Nutrition tab didn't always provide information. I should also mention that every recipe in this app includes a really great image and the ability to add the recipe to a favorites list, a shopping list or the ability to e-mail it.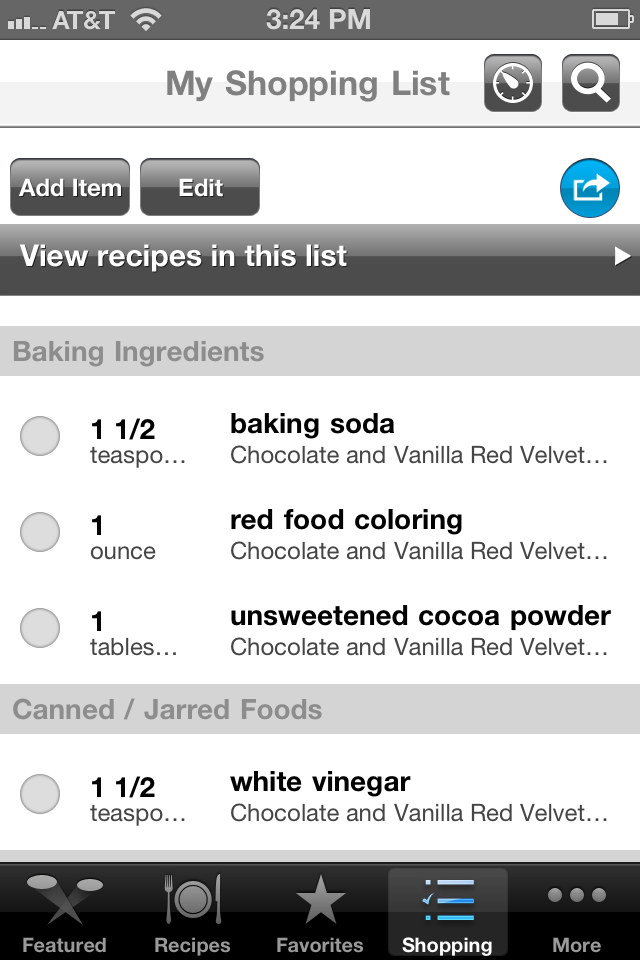 As you might expect, the Favorites and Shopping list get their own main navigation spots in this app. In particular, I think Better Homes and Gardens did a great job with the shopping list section. Here, you can sort the list by recipe or grocery aisle (baking, dairy, etc.), e-mail the list, or add your own item that might not be in the recipe(s) you're creating from the app.
Throughout the entire app, there's the constant presence of a timer button and a search button. The search button works great and even provides some nice filtering features according to editors pick, cooking time and more. The timer, I think, would be better suited just inside each recipe with the timer preset to the needs of that particular dish. As it is, you'll need to click the button then scroll to the time you need. Having Siri built-in to iPhones (allowing for voice-activated timers) also makes this feature less valuable since it isn't synced directly with what each recipe requires.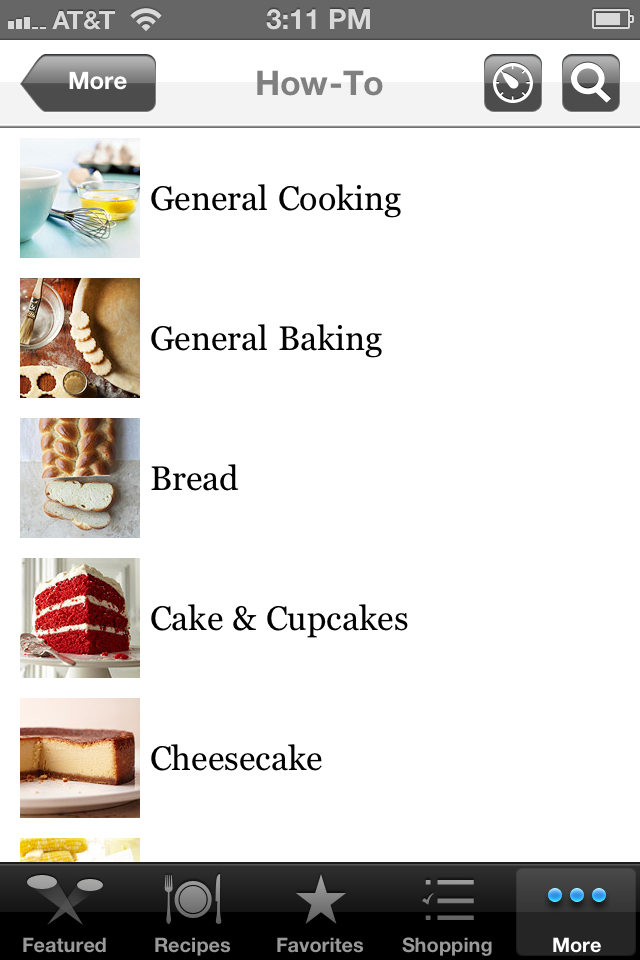 Lastly, I want to mention that while this app is free, there's definitely a strong presence by sponsor Hidden Valley. They have their own chapter of recipes (69 in total) and if you browse through the app long enough you'll get an ad that pops up. Saying that, this doesn't bother me because I understand that great content needs to be subsidized, either through advertising or in-app purchases, and Better Homes and Gardens doesn't try to hide their partner. If you find their presence offensive, amazingly, you can go into the settings and choose not to have Hidden Valley's chapter of recipes appear during browsing.
If you're a fan of the checkered cookbooks, I'm guessing you'll also enjoy this app. It craftily weaves the different sections together so that you never feel out of place and have quick access to just about everything. It's not the perfect app, but probably a new staple for your phone—red and white checkered icon and all.
Toque Rating: 4.25/5