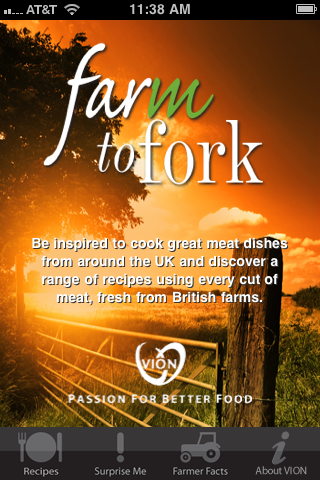 Farm to Fork
Developer: VION Food Group Ltd
Cost: Free
Runs on: iPhone
Website: www.vionfood.co.uk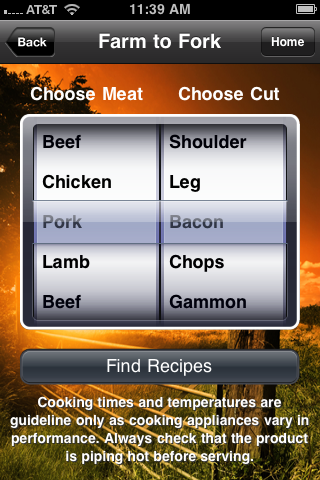 VION Food Group is a producer and processor of beef, lamb, pork, chicken and other meat products. They just released their app, Farm to Fork, to inspire and connect cooks with the proteins they push. The app is free, which makes the review a little more difficult because it's hard to determine how much value a free app is expected to include. One scoring criteria that's easy to judge is when there are blatant miscues, and this app does have a few.

Farm to Fork has three main sections: Recipes, Surprise Me and Farmer Facts. When you click on Recipes you're presented with two scrolling options: Choose Meat and Choose Cut.
This is the first stumbling block of the app. The Choose Meat wheel repeats the same options twice (pork, lamb, beef, chicken, pork, lamb…). The second error occurs when you match a meat with a cut—with only 80-some recipes there's often no result. I tried the meat of Chicken and the cut of Thigh and got nothing when I clicked the Find Recipes button to return my options. There's no reason why they should have released this app with navigation to nowhere. A simple solution would have been to add more recipes or eliminate the cut for that choice of meat (at least until more recipes are added).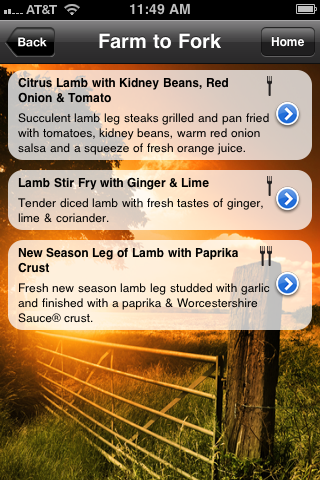 When recipe results are presented, the app provides a simple name and description, along with a one to three "fork" rating. The app doesn't explain who or where the rating comes from—nor can you make your own rating. It's curious, though, why you'd create an app offering recipes where only a handful (that I came across) are worthy of three forks. Shouldn't all your recipes be great? If they aren't, why show the rating? You don't see this in cookbooks.
Clicking a recipe result presents a nice image of the finished dish, with the prep time, cook time, number of servings, an ingredient list and cooking instructions. Since VION is a company based in the United Kingdom, the measurements are metric. This recipe portion of the app is clean and straightforward, but nothing to brag about. It lacks a lot of the standard features that you'd find in pay apps, like shopping lists, timers, or sharing tools; but I can't ding this free app for the features it doesn't have.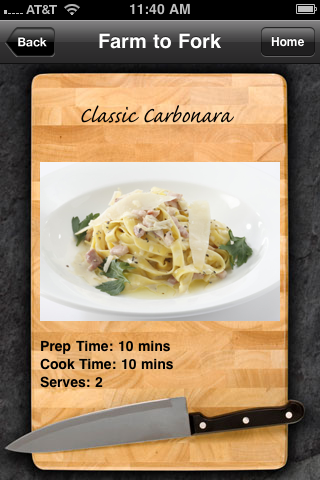 Getting back to the main navigation, the Surprise Me button will randomly take users to straight to a recipe. I suppose some might use this feature, but I'm guessing most will be looking for something specific.
The last button is the Farmer Facts. This displays a random British farmer fact, such as, "In 2010 the average number of female breeding sheep on UK farms was 215." Some of these facts are interesting, but not really worth downloading an app for. I was also surprised that there was no section on sustainability, information on the cut of meat or other information that would connect the animal from the farm to the fork.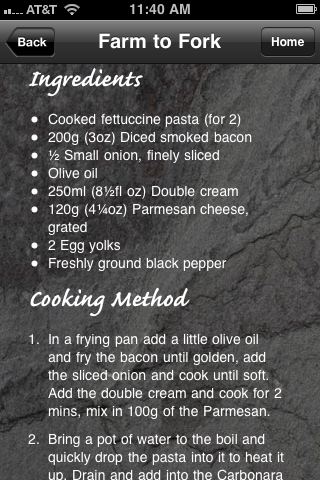 Overall, the app is easy to navigate and the recipe pages are simple to follow. Saying that, the app doesn't provide enough to warrant a download, even though it's free. You'd be much better off paying $0.99 or even a few bucks more to get a fully developed recipe app.
Toque Rating: 2/5