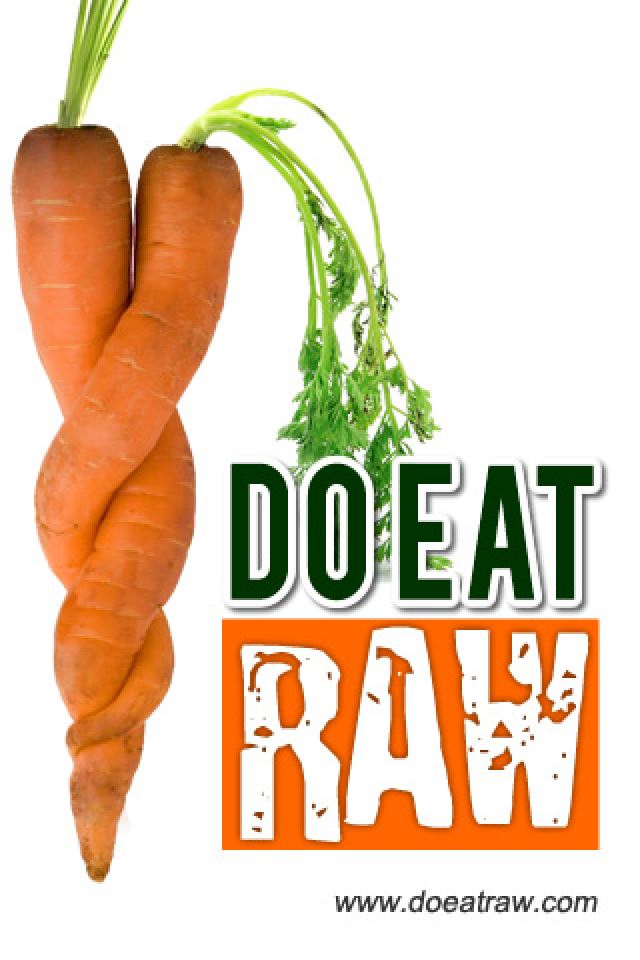 Do Eat Raw
Developer: Wachipi
Cost: $0.99
Runs on: iPhone
Website: www.doeatraw.com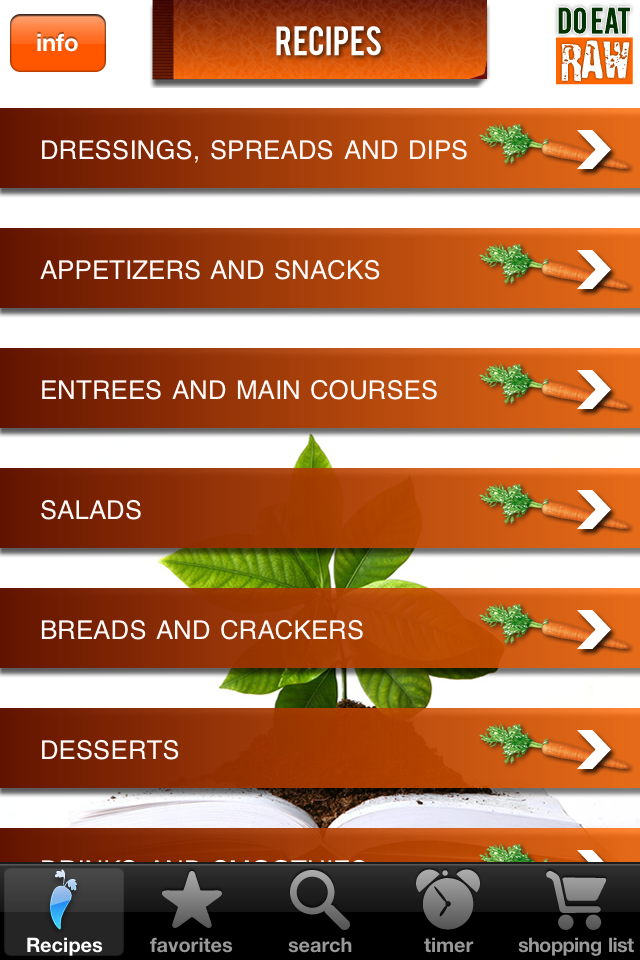 I love all forms of cooking, but there's something divine about raw food. Grabbing a vine-ripened tomato and biting into it like an apple is a guilty pleasure of mine. Of course, most people who dedicate their life to eating raw foods do it for nutritional or ethical reasons. And, of course, that doesn't mean non-vegans can't enjoy this raw food app, Do Eat Raw.
Do Eat Raw includes over 300 raw vegan recipes organized in seven different categories: Salads, Entrée and Main Courses, Appetizers and Snacks, Desserts, and more. Each category is organized alphabetically, but you can't scrub/jump through the recipe alphabet like you can when scanning for cheese in Ask the Cheesemonger. This app also doesn't include thumbnails of the recipes so you can't have that ravioli recipe jump out at you through visual stimulation. Unfortunately, once you've clicked into the recipe page, you'll notice the dearth of visuals continues.


None of the recipes include a photo, although all of them provide you with the option to upload one. Doing so, however, you'll notice that the developing company for this app is Italian and forgot to translate the adding-a-photo instructions. Figuring this out isn't difficult, but it's an omission that should never have slipped the app store approval process. The spelling inconsistencies can also be found in the global navigation for "Favorites" and the title "Favourites" when you're in that channel. I understand that overcoming a language barrier can be difficult, but these mistakes are caused by a lack of attention. A point that may be lost in translation is the use of "Favorites." This page, you would think, would list the recipes that you deem your favorites. However, this page does nothing more than sort recipes by the star rating you give them on their recipe page. A more appropriate name would be "Rated."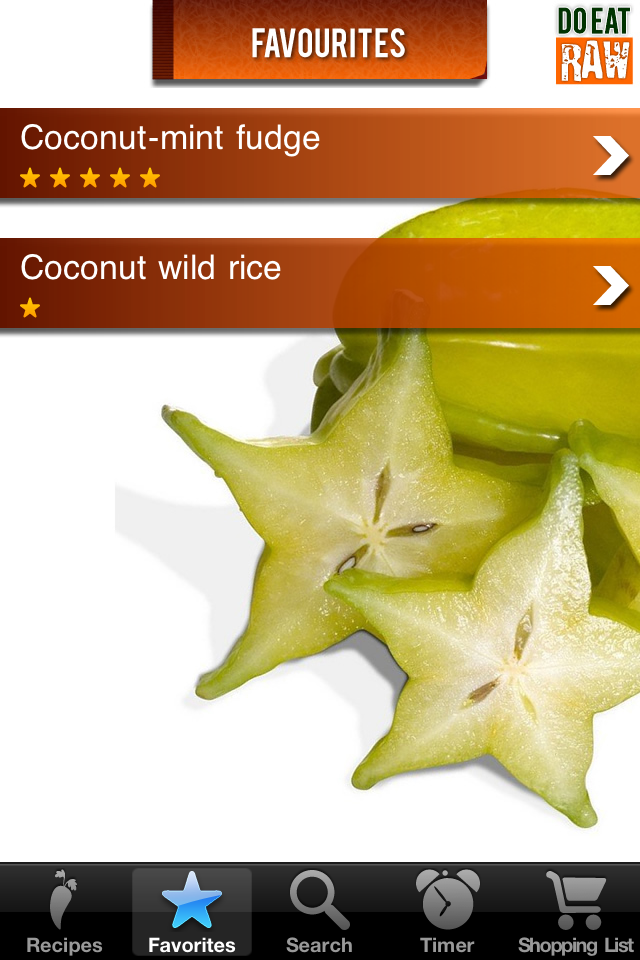 Speaking of the recipe page, these are simple, single scrolling pages that separate the ingredient list and description (method), which sometimes includes dehydrating instructions. The recipe page also allows users to write their own notes, give the aforementioned star rating and share the recipe via e-mail. Unlike the healthy food app, Trufflehead, which lumps all specs of the recipe at the top for quick consumption (e.g., serving size, time, difficulty) and separates the ingredients, instructions and even equipment needed into separate tabs, this app has it all in one scrolling list with faint separators. Do Eat Raw also doesn't include any nutritional information (something Trufflehead has), which is very surprising since this seems like it would be easy to gather and important to the user downloading this app.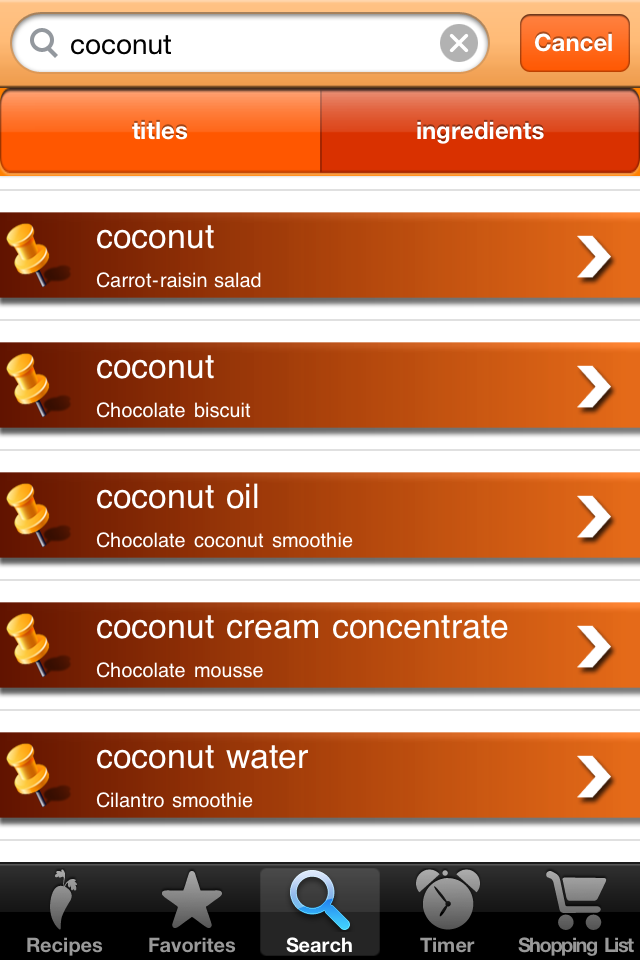 While I've been beating this app up for the various shortcomings, I will say that the Search function works decently—faint praise, I know. You can filter the search by recipe title or ingredient, which will yield the same ingredient in big type, but display the unique recipe name in small type—again another design flaw. Do Eat Raw also includes a timer (for those dehydration recipes) and a shopping list, but doesn't conveniently include the timer on the recipe page like Must-Have Recipes from Better Homes and Gardens.
The last main section of this app is the shopping list. While this feature is nice to have, it lacks any kind of true usability. You can sort by name, which organizes the ingredients alphabetically (regardless of the recipe) or you can sort by recipe. Neither of these are particularly helpful if you're in the grocery store hunting down items and constantly crisscrossing aisles to gather ingredients. Trufflehead (and other apps) will sort the ingredients according to their category so all your vegetable ingredients, for example, are lumped together. Worst of all, you can't e-mail your shopping list in Do Eat Raw, which means you'd have to e-mail individual recipes rather than a comprehensive ingredient list.
This app, while including over 300 recipes, feels, well, raw. Do Eat Raw includes the basics, but doesn't organize or extend the functionality in a way that many people have come to expect from an app. At just $0.99 it's cheaper than the $3.99 Trufflehead, but the value for what you get is a stark contrast. If you're looking for a raw food app that will get your culinary juices flowing, this app is severely undercooked.
Toque Rating: 2/5