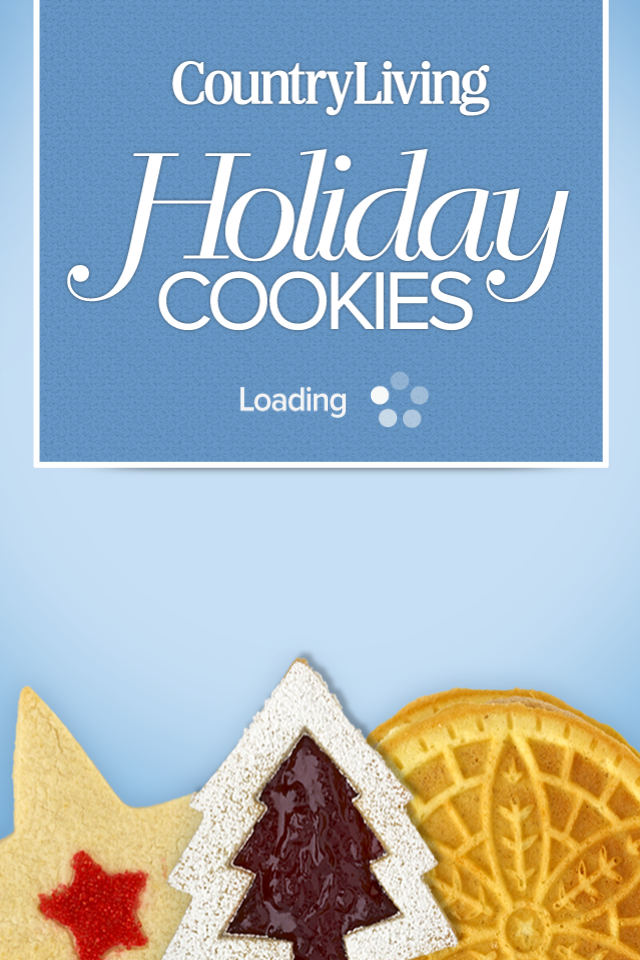 Country Living Holiday Cookies
Developer: Hearst Communications, Inc.
Cost: $2.99
Runs on: iPhone
Website: www.countryliving.com/cooking/cookie-app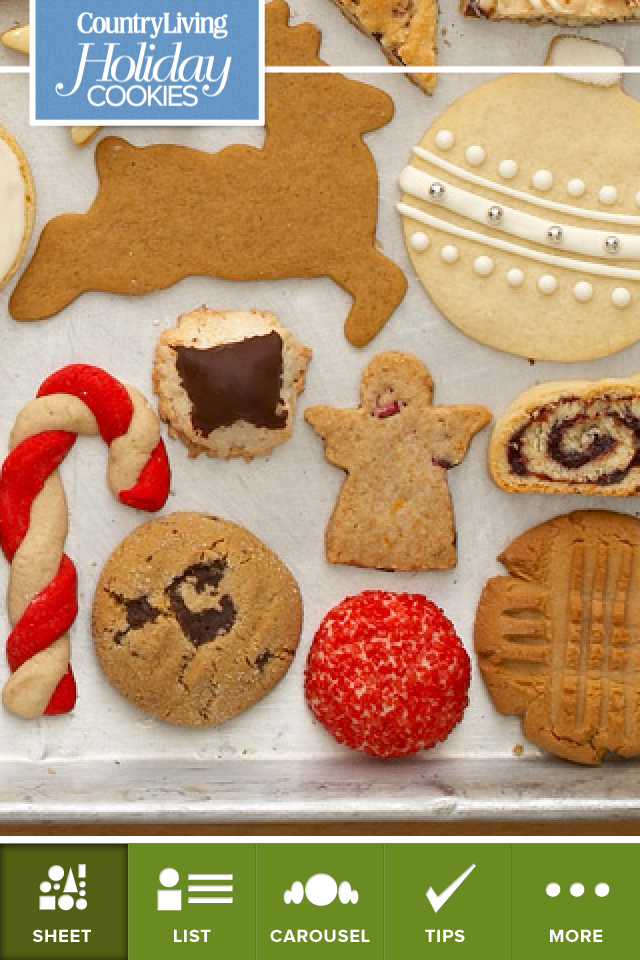 I didn't do a lot of cooking with my mom when I was a kid, but one of my fondest kitchen memories is making Christmas cookies and getting my hands on that cookie gun! Now, when the holiday deluge arrives, I can't wait to start baking. From the folks who bring us Country Living magazine comes this recipe app with 50 holiday cookie recipes.
This app is pretty low on frills. Out of the four main navigation buttons in this app, three of them are there to change the view of how you sort through the mere 50 cookie recipes. Saying that, each one of these options presents a nice, clean navigation system.
The first "Sheet" view shows a cookie sheet with all the cookies baked and decorated. Drag your finger around the sheet to reveal all the sugary goodness until you find a cookie you want to make…and then click on it. This will take you to the recipe and instruction page (more on that in a moment). The Sheet view is a really nice and intimate way of browsing these treats.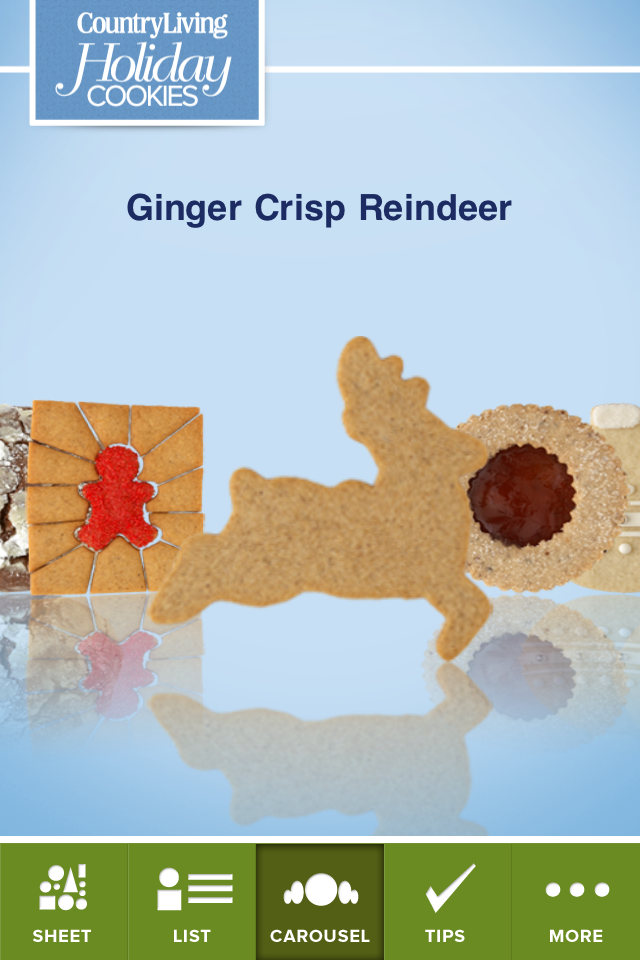 The second navigation option shows a thumbnail of the cookie next to the name. The cookies are listed in alphabetical order and browsed through a vertical scroll. The third navigation option is a Carousel view (think Cover Flow in iTunes). This option brings a cookie to the forefront with other cookie options off to the sides in the background. You flick horizontally to browse the previous or next cookie options. While this view is a neat way to browse, it's not very smooth in transitioning from one cookie to the next.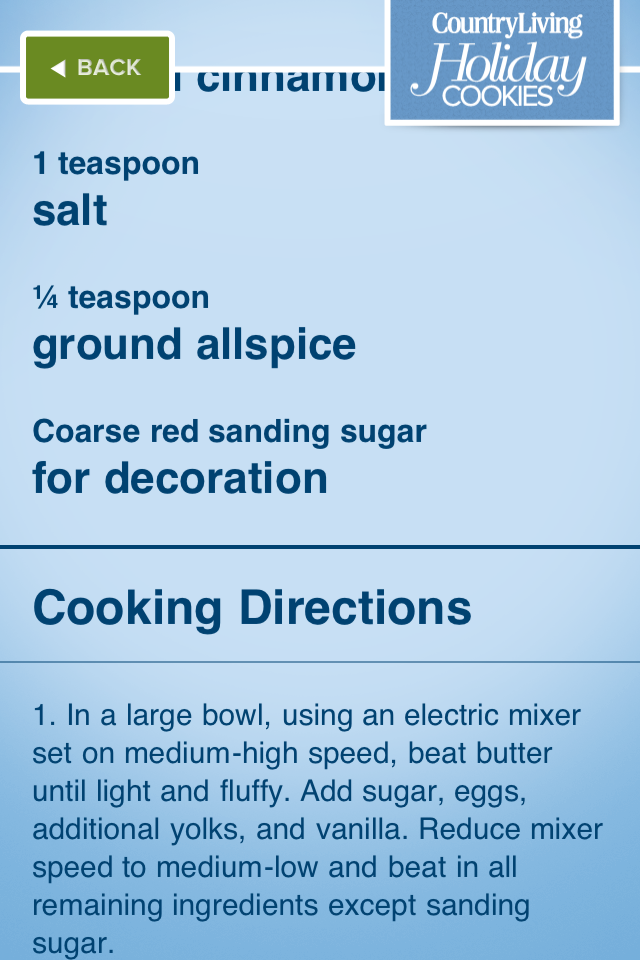 Clicking on a cookie in any of these navigation views will launch the recipe page. This includes a nice large image of the cookie, the yield, ingredient list, and baking instructions. Some also include quick tips (also accessible through the fourth navigation button), which include images and short instructions. Where the rest of the app has been thoughtfully designed, the recipe pages seem like an afterthought with very little effort put into it. Worse than the lack of design effort is the lack of functionality.
This app doesn't include any tools to make your job easier. There's no shopping list, timers, conversion calculators, videos, etc. It does include a search function, which works well, but with only 50 recipes it isn't mind-blowing. At the bottom of every recipe the app includes buttons to share the app information on Facebook, Twitter and Email; unfortunately it won't let you share a recipe or even a shopping list. This is really self-promotional (which is not necessarily a bad thing) and disappointing considering this is a pay app where you expect to get more bang for your buck.
As a recipe guide, this app is adequate. As an app, this recipe guide doesn't deliver the holiday cheer. If you're just looking for a pocket guide with some pictures and recipes, you'll likely enjoy how easy this app is to use. If you're looking for a fully functional holiday cookie app that gets you as excited as whipping out the cookie gun, you'll have to look elsewhere.
Toque Rating: 2.75/5