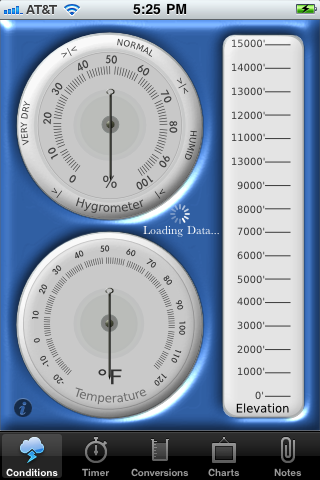 Baker's Toolbox
Developer: Code Stork, LLC
Cost: $0.99
Runs on: iPhone
Website: www.codestork.com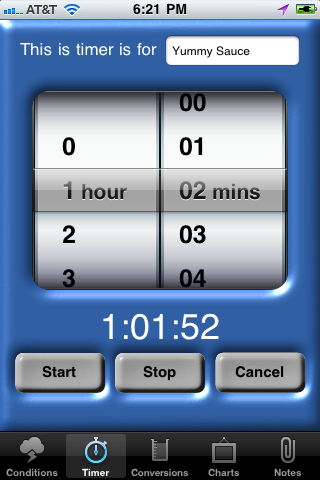 If you've ever watched any competitive chef show, you'll surely recognize a common theme. With very few exceptions, no chef likes to bake desserts. Why? Because baking requires a level of precision that doesn't reward creative guessing or substitution. Everything from humidity and elevation level can play a role in the outcome of baked goods. Baker's Toolbox aims to take the guesswork out of this process.

The app provides five navigation channels: conditions, timer, conversions, charts and notes. Conditions uses your current location (with user consent) to show your elevation level, humidity and temperature. Anyone who has baked knows that once you crack 3,500 feet you better start making adjustments.
The timer is a straightforward timer. It's got a start, stop and cancel. It also allows you to attach a label to the timer. I'm not sure why, since this is the only timer and you can't save it for later use. I suppose in case you can't remember what you put in the oven, but if that's the case, maybe you should just stay out of the kitchen.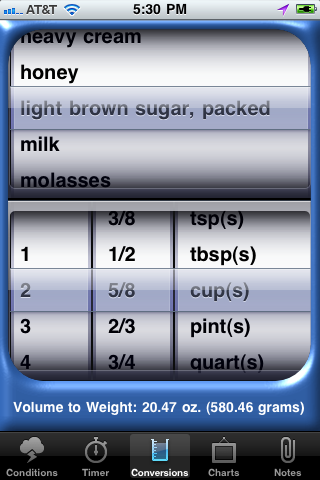 The conversion page is nice, offering multiple scroll wheels to select the item, volume and unit that you'd like to convert. As you scroll from 1/3 cup to 3/8 cup, a conversion from volume to weight is shown immediately below in real time in both ounces and grams. It would be nice if there were more items to choose from when selecting what items you're converting. There's currently only 28, and includes just one size egg (large).
Chart is just that, a simple page that allows you see the temperature conversion from Fahrenheit to Celsius, with a field on which to fill out your own custom temperatures. This page also includes an equivalent chart, showing for example, that 8 tbsp. equals 1/2 cup equals 4 fl oz. It would be really nice if this page also allowed you to input your information, but it's just a chart.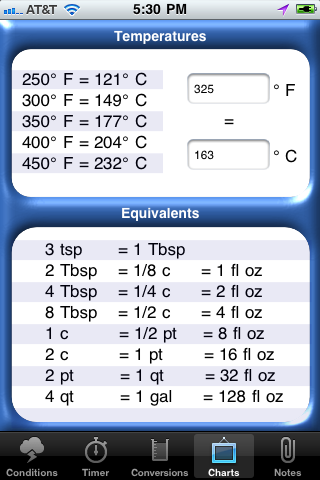 Lastly, there's a note page with a few pre-loaded words of wisdom, such as "get an oven thermometer" and "use a silicone non-stick baking mat"…so don't expect much from this section. You can add and save your own notes too.
As a "toolbox" I was hoping for much more. The location-aware portion of the app is neat, but doesn't provide any benefit. Why not use that information to adjust temperature settings and so on? I've seen some of the tools provided here included with other applications that offer more than this stand-alone app does. This app works without hiccups, but there's nothing dazzling about it. You probably have a non-digital version stuck to the side of your refrigerator that will likely get the job done just as well.
Toque Rating: 3/5