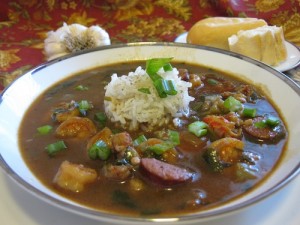 So I was running crawfish from the Atchafalaya River Basin to north Louisiana 25 years ago when I discovered that the best way to start a heated discussion other than Louisiana politics or the LSU Tigers was to ask a kitchen full of cooks how to build a gumbo.
From the establishments serving Sazerac on brass bars under the rhythm of paddle fans and jazz trios to a cypress shack with a giant mudbug painted on the wall over the slogan "best tail in town," I found that beyond the trinity (onion, bell pepper and celery) there are more recipes for gumbo than there are vowels in the street name "Tchoupitoulas."
But whether talking to a toque-wearing Chef de Cuisine or a grandmother with a cast iron skillet passed down three generations, almost everyone begins with the same Louisiana maxim, "first you make a roux!"

French for "red", pronounced "roo," many French sauces are different stages of roux such as sauces béchamel, velouté and espagnole. Other Cajun and Creole dishes like etoufees, bisques and fricassees begin with a roux.
The ingredients are simple enough: flour and fat (butter, lard, pork renderings or a combination.) But as one seasoned Louisiana grandmother taught me, contrary to what many think, the key to good gumbo is not spice, but a dark roux. This takes practice because the darker it becomes the easier it is to burn. Even folks who like burnt toast won't touch a burnt roux.
Special Roux Quest
Some folks like to relieve stress with a jog or glass of wine. I find that nothing relaxes the mind like "doing a roux"—well, that and maybe a glass of wine while you do a roux.
Contrary to what many think, the key to good gumbo is not spice, but a dark roux.
So let's begin by putting on our favorite LP, pouring a glass of our favorite cab, heating a cup of oil in our heaviest Dutch oven over medium heat until things are really smoking then adding a cup of flour.
Wait! Scratch the record! I almost forgot. Once you start the roux you can't stop stirring. Call your friends now so they will know you won't be answering the phone if they call. Better yet, invite them over and make it a party.
If building a gumbo then do your prep work first: peel a pound of shrimp and crawfish, slice a pound of andouille sausage, boil a gallon of stock from the shells and strain, slice an onion, a bunch of green onions, half a bunch of parsley, half a cup of bell peppers and celery…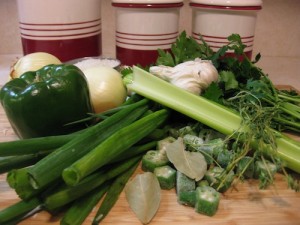 Wait—this is about a roux—you'll have to come back later for the recipe to my gumbo. Anyway, you get the point—have your prep work done before you start the roux.
Story: once, I stirred a roux for almost an hour. I was at the critical stage. It was almost done. Beautiful! A work of art! Suddenly, I realized that I had forgotten to strain the stock. I called for my wife. Thinking the shells were shrimp, she strained the stock into the sink, leaving only shells.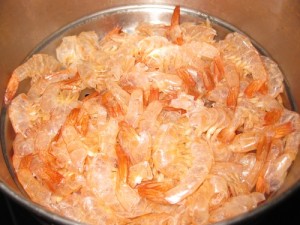 This is why I say it is important to do all your prep work beforehand. We ordered pizza that night.
Now, where were we? The record is on, the wine is poured, the oil is smoking, now add the flour. Stir continuously but smoothly. A drop of hot roux is like a Cajun Mount Vesuvius erupting on your skin. I find that a heat-resistant spatula works better than a whisk.
This is all about feel and smell and sight. The color will go from white to blond to peanut butter—Creole cooks tend to stop here, but I lean toward the Cajun way. Keep going until the consistency starts to become like melted chocolate with a nutty smell. This is where it takes practice to learn how far you can take it without it burning.
Stir, Stir, Stir
At this point, you have stirred the roux over 45 minutes (that's right, 45 minutes! Stress free, baby, stress free!) If dark specks form—guess what?—you've burned it. Throw it out and start over. But be brave. Take it a little further each time because the closer the color to bittersweet chocolate the richer the gumbo. Once you are close, take if off the heat because it will keep cooking.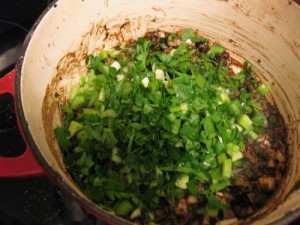 OK, now I'm hungry so I'll tell you how I build my gumbo. Add the onions and other vegetables. Can you smell it? The roux becomes this thick, rich, roasted ball of goodness better than any food you have ever smelled. Add the stock, stirring until it is the consistency you like. Add two tablespoons of garlic (at least), half teaspoon of thyme, a couple bay leaves, half cup of wine (red or white), sausage, hot sauce to taste and a cup of okra. (If you do not like okra add filé [ground sassafras] at the table—either will thicken the gumbo.)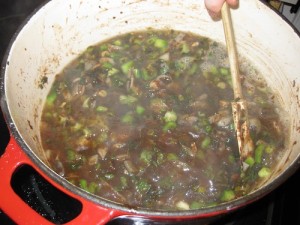 Bring up the heat until it bubbles then turn to low, cover and simmer for an hour. Bring the heat back to a low boil then add the seafood. Let it go for fifteen minutes or until you can't wait any longer. (Add oysters just before plating, if you wish. I add extra shrimp later so they don't overcook).
Serve over rice with French bread. If you want a side item then ladle another bowl of gumbo to set beside it. (Potato salad is good, too.)
This is how I do a roux and build a gumbo—if yours is different just be glad I didn't tell you who I voted for or what I think of the Tigers.