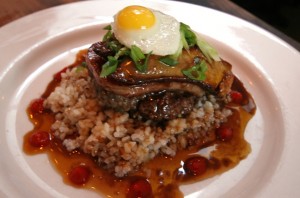 In an unremarkable strip mall in downtown L.A., Aloha Café dishes out quintessential Hawaiian cuisine – Japanese teriyaki, Chinese char-siu, Portuguese sausage, Korean "Kal-B Beef" and Hawaiian staples like pork lau lau (pork steamed in taro leaves) and shaved ice sweetened with coconut juice. The menu is a gluttonous ethnic smorgasbord. And no dish embodies Hawaii's culinary syncretism better than loco moco.

The three of us – chefs Jon Shook, Vinny Dotolo and I – found our table here recently and embarked on a crusade that involved eating our way through about 4,000 calories' worth of unabashedly ample Polynesian fare.
A mountain of white rice covered with hamburger patties, grilled onions, eggs and brown gravy – lots of brown gravy – loco moco is a starchy, meaty, hearty mess, not for the faint of heart.
Hawaiian Mystery Meal
Almost unknown outside of certain cultures, it's so common in others that it's often taken for granted. Since migrating to the mainland, loco moco has fused itself into the core repertoire of most Hawaiian restaurants, where it's as ubiquitous as those perfectly rounded, ice cream-sized scoops of macaroni salad. Anywhere in Southern California with a sizable Japanese-American population, you'll find Hawaiian restaurants. And anywhere you find Hawaiian restaurants, you'll find loco moco. In greater Los Angeles, that means Torrance and Gardena in the South Bay, Little Tokyo in downtown L.A. and pockets in the San Gabriel Valley just east of downtown.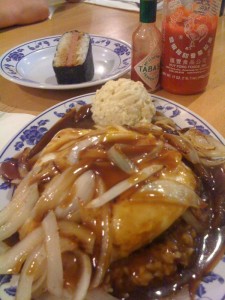 Variations on the dish are, in most cases, minor. Some restaurants, like Aloha Food Factory in Alhambra, serve one massive Frisbee-sized hamburger patty instead of two standard patties. Some restaurants offer a choice of SPAM or hamburger. Bruddah's Hawaiian Foods in Gardena will serve you a loco moco made with both (if you ask). At most restaurants, like the Gardena Bowl Coffee Shop, gravy covers the entire dish like a gooey brown comforter. At others, like nearby Bob's Hawaiian Style Restaurant, it's poured underneath the eggs. Grilled onions are standard in some places. At others, like Shakas in Alhambra and T N T's Aloha Café in Torrance, they're an add-on. The gravy is never less than abundant. At The Loft in Torrance, the loco moco swims in enough gravy to fill a kiddie pool. Some restaurants, like Aloha Café, add their own seasonings to the burger to kick its flavor up a notch. Others, like King's Hawaiian Bakery & Restaurant in Torrance, grill the burger over an open flame to give it a charred, smoky flavor. The gravy can be a pale brown color, a ruddy orange-brown or in some cases, as at Paul's Coffee Shop in Fountain Valley, a deep dark brown. The essential nature of the dish though, however served, remains unchanged.
Crawling with Shook and Dotolo
In March of 2008, after 11 years in Monterey Park, Aloha Café relocated to (where else?) the heart of downtown L.A.'s Little Tokyo. This modest establishment was the perfect place to introduce chefs Jon Shook and Vinny Dotolo to traditional loco moco. At their Fairfax district restaurant Animal, they've been serving a gentrified version of this island staple, heaped with foie gras and a quail egg.
Shook first heard of loco moco four years ago while cooking at a week-long promo event in Hawaii. (Dotolo had stayed in LA to run the duo's catering company, Carmelized Productions, a business chronicled in the Food Network show "2 Dudes Catering.") Shook sampled loco moco at a run-of-the-mill local joint on the North Shore. "I thought it was just all right," he says. What made the trip back with Shook was the idea for an ahi poke taco, which they soon added to their repertoire.
It wasn't until three years later, a year after Animal's opening, that loco moco finally made it onto the restaurant's menu. And it was Dotolo, who had heard about the dish from Shook and researched it online but had never tasted or even seen it, who dreamed up Animal's version.
That's the creative symbiosis at the crux of Shook and Dotolo's relationship. "I look in the fridge and use whatever's there," says Shook, who handles more of the business responsibilities. "Vinny sits there and thinks for four hours and then walks into the kitchen with an idea."
They're scruffy, laid-back stoners, but the tattoos and shaggy hair can be deceptive, masking a profound ambition, both in the business realm (they're looking to open another Los Angeles restaurant but with a different concept than Animal) and in the culinary one.
At Animal, the humble loco moco reaches its apotheosis. Shook and Dotolo amplify nearly every aspect of the dish, starting with Carolina Gold broken rice (also known as "middlins"), a round chewy rice that's re-emerged as part of South Carolina's slow food movement. They use pre-ground Niman Ranch beef (though the rest of their sausages and meat are ground in-house). They top that with the only element they haven't modified, a slice of SPAM. "You've got to know when to fight your battles," Dotolo says.
Atop the SPAM – in what couldn't be a more ideal metaphor for the shotgun wedding of highbrow and lowbrow cuisine – sits a glistening stratum of foie gras. It's coated in a layer not of brown gravy but of an elaborate sauce that takes three days to make. It starts life as veal stock before it's refortified with vegetables and red wine. Then it's cooked for six to eight hours until it becomes a bordelaise. Foie gras scraps are melted in and it's cooked a while longer until it is transformed through the powers of culinary alchemy into foie gras sauce. In what is perhaps the most radical departure from the established loco moco, they use teriyaki — the equivalent of serving chicken-fried steak with Hollandaise sauce. Not that there's anything wrong with that, it's just not done. Instead of two big runny eggs, they top the whole thing with a delicate quail egg. As a finale, the dish is sprinkled with fresh green onions, drizzled with maple syrup and plated with dabs of sriracha. This is a big meal. "It'll dent you," Dotolo says.
The dish has won plenty of acclaim. It's a late-night favorite among fellow chefs winding down from a long shift behind the stoves. It's been mentioned in any number of food blogs and was even featured in a video that accompanied a recent New Yorker profile of Shook and Dotolo. On average, Animal does about 10 loco mocos per night, but that number varies wildly. Animal's the kind of restaurant where customers may initially be too nervous to try some of the more outré dishes, but are emboldened "to order whatever they see next to them," Shook says.
He and Dotolo recently served 250 loco mocos at a private dinner at Pebble Beach Food & Wine. "People were freaking out that we served SPAM at that thing," Shook says. That's "freaking out" in a good way.
Purists may blanch at the notion that the two chefs who have made their gourmet version of loco moco an Angeleno hit have never tried the "authentic" dish. Then again, authenticity is not what loco moco's about.
Loco moco was invented shortly after World War II in Hilo, Hawaii either at the Lincoln Grill by Mr. and Mrs. Inouye or at Cafe 100 by Mr. Miyashiro. It was a cheap meal for plantation workers, a hearty fill-'er-up for surfers and popular with soldiers. It was the Hawaiian answer to "shit on a shingle." The dish utilized inexpensive and plentiful ingredients. SPAM, introduced to Hawaii by G.I.s who received it among their rations, was sometimes offered as a variation instead of hamburger. Loco moco may be many things, but the traditional version is anything but fancy.
"The image of most people is that the loco moco has the same origin as Hawaii pidgin," writes sociology professor James L. Kelly in his 1983 essay Loco Moco: A Folk Dish in the Making. "Moreover, the loco moco, like pidgin, lacks prestige. It is sold mostly in small local restaurants, in contrast to a dish like sashimi that is often served in the most expensive restaurants and at parties."
To label loco moco an "extreme food," as some publications have, is to willfully disregard the dish's cultural and culinary context. This is no Bacon Explosion or KFC Double Down, deliberately packed with as much caloric embellishment as possible. Its closest and most obvious culinary roots lie in the Japanese dish katsudon: a bowl of rice topped with a breaded and deep-fried pork cutlet, grilled onions, egg, and chopped green onions. This is most obvious at Hukilau, a Hawaiian restaurant with outposts in Honolulu, San Francisco and San Jose, which serves a chicken katsu moco, where the hamburger patties are replaced with panko-battered and fried chicken. (Hukilau also serves a version with mahi mahi instead of hamburger.) Loco moco's inspiration, however, might be as much eggs Benedict as it is katsudon. The basic layering of starch, meat, egg and sauce seems to transcend cultures.
Tucking In
Back at the Aloha Café, Shook, Dotolo and I contemplate the gravy, rich and dark brown with such a smooth consistency it looks like the Platonic ideal of TV gravy. The loco moco is salty but never too salty. Bottles of vinegary, mildly spicy Hawaii Hot Sauce are on every table. Where the dish really distinguishes itself is in the burger patty. It's a coarser-than-average grind, specially seasoned for something more than a hamburger bun.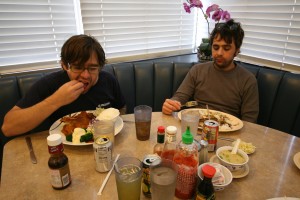 Next, I wanted Shook and Dotolo to experience Gardena Bowl. It's an average bowling alley with a far better-than-average coffee shop. A South Bay hub for Hawaiian food, the fridge is stocked with Hawaiian Sun sodas and the menu boasts staples like SPAM musubi and expertly fried tonkatsu. Here, the loco moco is "richer and saltier and all the flavors have been jacked up like 1000%," says Shook. "Only the strong survive, and that dish is really strong."
Only after parting ways with Shook and Dotolo (they have an Animal to wrangle) did I discover the unexpected treasure in the South Bay: Bob's Hawaiian Style Restaurant. Bob's, located just down the block from Gardena Bowl, really is located in the dingiest of strip malls. Look for a red and yellow sign proclaiming "Bob's OkazuYa" adorned with a likeness of King Kamehameha similar to the one on Hawaii Visitors Bureau markers. The unassuming exterior hides a large albeit modest interior. Underneath glass-covered tabletops are vintage maps, pictures and postcards of Hawaii dating back to the 1960s. The small front room opens into a larger dining room where you'll find a small Hawaiian band playing on weekend afternoons and on Thursday and Friday nights.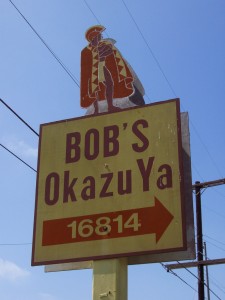 If visual appeal is a factor, then Bob's gets bonus points for placing their eggs on top of the brown mound that is the typical loco moco. The burger patty is massive and clearly hand-formed. The menu includes manapua (char siu bao), which you won't find in many Southern California Hawaiian restaurants. Besides, their kahlua pork is to die for.
Probably the best known of the South Bay's Hawaiian restaurants is King's Hawaiian Bakery, responsible for making the sweet, Portuguese-style rolls that have become a staple on grocery store shelves. In 1977, the company opened a factory in Torrance and later opened a restaurant next door with a full line of baked goods you won't find in most stores, most notably their celebrated pastel-striped rainbow cake. King's burgers, grilled over an open flame, have a heavy char and a smoky edge. (The Local Place, the fast-casual offshoot of King's, does an entirely different loco moco that should be avoided.)
Further south in Paul's Coffee Shop, a strip-mall diner in Orange County's Fountain Valley, the Hawaiian iconography gives way to Marine regalia. If Paul's ever adopts a motto, I vote for "Semper Fry." The menu is classic American comfort food: massive portions, low prices and high quality. No wonder Guy Fieri filmed at Paul's for a recent episode of "Diners, Drive-Ins and Dives" (scheduled to air July 26). If you can resist their platter-sized chicken-fried steaks or their rumored but rarely seen off-menu chicken-fried bacon, you should try their loco moco. It's the most compact of all the ones I tried, but where other versions spread out across the plate, this loco moco stands tall and proud, much like the Marine flags that adorn the restaurant. A fitting tribute for a dish that owes a debt to soldiers and their rations.
The modest yet proud loco moco has challenged the guts of everyone from WWII grunts to turn-of-the-millennium gourmands. It's not an extreme food or an exclusive one. Its charm lies not in its prestige but in its multi-faceted nature, in the way it allows cooks to embellish on the indigenous while staying true to its populist nature.