Wounded by their city's longstanding reputation as "The Mistake on the Lake," Clevelanders wait quietly for the renaissance they don't expect will ever come. Like a group of strangers stuck on the same elevator, they have nothing to do but sit down, relax, and share some Tic Tacs.
Located along the coast of Lake Erie, Cleveland sits in the center of the United States' "Rust Belt." Once a major steel town and industrial hub, the region was hit hard by the loss of jobs to the development of automated manufacturing and overseas producers. Yet, it is this blue-collar majority and the backdrop of urban detritus that has given Cleveland its sense of humor and unique character of self-reliance.
An alliance of enduring souls, Clevelanders wait for the world to realize the city's potential, but would happily settle for a good chili dog (or "Polish Boy") until that day arrives. Occasionally, temporary heroes like Lebron James make appearances to lift spirits, but their departure is the heartache of an established bachelor who simply goes back to his usual way of things. It is the culinary culture and comfort food that has staying power and plays the larger role in Northeastern Ohio's vitality.

The Dogs Rule
Heavy Eastern European influences have endowed Cleveland with plenty of pierogies, hearty kielbasas and stuffed cabbage. Polish, Czech, Ukrainian and Hungarian cuisines course through Clevelanders' veins. From a sit-down meal of veal paprikash and wiener schnitzel at Balaton Restaurant in Shaker Square, to a Polish boy (a Cleveland invention of grilled kielbasa topped with French fries, cole slaw, and barbecue sauce) at Seti's food truck, these Eastern European influences provide Cleveland with plenty of hearty fare to keep them warm and full throughout the bleak Lake Erie winters.
The Polish Boy is a testament to the fact that Cleveland is, at heart, a hot dog and burger kind of town. A cold Dortmunder Gold from the Great Lakes Brewery, a fifteen-time award-winner of the World Beer Championships, and a hot dog topped with Stadium Mustard, a uniquely Cleveland condiment created by a Polish immigrant in the 1920s, is a simple meal that appeals to a Midwesterner's sense of value.
The Polish Boy is a testament to the fact that Cleveland is, at heart, a hot dog and burger kind of town.
Some of Cleveland's best hot dog shops, like Westside Cleveland's Hot Dog Heaven, have been catering to customers' fast food favorites and topping dogs with stadium mustard and sauerkraut since the late 1970s.
Getting Fed at the West Side Market
But don't be fooled by Cleveland's soft spot for fast food. Clevelanders have been hoisting the local farmer's market flag since 1840. The West Side Market, a yellow brick market house on Cleveland's West 25th St., is host to over 100 local vendors. Rather than go to the big-box grocery store to make a florescent-lit procession up and down aisles paved in cheese curls, many Clevelanders choose to experience something with a bit more flavor. One only needs to step foot into the bustling, historic marketplace to understand that Cleveland's true spirit did not succumb to the loss of the steel industry.
Beneath the arched brick ceiling, farmers, butchers and cooks gather to barter their freshly harvested and freshly made products. Everything from homemade pasta to apple fritters can be found here at the West Side Market.
The Market is also home to Pierogi Palace, a local favorite, where one can choose from over 100 variations of the traditional potato and onion dumpling–Bourbon Mushroom, crab meat or Cajun beef, to name a few.
While outsiders may continue to reduce the city to a land of Drew Carey and burning rivers, Cleveland is gaining recognition from the greater food community, and it would be incorrect not to give some credit to Food Network Star and 2009 James Beard Best Chef Great Lakes award winner Michael Symon.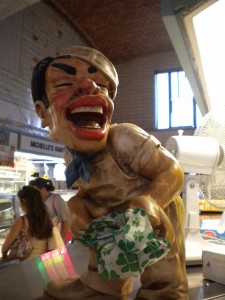 Symon's restaurant, Lola's, has glamorized beef cheek pierogies and hanger steaks, giving locals the warm fuzzies while outsiders gain a better understanding for Midwestern fare through the reinvention of local flavors. Symon has helped put Cleveland on the national food radar, raising regional enthusiasm and encouraging other ambitious restaurateurs.
While Lola's is probably Cleveland's most well-known foodie joint, it is not Cleveland's only star. James Beard nominated "Rising Star" chef Jonathan Sawyer can be found downtown on East 4th Street at The Greenhouse Tavern, the first green certified restaurant in the state of Ohio. There he promotes the farm-to-table movement through casual, French-inspired dishes, such as crispy chicken wings confit or braised choucroute garnie (a traditionally German and Eastern European dish adopted by the French).
Cleveland also has something to offer to those with a sweet tooth. In an industry dominated by mass-producing candy manufactures, it is difficult to find artisanal chocolate makers, but longtime chocolatier Bill Mitchell, of Mitchell's Fine Chocolates, continues to operate the business established by his father in 1939. The store is bright and quiet, and admiring the hand-dipped chocolates (often with Mr. or Mrs. Mitchell personally selling their chocolate from behind the counter) evokes an incredible admiration for the craft and a nostalgia for a simpler time.
If chocolate is not your preference and you still have room after that Polish boy, venture to Kiedrowski's Bakery for a snoogle. What's a snoogle? Aside from having a name distinctly Clevelandian, a snoogle is the lovechild of a Danish and a cream horn. A long, stick-shaped puff pastry filled with cheesy cream and finished with a buttery glaze, the snoogle is a perfect way to start your morning, end your day, or hold you over until its time for the next meal.
So, if the occasional out-of-towner still gazes at Cleveland with misguided sympathy, Clevelanders can smile back, knowing that their mouth-watering cuisine provides a lasting and reliable comfort that no fiscal report or athletic team could ever replace.
As George Bernard Shaw once said, "There is no love sincerer than the love of food." Clevelanders take this sentiment to heart and with the bottomless stomachs of steel men, fill themselves in a hearty Midwestern style.