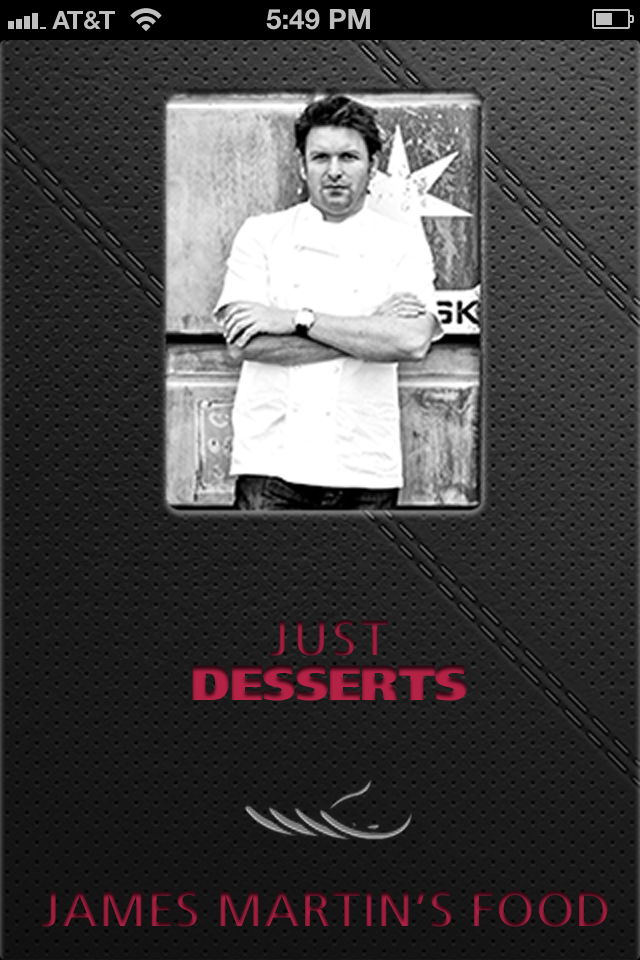 Just Desserts – James Martin's Food
Developer: Ginkgo Studios
Cost: Free
Runs on: iPhone
Website: www.jamesmartinsfood.com
Version: 2.2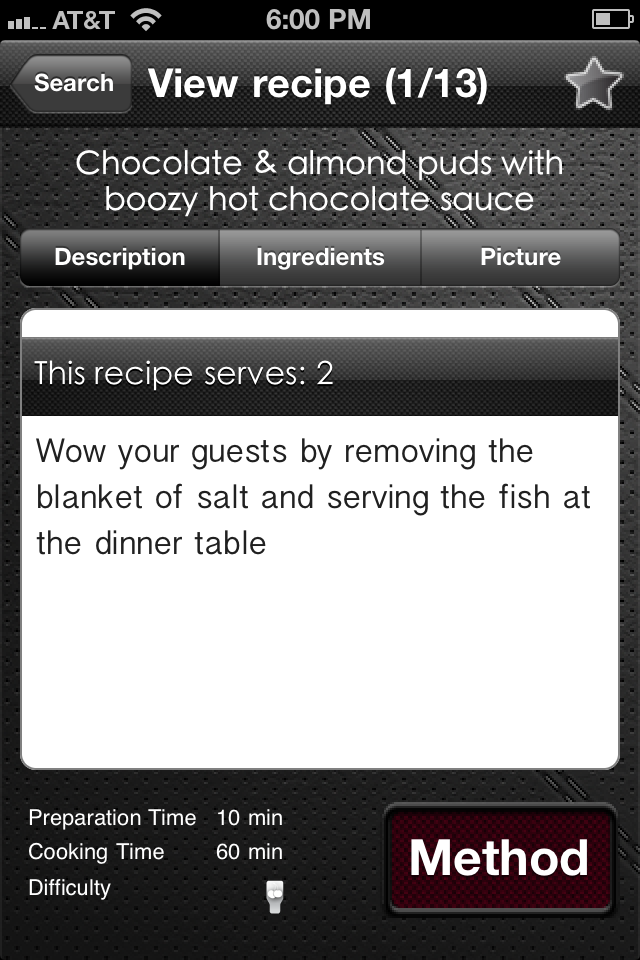 Love is in the air and there's nothing sexier than surprising your Valentine's date with a decadent homemade chocolate dessert. That is, unless you're relying on Just Desserts – James Martin's Food, in which case it informs you to "Wow your guests by removing the blanket of salt and serving the fish at the dinner table" when reading the description for Chocolate & Almond Puds With Boozy Hot Chocolate Sauce. Oops. Someone fired the editor way too soon.
I understand how this happened. Just Desserts is part of a series of apps from James Martin, and my guess is they used an existing template, but forgot to change out this description (and possibly others). I'm sure a salt-crusted fish would wow my guests, but I wanted to hear more about that boozy hot chocolate sauce. Anyway, if this were the only oversight, this app might have had a chance at being decent, but unfortunately it's not.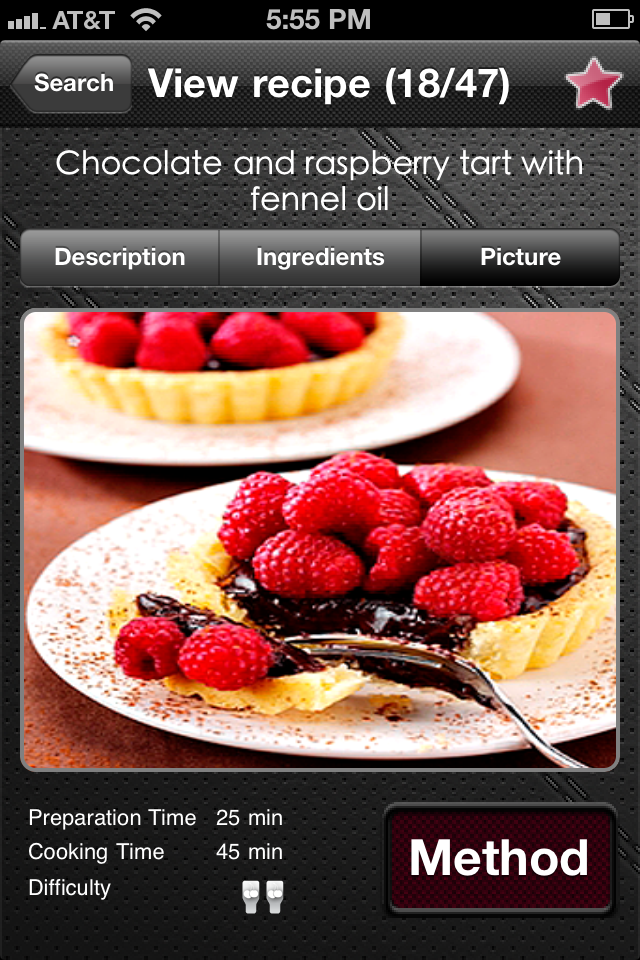 When you open the app you have five options: Recipes, Favourites, Settings, James Martin's Food, and James' Denby Range. The last option goes to a blank page, and the second to last might as well go to a blank page because of all the errors and mistakes, including the outgoing e-mail address of: feedback.justfish@… Although, if this were the end of the errors this might be a decent app, but it's not.
The Settings page makes it very easy to switch from metric units to standard, except that it doesn't work. Reading the Ingredients list within a recipe most of the conversions are made, with the exception of liquid measurements. Then once you get into the step-by-step instructions, the measurement units stay in metric; in addition temperatures stay in Celsius instead of converting to Fahrenheit. If that were the only problem this still might be a decent app, but it's not.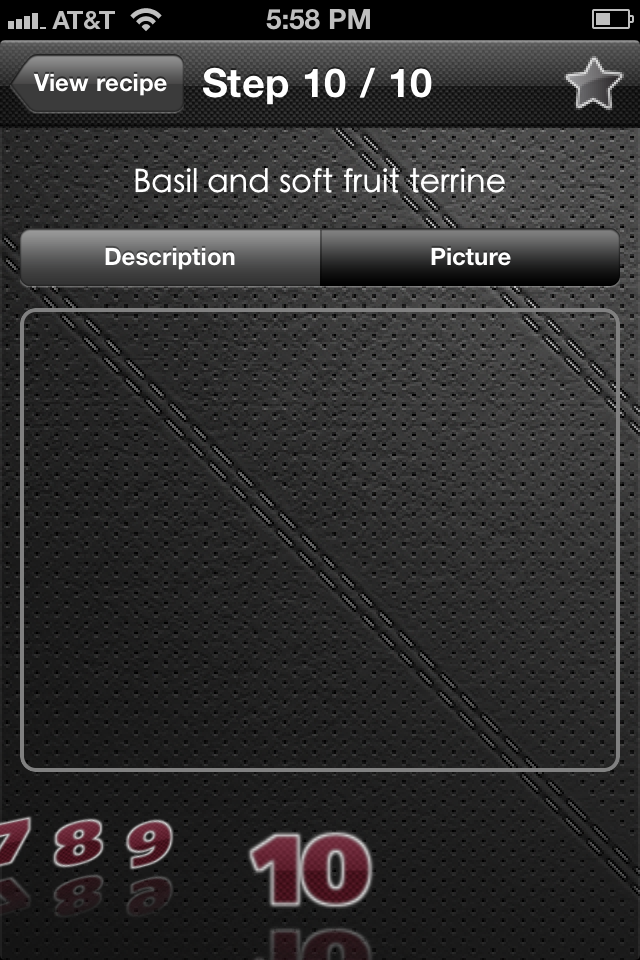 As you click through the step-by-step instructions, there are two buttons (one for description and one for the picture—I'm assuming this is to illustrate the process being described). Unfortunately, nothing ever appears when you click the Picture button. If this were the only shortcoming of this app it still might have a chance, but it's not.
You can't share a recipe, you can't e-mail your shopping list, you can't even create a shopping list. There are no video instructions, there's no global navigation, the recipe search page cuts off most of the recipe names, and on and on the problems go.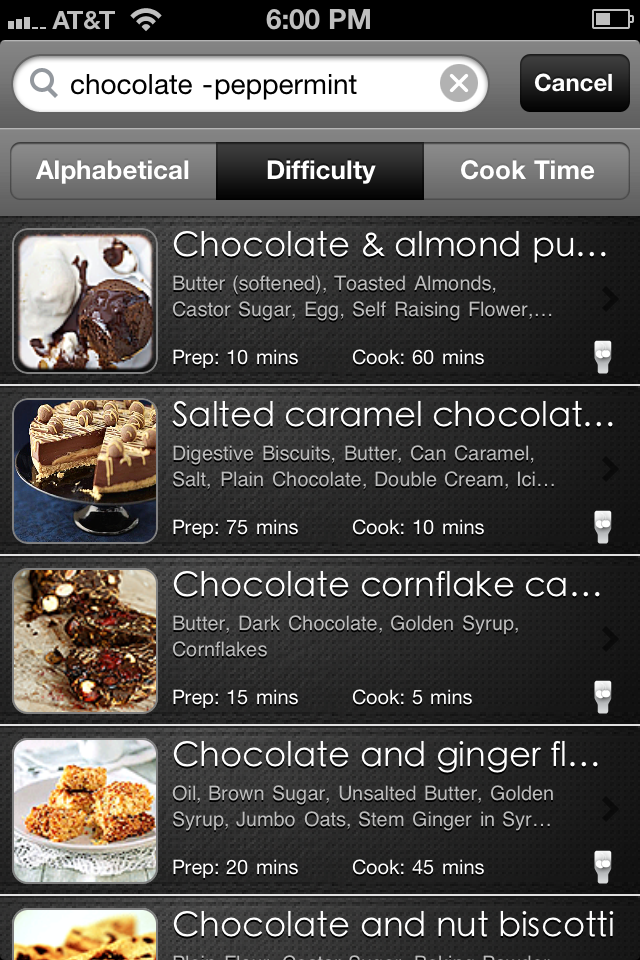 It would be easy to continue beating this app up, but there are some nice features. I really liked the final dessert images that appear during the recipe search and on the opening recipe pages. The actual search functionality also works well, even offering sorting options of alphabetical, difficulty and cook time. Filtering options such as "-peppermint" did a great job of eliminating ingredients. Even though the recipe names were cut off on the search page, it did include nice indicators for difficulty, as well as prep time and cook time. I also thought it was kind of neat to swipe the step-by-step numbers appearing in a cover flow format to advance the steps, although from a usability standpoint I think it's a waste of space and swiping the instructions themselves would have sufficed.
In the end this app could have been good, but it's not. Just Desserts seems like it was slapped together because someone told Martin that he should create apps for all his recipes. Without trying any of his other apps I will assume they have been put together in the same manner and therefore suffer from the same shortcomings. For that, no amount of chocolate can fix my broken heart—okay, maybe that boozy chocolate sauce would do the trick.
Toque Rating: 2/5