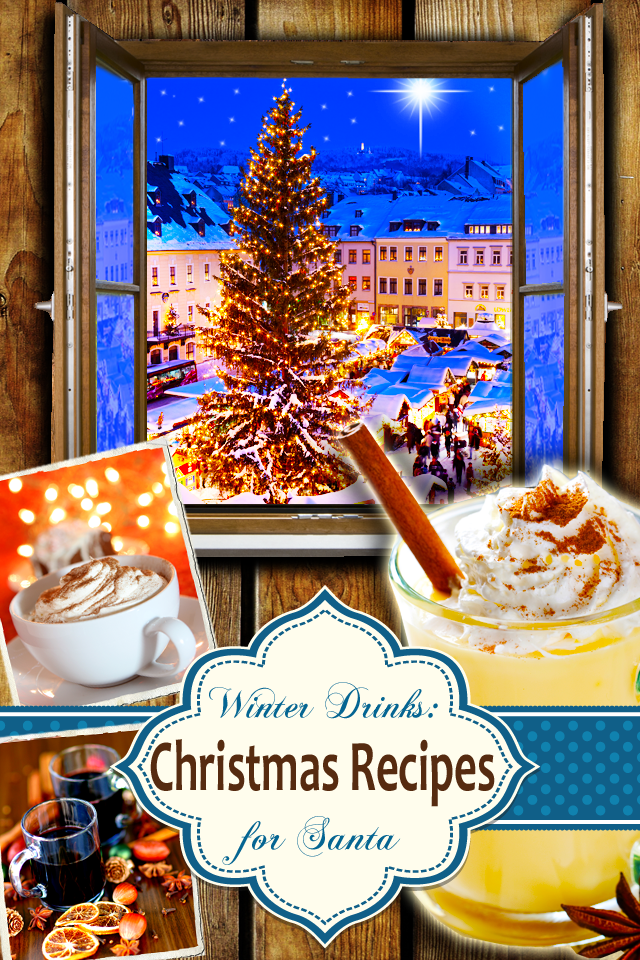 Christmas Recipes – Winter Drinks for the Holiday Season!
Developer: Mario Guenther-Bruns
Cost: Free
Runs on: iPhone
Website: www.eins-zum-anderen.de
Version: 1.0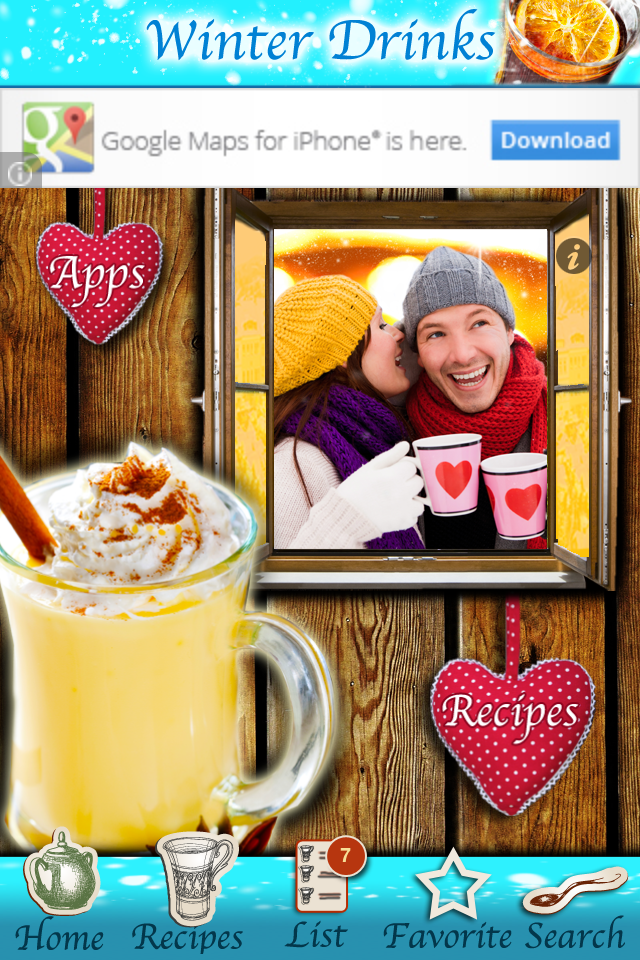 It's time to get that warm winter drink and snuggle up next to the crackling fireplace. What? You need a drink recipe? Just grab your iPhone and check out Christmas Recipes – Winter Drinks for the Holiday Season!, which offers 14 recipes in a nice little app. You can download it for free and see advertisements, or pay $0.99 to strip them out.
While this app is simple in nature, I have to admit that I really enjoyed zipping around in it. Here's why.

You can immediately tell that the developer has a good sense of design and you're whisked into the theme from the opening screen. Across the bottom are buttons for: Recipes, List, Favorite and Search. With so few recipes the search function doesn't need to do much sorting. For example search for "cinnamon" and 13 of the 14 recipes appear. Unfortunately, I cannot narrow the results down to drinks with "cinnamon and coffee;" the app does not support Boolean logic. With that said, it's a simple search with simple results.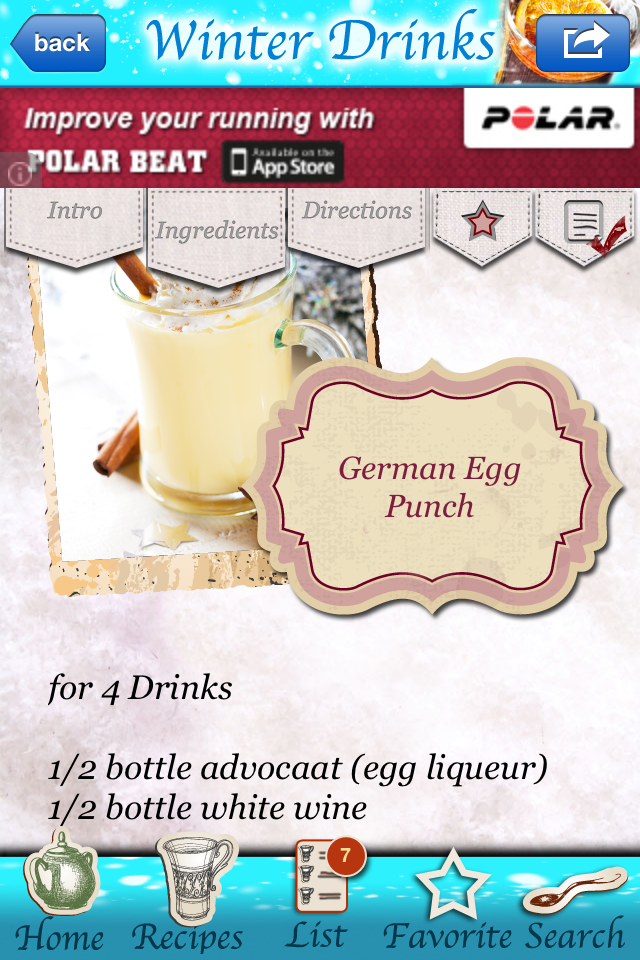 Click on the Recipes button and you can see a nice image of each drink with a festive nameplate. Click on any item and you're taken to a description page that offers just a sentence or two background on the beverage. Across the top are stylized tabs for the ingredients, directions, adding the drink to your favorites list and adding it to your shopping list. Jumping between the tabs is very smooth with nice transitions. The drinks themselves offer a nice variety from booze-infused to sweet treats.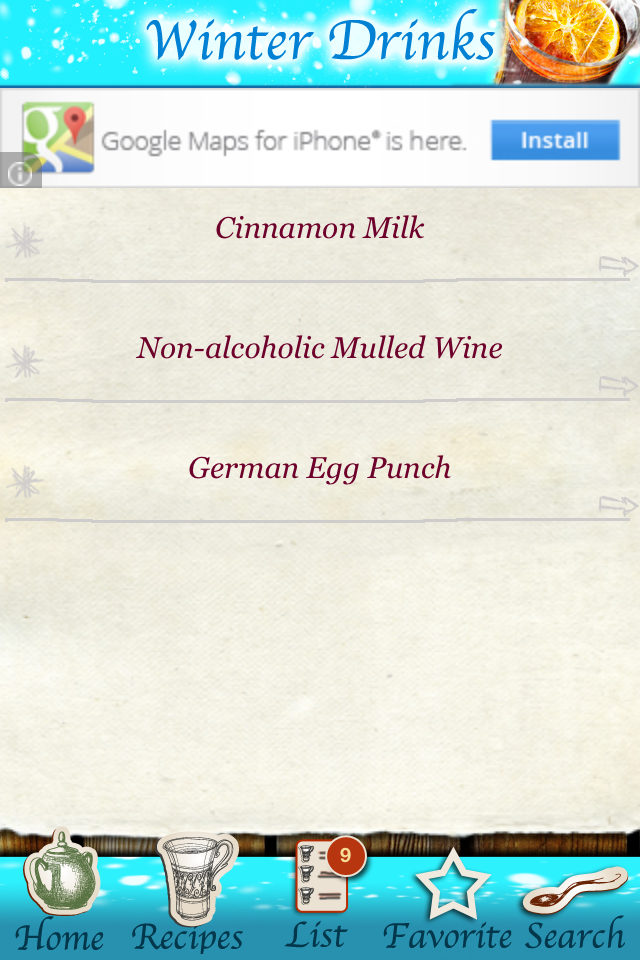 If you find your go-to drinks, add them to your Favorite page where they're organized by name. From the recipe page you can click the share button to e-mail recipes. There are no social media buttons or integration in this app.
Lastly is the shopping list. This simple list adds the individual items under the drink recipe, but doesn't combine the ingredients even if they're needed more than once. So if one drink needs 1 cup of coffee and another drink needs 2 cups of coffee, that's how it's listed, rather than 3 cups of coffee. Since these are drinks and the list stays pretty small that's not a big deal, but I think it's worth noting.
On a good note, the icon at the bottom of the recipe updates with the number of items on your list, a nice feature.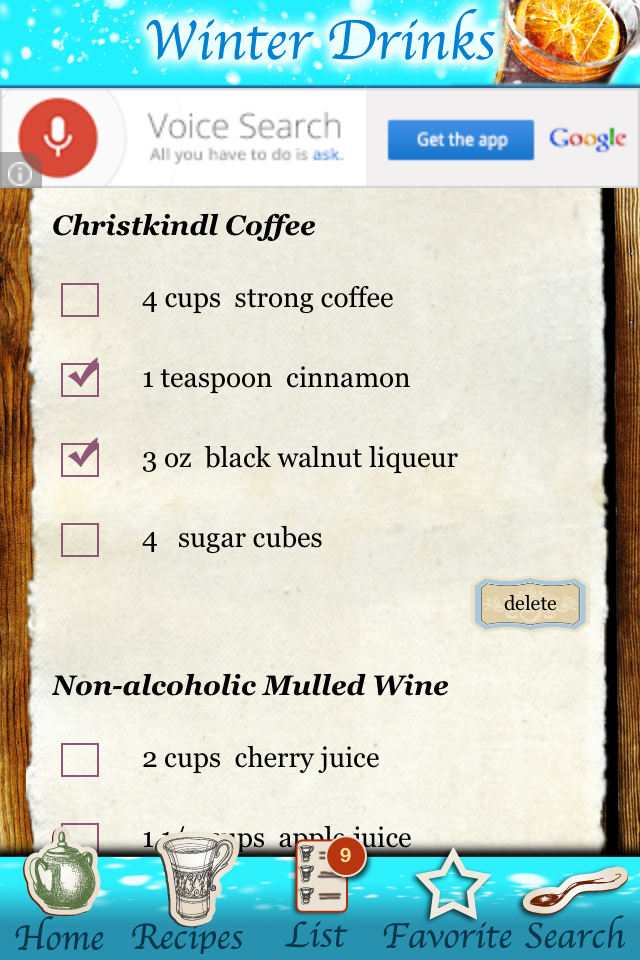 Unlike Mixologist, recent winner of two food app awards, this app misses a lot of opportunity for further features and information. Mixologist, for example, provides recommended glassware and a random drink maker—not to mention thousands of drink offerings over this app's 14.  With that said, I can't be too hard on this app because the ad-supported version is free, it looks great, it works well, and the design is charming. Now excuse me while I crank up the Christmas tunes and whip up a batch of German Egg Punch.
Toque Rating: 3/5