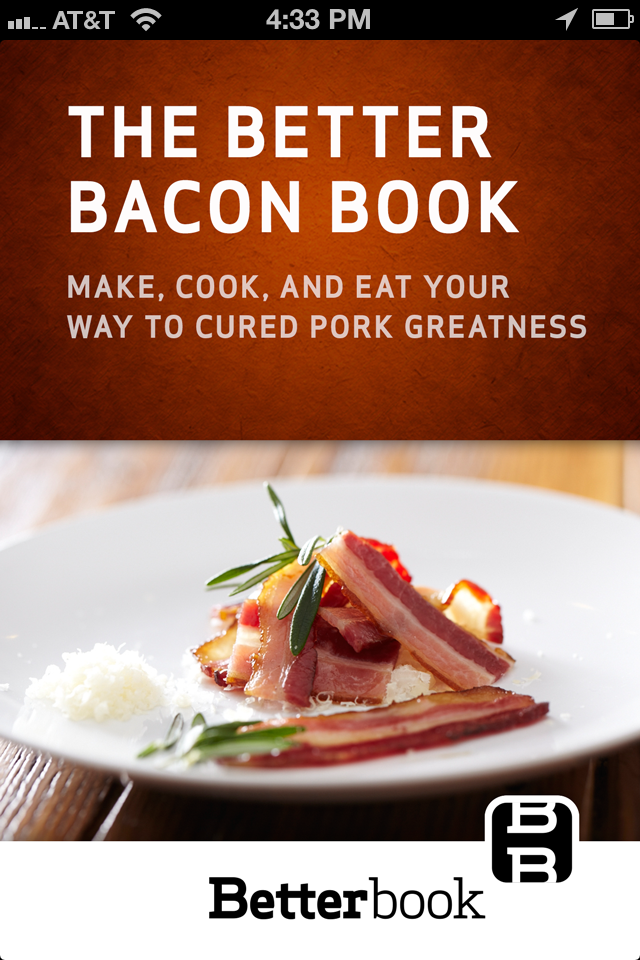 Better Bacon: Chef Recipes & How to Make Your Own
Developer: Open Air Publishing
Cost: $2.99
Runs on: iPhone
Website: http://openairpub.com/book/the-better-bacon-book
Version: 3.2.1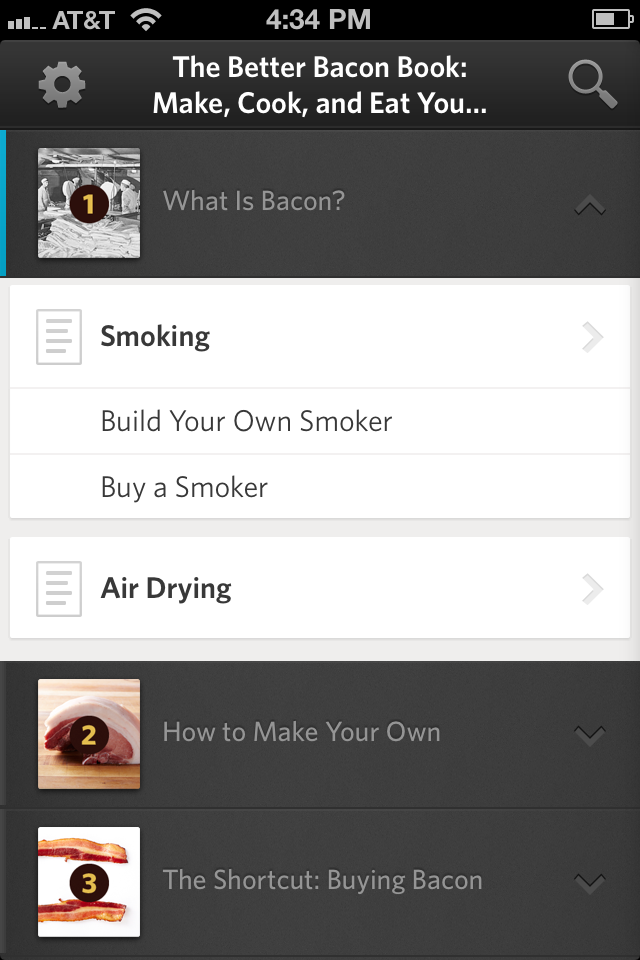 It was bound to happen: an app dedicated to that cured slab of pork belly that we all love. This is less of the traditional app that I typically review and more of an interactive book. The app developer, Open Air Publishing, has also created a few other digital books, such as Wine Simplified and Speakeasy Cocktails.
So what do you get with Better Bacon? First, you get sharp writing and contributions from journalist Rob Wiley, specialty foods entrepreneur Ari Weinzweig and butcher shop owner Tom Mylan. You also get bacon basics, how-to information, and 31 interactive recipes. From how to build your own smoker to mixing your own bacon & eggs cocktail, this app brings the swine. This app doesn't just focus on the bacon you buy in the plastic wrap either, this gives love to pancetta, Canadian bacon, guanciale and others.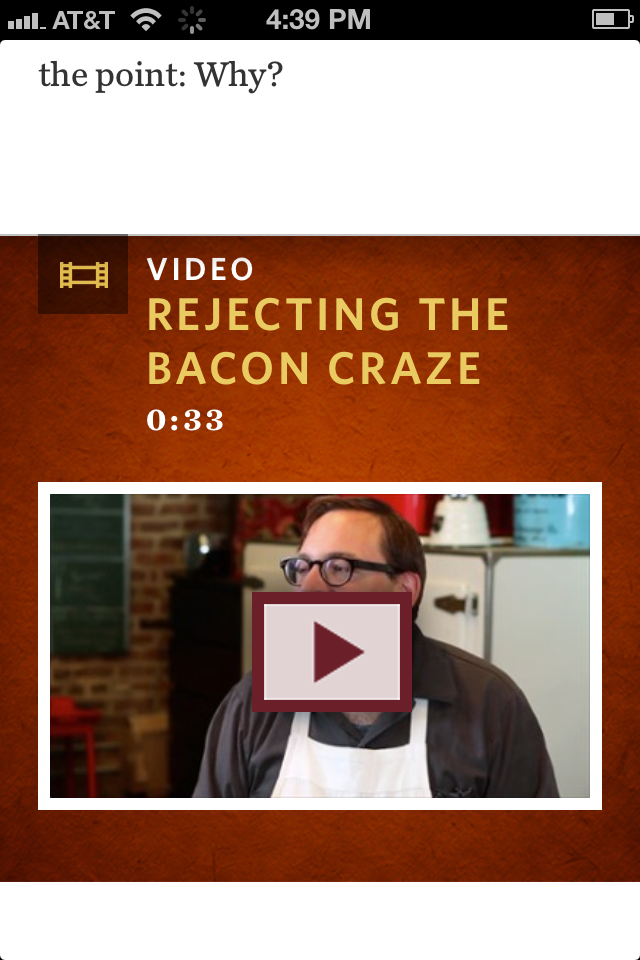 When you open the app, you can sign-in to Inkling, an interactive book platform, which allows you to access content from the web, although this isn't necessary. The main navigation is broken down by chapters, which then have drop-down lists for the specific articles within each chapter.
Where the app shines is the drill-down information. As you read through the digital book you get little icons that will inform you of glossary information available or a one-click option to purchase an item—from equipment to meat. The content also links to outside resources and other techniques demonstrated within the app. The layout of this information is very nice, with strong graphical design. You'll also run across many videos in this book too, although I would have liked to see more videos for the recipes.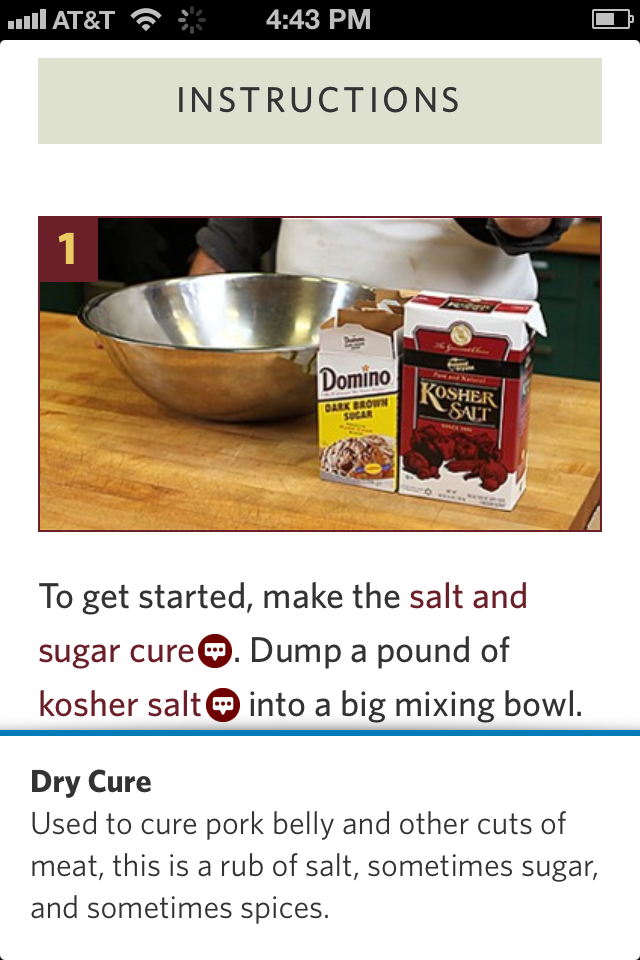 Not everything is better with bacon. I found the navigation adequate, but not great. Some digital magazines I've used do a better job of allowing readers to jump around, but here you have to back out to the table of contents page to access a specific section. There is a search option, but it's hit or miss. Searching "cornbread" provided two recipe results, but searching "dessert" gave me nothing, even though there's an entire chapter dedicated to salty-sweet treats. The other big omission is the ability to create and save "real" shopping lists. I say real, because you can hack this functionality. There's an option to highlight text within the book and with this you can highlight the ingredient list and access those highlights. You can also bookmark pages.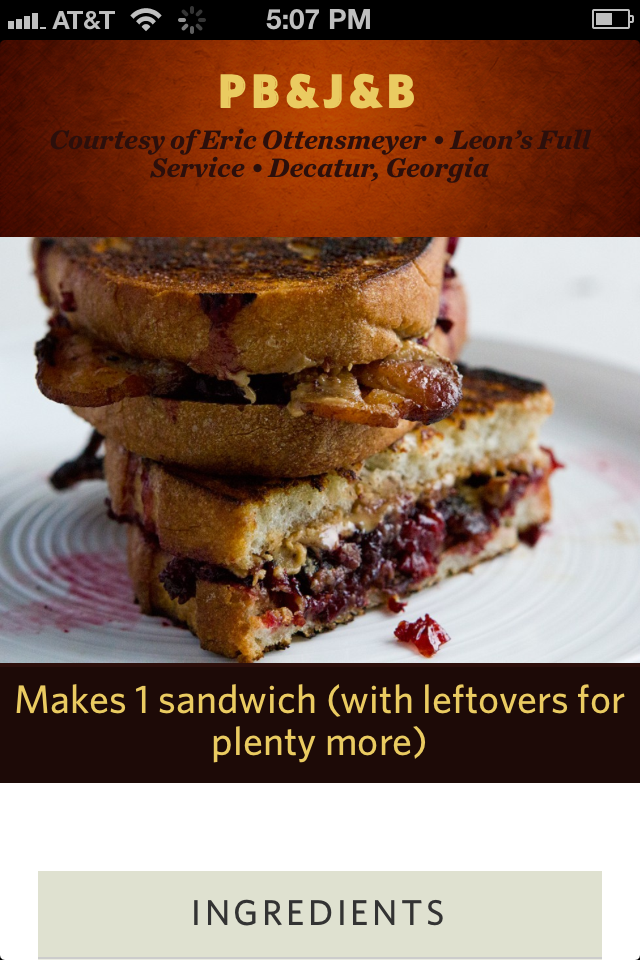 The videos in this app are done well, but I would like the option to either know where the videos are (another strike against the navigation) or a special place to view all the videos together. When reading through the app, though, it's simple to get lost in all the great content and information. With an app like this I really want to get an education and Better Bacon delivers.
Bacon is an amazing ingredient because it can hit a huge range of notes that are always pleasing, from salty to sweet to savory. The bacon craze really hit its stride when bacon entered the realm of whimsy. This app hits all those standard notes, but I feel it could have used a bit more whimsy to take it over the top. Like bacon, though, I'm glad this app is on my plate.
Toque Rating: 3/5