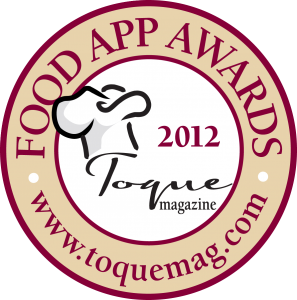 2012 Food App Award Judges
Charlotte Abrams | Kyle Bishop | Sara Bittorf | Rick Boyce | Food52 | Chuck Fuller | Megan Greenberg | Carmen Hughes | Margaret Kavanagh | Alex Kim | Amanda Kooser | Chuck Martin | Anne Maxfield | Gordon Plutsky | Sree Roy | Amy Sherman | Assunta Swier | Aaron Watkins | Heather Way

CHARLOTTE ABRAMS
Charlotte is co-founder of the Three Kitcheneers. She grew up in a family where cooking is a pleasure, never a chore, and dinner is the best part of the day.
The small town Florida native spent three solid years traveling half the world, opening her eyes, nose, and taste buds to flavors and ingredients that definitely weren't a part of her childhood. Charlotte attended culinary school, trained in gourmet restaurants and worked in a test kitchen where she learned how to perfect recipes.

KYLE BISHOP
Kyle Bishop is director of digital strategy and creative services for 360PR in Boston. With 15 years in digital production, design and journalism, Kyle develops digital strategies to build and engage audiences for 360PR clients. Prior to joining 360PR, Kyle led the digital team at FOX/Boston, making @FOX25News one of the top-5 most followed local TV stations on Twitter, driving online video production and streaming, increasing mobile pageviews of the web site by 130 percent. He was featured on-air in the daily segment "Hot on the Web."
As Director of New Media Production and Design for the Herald Interactive Network including BostonHerald.com, Kyle worked with The Boston Herald's online ad sales team, producing campaigns for AT&T, Comcast, Dunkin Donuts, JetBlue, Kohl's, The Boston Bruins and Boston Celtics.

SARA BITTORF
After many years of high-level marketing roles at companies including Carnival Cruise Lines, Carrabba's Italian Grill and Burger King, Sara Bittorf was recently tapped by Boston Market to act as its Chief Brand Officer. Sara is uniquely qualified to identify award-worthy food apps–besides her deep experience leveraging creative, analytical and sales talent for large-scale consumer campaigns, Sara is an accomplished home cook and passionate about all things food and drink related.

RICK BOYCE
Rick Boyce, vice president of advertising sales at monster.com, is a digital media professional by day and a foodie by night. Residing midway between San Francisco and wine country, he lives in a culinary nirvana surrounded by amazing restaurants, an abundance of fresh, organic meats and produce and the seemingly infinite multicultural influences that characterize Bay Area cuisine. Culinarily speaking, Rick's been a busy business traveler recently which has afforded some excellent dining at world class restaurants including New York's Le Bernardin and Per Se.  Per Se at $600 a head established a new world record for expense account per diem abuse. At Le Bernardin an appearance by celebrity chef Eric Ripert had heads turning as the Frenchman not only prepares the best seafood dishes in the world (try the grilled octopus) but is also more handsome in person than on television.

FOOD52
"The founders and editors of Food52 cook from a place where kitchens meet. As you might imagine, things can get a bit crowded, but that's exactly how we like them. We have strong feelings about egg-frying methods, we love a good contest (and a kitchen hack even more), and we'd be nowhere without our supportive community of cooks."
Food52, which grew from a crowdsourced cookbook to an online community of recipe lovers, at-home chefs and experts, is poised to "change the way we all cook," according to Forbes. The founder, editors and contributors blend seamlessly with the thousands of cooks actively participating on the site, which includes an editor-curated food shop and a real-time cooking Q&A forum.

CHUCK FULLER
Chuck Fuller is Business Development Director at AdKnowledge, one of the largest online advertising networks for search engine advertisers. He spent 22 years at Entrepreneur and Entrepreneur.com, crossing from editorial roles to online management and business development for all of the company's media properties.
As director, business development at Autobytel, Chuck forged new partnerships and revenue generating relationships around MyRide.com content site. His expertise includes SEO optimization, website development, new product development, editorial development and online marketing.

MEGAN GREENBERG
Megan is co-founder of the Three Kitcheneers. She loves food. Obsessively, loves food.
She was raised in a home where food was the head of the household. From an early age, Megan was introduced to new flavors, different textures and a variety of cultural dishes. She considers herself a super adventurous eater. A true hedonist at heart, her goal in life is to eat, drink and be merry.
Megan loves being a part of The Three Kitcheneers is an amazing blessing. "The ability to make a life around food all while cackling with laughter with my best mates is a dream come true," she says.

CARMEN HUGHES
With more than 15 years experience in PR, Carmen Hughes has honed her expertise counseling technology-based, venture-backed, early-stage startups in the area of public relations and social media.  At Ignite Public Relations, she spearheads a team of professionals to help clients scale their business and drive revenues by expanding corporate and product awareness and implement social media initiatives.
Prior to joining Ignite, she founded Mindshare Communications and built a steady track record of successfully introducing unknown, early-stage companies to the market, including Calico Commerce, BeVocal, Epicentric, and Moai Technologies, all of which were successfully acquired or went public. I
Receiving her first subscription of Bon Appetit at the ripe age of 10, Carmen is an avid cook and baker, owning a mini-library comprised of cookbooks.  She is also an app-aholic, enjoying dozens of apps on her iPhone and iPad.
Carmen has served multiple years on the executive committee and previously as a board member and advisor for the MIT/Stanford Venture Lab (VLAB).


MARGARET KAVANAGH and ERIN LANG MASERCOLA
Margaret Kavanagh is a freelance writer and editor who leads the team that creates Beckett Guide to Phone Apps. She has also written instructional materials on software applications, social media, information management, health care and home decor. She is an avid foodie and crafter, and her favorite app is Pinterest. Erin Lang Masercola is the Business Unit Editorial and Art Director at Beckett Media. She leads the editorial and design team for numerous print and online publications in law, technology, home design, food, automotive and sports.


ALEX KIM
As President of Createch Group, Alex leads creative and technology strategies and program implementations for Createch Group's clients. Since 2001, Alex has been leading multidisciplinary teams in interactive strategy, design, and web/mobile application development for a diverse set of businesses ranging from incubator stage start-ups to Fortune 500 companies such as eBay, Toyota, Stanford, and NetPlenish.

AMANDA KOOSER
Amanda C. Kooser is a freelance technology writer in New Mexico. She covers gadgets and apps for CNET's Crave blog. Amanda comes from a cook-from-scratch family and can be found making apple/green chile/cheddar pies with an iPad on the kitchen counter. For more information, please visit amandakooser.com.

CHUCK MARTIN
Chuck Martin is CEO of The Mobile Future Institute and Director of the Center of Media Research at MediaPost Communications Inc. Through his research and public speaking, Martin has been a digital pioneer in the interactive marketplace for more than a decade.
Martin is a New York Times business bestselling author of The Digital Estate. He has also penned nine other books, including Net Future and most recently The Smartphone Handbook.  He has appeared on CNN, CNBC, Fox and ABC-TV News Now and is a highly sought-after mobile marketing speaker.

ANNE MAXFIELD
Anne Maxfield is a multi-talented serial entrepreneur and is the founder of The Accidental Locavore, which aims to take the mystery out of farmer's markets, and show them how she cooks with what's local and fresh.
Twenty years ago, Anne Maxfield co-founded Project-Solvers, Inc, to provide freelance talent to the apparel industry. It was acquired by Select Staffing in 2005. Anne's business model to provide free-agent talent to leading designers, manufacturers and retailers in the apparel and accessories industries created a $20 million dollar market.
Anne has been a frequent speaker at the Fashion Institute of Technology, R.I.S.D., Pratt Institute, The New School, Marist College and has made many appearances on NY1 Small Business Report, and Bloomberg TV. She is also a long time member of the Women President's Organization, and in her spare time, is an avid sports enthusiast whose hobbies include figure skating and golf.

GORDON PLUTSKY
Gordon Plutsky is the Chief Marketing Officer for King Fish Media where he partners with clients on their marketing strategy and manages the social media, mobile marketing, market research and measurement/analytics aspects of their integrated marketing campaigns.  He is also responsible for the King Fish brand message, marketing and public relations.  Gordon writes and edits the King Fish Think Tank blog and is the host of the King Fish Kings of Content podcast and developed the King of Content iPhone and Droid App for King Fish.  He is a regular contributor to sites such as to Chief Marketer.com, CMO.com, iMedia Connection, Media Post and Marketing Profs.
Previously, he was Group Marketing Director for the CMP Channel Group (now Everything Channel) as well as Executive Director of Marketing and Research at Ziff Davis Media, where he headed the marketing and research function of PC Magazine, eWeek, and Smart Business.
Plutsky lives north of Boston with his wife Susan where he enjoys crossfit, running, cooking and all things edible.

SREE ROY
Sree Roy is founder of saagAHH, a source for Indian restaurant reviews and Indian fusion recipes. She's also a baker for Eat My Blog, a charity bake sale that donates proceeds to the Los Angeles Regional Food Bank.
An award-winning writer and editor, Sree has more than nine years of experience in trade and consumer media. She is currently managing editor of beauty trade publication NAILS Magazine and NailsMag.com, where she writes about the ever-expanding popularity of nail art. She also co-manages the publication's social media presence, including a Facebook following of more than 100,000 fans. Sree is part of a team that has taken home Western Publishing Association Maggie Awards for Best Web Publication and Best Use of Social Media.
Sree loves networking with other media professionals, including by serving as book club hostess for the Los Angeles chapter of networking group Ed2010.

AMY SHERMAN
Amy Sherman is a San Francisco–based writer, recipe developer, and creator of the award-winning food blog Cooking with Amy. She is author of Williams-Sonoma New Flavors for Appetizers, Wine Passport: Portugal and wrote the new introduction to the classic cookbook, Jane Grigson's Vegetable Book. Her corporate recipe development clients include Dannon, Wisconsin Milk Marketing Board, and MyWinesDirect.
Amy has blogged about food for the Epicurious blog Epi Log; KQED's food blog; Bay Area Bites; and was contributing editor for the Glam food blog and Frommer's culinary travel blog, Amy and Amy Between Bites.
She is past board member of the San Francisco Professional Food Society and was a speaker at the International Association of Culinary Professionals in 2010 and 2011.

ASSUNTA SWIER
Assunta is co-founder of the Three Kitcheneers. She is a first generation Italian, from Brooklyn, so food is a focal point, a sport, a past time, a must! Homemade pastas, breads, cheeses and freshly caught game were common staples in her house. "E ora di mangaria" ('It's time to eat') was like hearing angels sing. Every night was a feast.
At 27, Assunta discovered she had ulcerative colitis and had to find new ways to enjoy the foods she loves. Today, she raises her two children with healthy diet choices and instills good nutritious values in their every day food choices.
Getting to be a Kitcheneer has been the most exciting thing in her life since having a family. She wishes everyone a wonderful journey through kitchen after kitchen eating, drinking laughing and shouting "Buon Appetito."

AARON WATKINS
Aaron Watkins is the Co-Founder and President of Appency, one of the first PR and Marketing agencies dedicated exclusively to app promotion. He is a long time executive of the mobile marketing industry, having spent six years with ipsh! Mobile Marketing building a number of award winning mobile campaigns for major brands including Anheuser-Busch, Frito-Lay and Unilever. After ipsh, Aaron was recruited to start the San Francisco office of global mobile agency The Hyperfactory. In 2009, Aaron started consulting in the app marketing space, and eventually wrote the GigaOM guide to app marketing. He has helped dozens of companies understand and succeed in the app space and enjoys the challenges of an ever changing app economy.


HEATHER WAY
As an analyst at Parks Associates, Heather's core research focus includes evaluating and providing strategic assessments of advanced advertising technology, platforms, management systems, buying/selling services, and measurement and data analytics. Heather also covers the connected device application ecosystem.
Prior to joining Parks Associates, Heather worked in the media industry holding positions as Director of Advertising, media planner and buyer, national TV sales representative, and training coordinator. Additionally, Heather taught as an adjunct professor at the University of North Texas.
Cited in top tier industry trade publications such as Ad Age, Adweek, MediaPost Publications, and Businessweek.
Regulary presents Parks Associates research findings at major conferences such as Digital Hollywood, Digital Media Conference, APPNATION, and Parks Associates annual CONNECTIONS conference.