Hate to say it, but some of us can't exactly shut down the shop with a sign saying "Back in 2011!" For the paycheck-challenged who need to put food on the table, here are a few jobs with great futures–our gift to you.
1. Love food, talented at the stove, know your roux from your raclette…but don't want a restaurant gig? Sur la Table has an entry-level Culinary Lead opening in Columbus Ohio. Teach, organize, plan and keep things tidy; "non-team players" need not apply.
2. Whole Foods is looking for a Culinary Demo Specialist in Wayland, Mass. Candidate must be able to cook with or without a recipe and must love Whole Food products. Candidate will love the 20% employee discount.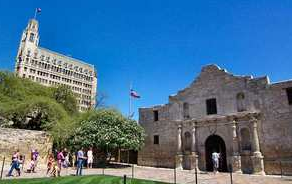 3. Why is Executive Chef for the Emily Morgan Hotel such a coveted position, you may ask? Here's why: We discovered it's the "official hotel of the Alamo," is pet friendly and is situated in the heart of fun-lovin' San Antonio, and that was enough for us.
4. The Broadmoor in Colorado Springs, CO has a veritable SLEW of restaurants and is looking for a Restaurant Chef for The Tavern, which has been serving up steaks and seafood since 1939. An opportunity to work with what appears to be an impressive roster of culinary talent.