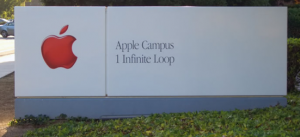 1. Wanna know what the Apple crew eats in Cupertino? Better still, wanna make it for them? A solid chance to get in on the inside of Apple Computers as its Cafe Chef. Long list of rules, regs, requirements and the like, but if you can't be creative in Apple's kitchen…well, that is just WRONG.
2. Arggh…I hate these clinical, no-human-writes-like-this postings for what could be a very cool Executive Sous Chef position at Bellagio's Olives restaurant in Vegas. But since I have a soft spot for Todd English AND his food, this makes the list.
3. Stanford University Dining Services needs a Chef de Cuisine with previous "large quantity food experience." All those hungry students. But here's some good words: Bonus. And Tuition (reimbursement).
4. Entry level job of the week: Sous Chef at McCormick & Schmidt's in Denver. For someone who is ambitious, good in the kitchen but doesn't necessarily have a culinary degree, this upscale steak restaurant chain is not a bad place to start. Salary range looks to be between $43K and $47K.