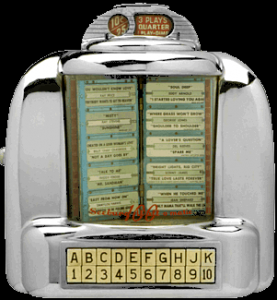 Lots and lots of hotel, nursing home, hospital and chain restaurant opportunities on the boards. We culled through them to find what looked exciting and had growth potential, including one that involves jukeboxes (not juiceboxes):
1. There is something about the prospect of opening a spanking new culinary center in Oregon that sounds like a dream job. Salary is decent, too. Cascade Culinary Institute, Director of Culinary Arts.
2. Very corporate-sounding, but this job in Glenview, IL–helping Nestle make a better pizza–could be a solid challenge for the right person. I just want to know what "emotional intelligence" is; it's a requirement for this job. Corporate Chef.
3. For the soup and sauce expert in the Detroit area–Majestic Cafe seeks a Chef for its full-service restaurant featuring "urban Mediterranean" cuisine.
4. Sweet Georgia's Juke Joint seeks a Chef in Atlanta to keep the ribs, seadogs and music flowing. Even the name tastes good.