I still can't get over it. Bryant Park–Bryant Park!!–the shady, creepy, needle-filled lot behind the NY Public Library that in the 1980s you always gave a wide berth to, is utterly transformed. Skating rink, two-story all-glass restaurant, Fashion Week Central have wiped away all traces of Bryant Park's sordid past. (Correction: It wasn't always sordid–just when I lived there in the 80s.)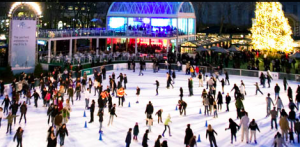 If I were an NYC chef with solid experience and a creative bent, I'd totally go for this one:
1. Bryant Park's Celsius overlooks Citi Pond where skaters glide on the ice. A lounge surrounded by glass offers lunch, dinner and drinks every day. A seasonal chef is needed to oversee food prep, kitchen management in a venue that serves over 1,000 covers daily. Got the chops? Click here.

2. Water Grill in LA has launched a national search for its next pastry chef. Know your desserts and knead good bread; two years experience and job longevity will be expected. So, maybe that means two years at your last job?
3. Creating tasty food without wheat, butter, eggs, sugar or meat? I call that challenging. If you're up for it, a new restaurant called Gingersnaps Cafe in NYC's East Village is looking for talented chefs and cooks in the vegan/gluten-free cuisine.