What kind of culinary job is considered a "good" one? Usually a top-notch restaurant using only locally grown ingredients comes to mind. But there are lots of interesting challenges out there that don't necessarily make it into Bon Appetit.
How about re-creating hospital food, as we discussed here? Or teaching culinary arts to teens with learning challenges as chef Larry Frazer does at the Eden Institute? School districts are hungry for professionals who can help them revamp their school menus into something resembling a decent diet for schoolchildren. These are hard jobs. But someone's gotta do them.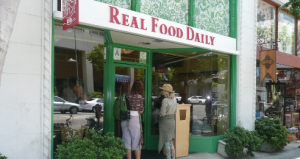 1. Ann Gentry's growing Real Food Daily restaurant concept needs a manager for its Santa Monica and soon-to-open Pasadena location. Gentry's strictly vegan/vegetarian menu is built around locally sourced ingredients.

2. New Orleans-based Revolution Foods is looking for a culinary manager who will create and deliver nutritious meals to 15,000 students in local schools. Candidates from Oakland, Los Angeles, Denver, Houston, Newark and Washington DC can train where they are but must be willing to relocate.
3. Love golf? Love working your ass off in potentially hot weather? Don't like long-term commitments? The Master's Event needs chefs the first week of April to prepare meals for about 100 people, prep work and "deal with unforeseen issues."
4. A cafe that feeds the hungry and comforts the bereaved needs an extraordinary person to step up to the plate. The Comfort Cafe in Denver, CO seeks an entrepreneur/restaurant professional interested in taking over the operations under the oversight of a board of directors. The cafe is in itself extraordinary: it offers a meal to anyone who needs one, space for gourmet business lunches and a place for people to share recipes and recall loved ones (the cafe is closely associated with Namaste Hospice.) Talk about doing good.