The Republican National Convention, Hurricane Isaac and Clint Eastwood's monologue to a chair are top of mind this week. For the food and restaurant community there are a few other interesting items to digest:
1. A new study shows young shoots of vegetable plants are packed with four to six times the nutrients as mature plants.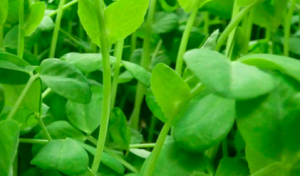 A report on NPR's The Salt blog quoted U.S. Department of Agriculture researcher Gene Lester, who says the findings "totally knocked me over." Called microgreens, these young plants are grown about 7 days, just long enough to grow pale green leaves. They are not to be confused with sprouts, which are grown just 48 hours. Farms are beginning to take interest in selling microgreens directly to chefs; Good Water Farms in East Hampton NY is one example.
2. In a new twist on pop-up restaurants, the "swap-up" restaurant is now in session. Grant Aschatz will bring his famous Alinea Restaurant to New York City for a week in late September; Eleven Madison Park's Daniel Humm will come to Chicago October 10. Both restaurants will operate exactly the way they do in their home base, including menu. Dinner prices will be as high as $450. Aschatz says he looks forward to "serving Alinea food to the jaded New Yorker."
3. Everyone knows that lots of food is wasted, particularly in the U.S. But a new study shows more precisely where that waste occurs. An article in The Atlantic cites the Natural Resources Defense Council, the supply chain has losses at every step but the consumer level has by far the highest. According to the study, a family of four spends an average of $2,000 per year on food that never reaches their mouths.