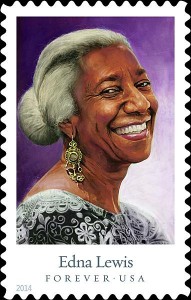 Several months ago the US Postal Service released a five-stamp series honoring trailblazing chefs; the beatified included James Beard, Julia Child, Joyce Chen, Edna Lewis, and Felipe Rojas-Lombardi. Alas, this comes too late in our history to provide what would have been a literally delicious irony—since stamps are now self-adhesive, we no longer need to lick them, and thus have lost the chance to taste the gustatory giants themselves (not to mention the critical appraisals that might have followed: "Edna Lewis leaves a sheen of mint on the tongue").
What the new series does provide, however, is an opportunity to consider the phenomenon of celebrity chefs itself. As a signifier of national fame, the postal service is more the last lap than the initial nod; by the time your mug makes it to a stamp, you've already dyed yourself pretty deeply into the cultural fabric. So the fact that these five icons are now smiling out at us from the covers of our electric bills is a pretty clear indication that they're already comfortably—and permanently—settled in our national pantheon.
Which raises the question: how do chefs, of all people, manage that? It's an easy call when it comes to athletes, actors, musicians, and fashion designers; their work is accessible not only by multitudes, but pretty much in perpetuity. Miles Davis might play a club date in 1957 to 30 people, but you can still hear it today on Spotify. Similarly, your coffee mug may well have Andy Warhol's Marilyn on it. Thanks to technology, the visual, literary, and performing arts aren't bound by considerations of immediacy and impermanence.